I opened a wine store in NYC, right before the pandemic started. My entire business has been defined by Covid.
Jesse Hirsch
"What's it like to have a business when everything is normal?"
Scant weeks before New York City introduced its first pandemic-related restrictions last March, 37-year-old Tewelde Debessay opened a wine shop in East Harlem—the neighborhood that would suffer the highest Covid rates in all of Manhattan. Located on the far eastern edge of the island, Debessay's tiny shop sits on a block with a slice joint, a Puerto Rican take-out spot, and not much else.
Melover Wine & Spirit is a whisper of a storefront—an array of hard liquor behind a tall counter, a narrow aisle that only accommodates two customers if they flatten themselves, and a floor-to-ceiling array of wines along the back wall. Most of Melover's sales come from spirits, but wine is the shop's raison d'etre. Debessay was hoping to curate a selection of wines that threaded the needle between sophistication and a reasonable price point, host some tastings, even function as a wee community hub. Instead, like virtually every other small business owner, he spent the last year worrying about his survival.
Spoiler: Melover made it through, but there were more than a few moments of doubt. Debessay, who moved to New York from Eritrea just over 10 years ago, counts himself blessed to be heading into work each day after an extremely challenging first year. Still, he's ready to turn to the next page of his story.
-Jesse Hirsch
—
I never drank wine in my life, before I came to the USA. In Eritrea, most of my adult life was spent in the army. My country, it is a dictatorship, and when you finish school most people are just in the army.
When I got here in 2010, my first job was at a wine store, over at 128th Street and St. Nicholas. I always ask questions from the sales people, and I read about different grapes and I learn how weather and location change flavor. You have to be patient, ask a lot of questions, be ready to learn.
After I was working there seven, eight years, this is when I decide to open my own business. To be honest, I was looking all over Harlem, the Bronx, and it is hard. You have to find a space, then apply for a liquor license. While you wait for a license, you pay rent at empty store for six, seven months. This I cannot afford.
This space I found, it was a liquor store already. The owner, he wanted someone to take the space and he would sell his license too. He was eager to sell. When I first came to look at the neighborhood and see the environment, it was not good. People everywhere on streets, there is fighting and other things, but this is what I can afford.
This area has other liquor stores, not far from this, but I wanted to do something different. I did not put up glass between me and customer, I want to talk to people and teach them things about wine, say, "Hey this is good for your dinner."
I moved in, then after a few weeks it was pandemic. I was very nervous for my business! I had not been open very long, so no one knows I am there. Suddenly people are not going outside their house, how will they know about this store?
But I have good luck for not-good reasons. Other liquor stores around here closed down because workers got sick or were scared to work, but not me. For some time, I was the only place to buy alcohol, and then people got to know I was here. I also stay open later, until midnight.
[Subscribe to our 2x-weekly newsletter and never miss a story.]
But there is a problem. I have so many customers, they come just for nips (small, one-shot bottles of alcohol): vodka, tequila, one dollar, two dollars. This was my worry, when I see the location, all the bus stops to different boroughs I have right outside, many people on the street. I don't like to say people are crazy but some people are screaming sometimes, doing crazy stuff. This is different from how I picture my business.
What I always thought about a liquor store, especially during pandemic, it is just like a pharmacy without prescriptions.
To be honest with you, liquor is this drug for some people. What I always thought about a liquor store, especially during pandemic, it is just like a pharmacy without prescriptions. When I open my store in morning, sometimes people are waiting for me. They are shaking with their hands and they need something, at least one shot.
Sometimes I tell people "Please don't buy alcohol, drink water, you will get so sick." But then other customers I am telling "Oh for steak you want this good wine, have a glass of wine with your family." It is strange, this business.
Another thing is, how can I say this? I had some customers at the beginning, they seemed like a relaxed person, nice people. Maybe I saw them in a suit for work. Now these people, some of them just seem down. Maybe they don't have their job now, I see their clothes, they don't take care of themselves. They are not smiling, not so relaxed. It makes me sad to see this.
—
I have only one worker, he is part-time. He is from Ethiopia, a runner, he came to U.S. to run. His English, it is not so good, but he learns. Sometimes it is hard, if I go out to buy soup or use bathroom, he is the only one here and maybe does not understand customers. He is good with cash, transactions are good. But a customer says "What cognac is good?" and he does not understand. It takes time, I know this. I took 9 years and am still learning English.
When I am working alone, I think customers do not know this, which is good. They think someone is in the back or in the basement. I have an alarm, I have a taser. A lot of people say I should apply for a gun. In New York you can have a gun if you own a business, so I think about this. Sometimes I feel ready to do that, you know? It's good to have. Don't use it, but it's here. Just like, protection. If somebody comes to kill you, you're going to do that. If you take it out, they could just run.
Sometimes what I see is, I don't see customers. I see only the virus.
I had one customer, he's homeless, he told me: "I need it, I really need it, you have to give me something, give me something." I've got a stick. And, like this, I just take it out, the stick, I hit the counter. (boom) I just have to make him scared. Boom. Then he went outside. At least so far so good.
I'm lucky to have the other businesses near me. The Puerto Rican restaurant closes at 4 o'clock so at night it's me and the pizza shop. The guy who owns the pizza place, John, we watch for each other. If I tell him there's a scary guy or something, he'll come in and say "Everybody out we have to clean the store!" Maybe he calls police. We can help be safe.
—
I think last year, I saw so many angry people. My store is small; people stand close to each other. So much yelling sometimes! I won't say it's hate, but we have lost some love. That is the worst thing.
I put up a sign for masks on the first day, but some customers, they didn't want to do this. I used to say, well, you have to put your mask on. And the people get mad at me. They don't understand. Maybe they don't believe that there is a virus outside. This is less of a problem now; most people are aware. But I still have to ask sometimes, and it's uncomfortable if they don't want to do this.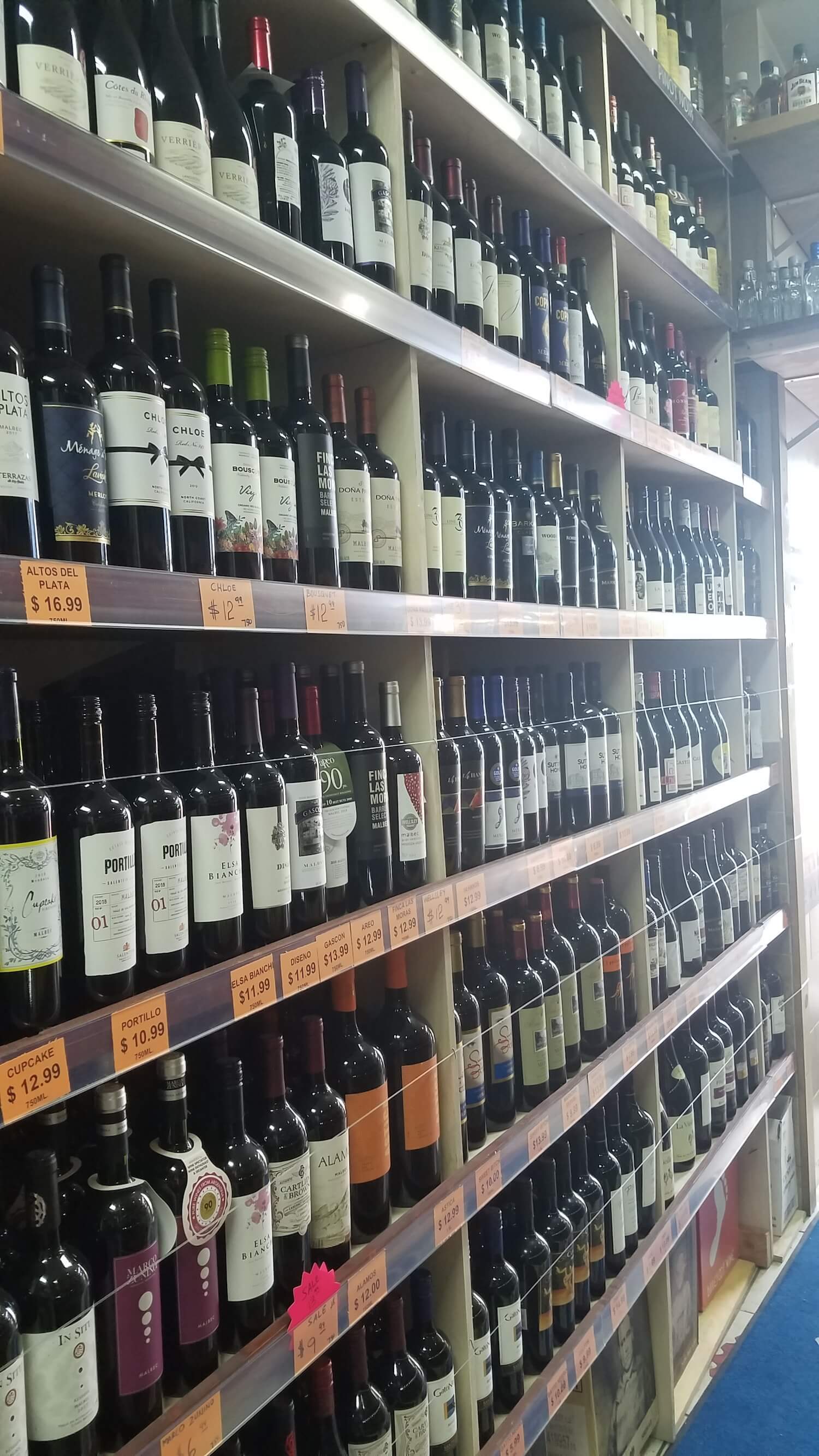 My sister lives in New Jersey, she worked at a casino before it closed. Our mother calls us from home, she says "Get out of there!" She sees New York and New Jersey on the news in Africa, so much Covid here. She thinks we should leave, it's too dangerous.
I'll be honest: I do not feel safe. I have to talk to people all day, talk talk talk. Sometimes what I see is, I don't see customers. I see only the virus. My worker, he didn't come in for a while because his family did not want him to be sick. But he wanted to work, and I needed him here, so he came back after some time.
I think of putting up a glass shield on the counter, but people want to talk to me, they ask about which tequila is good, or alcohol content in a wine, things like this. The store is so small, a glass would make it even smaller. I don't want to get sick, but I need to talk to customers.
It is strange, in some ways the pandemic helped me. Because I stayed open and people got to know me. I have not been sick, business is good, I'm even doing delivery to other neighborhoods now. But New York City doesn't seem like New York City.
I want to know: What's it like to have a business when everything is normal?