I make gluten-free snacks. It took a Black man dying for people to try my crackers.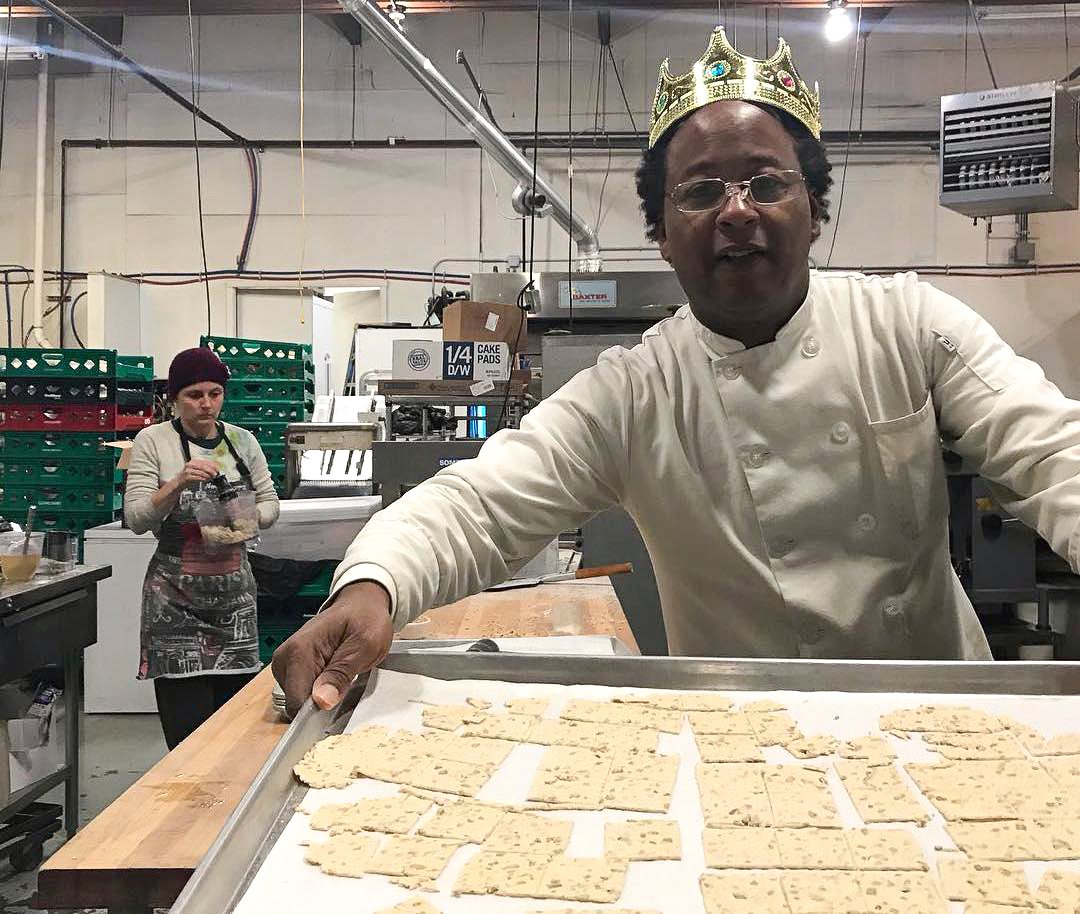 courtesy of The Cracker King
"Because of the Black family on the front of the package, people started grabbing my product for the first time; I'd been there the whole time, but before they just walked by."
After eight years of effort, Jovani Prince, the 56-year-old founder of The Cracker King, finally finds himself fielding retail offers and talking to investors about next steps. But what looks like a happy ending is built in part on another man's tragedy: Although Prince has always believed in the quality of his gluten-free crackers, it took the May 25 murder of George Floyd to motivate groceries to feature product lines from Black-owned businesses.
He stands on the brink of success and expansion, both thrilled and wary: The Cracker King has enjoyed dramatic growth in the last eight months, including Whole Foods' decision to stock the crackers. But Prince dreams big, and considers this latest growth spurt as the next step to "the number one snack food company in the nation." That requires an infusion of capital beyond friends and family, and Prince, who has endured a string of financial challenges to get this far, finds himself staring at the toughest one yet.
Investors are not as quick as retailers to pursue Black-owned businesses, and Black investors, who might be quicker to step up, represent only a small percentage of that population. Prince is in talks with a group of potential backers, but it's a hard slog—harder than he feels it ought to be when 72 percent of Black-owned businesses are profitable.
Prince lives with his family in Beaverton, Oregon, a suburb of Portland, where protests sparked by Floyd's killing continued for almost six months, even as his business horizons brightened. Corporations that had relied on racially-based iconography for decades retooled their brands—Quaker Oats retired Aunt Jemima, and Mars, Inc. rebranded Uncle Ben's as Ben's Original, as new images, like the one of Prince wearing a crown on Cracker King packaging, took their place on market shelves. Now he's an inadvertent data point on the next phase of change, as he waits to see if the momentum will continue.
The following is a condensed and edited version of our conversation.
—
Trial and error
I first started making gluten-free crackers about eight years ago when I lived in Oakland, California. I had just been let go from a job working in sales for a tech startup in San Francisco, and the job search crushed my morale. When I walked through the door and saw a white man, I thought to myself, "They're not going to hire you."
I felt I had been set up for failure: I dropped out of high school, and although I eventually added some junior college credits to my name, I didn't have a formal education. But I needed to do something to provide for myself and for my family, and starting my own business was the only way I could change things because no one could take that away from me. I'd learned how to hustle, and eventually turned this skill into sales jobs, so I knew I had what it'd take to sell a product I believed in.
My wife, Lesley, is the one that helped me realize I should start a food business. She pointed out that all I do is talk about food. Not too long after that first thought sparked, we visited my mom, who made these amazing crackers. My wife came up with the idea that I should make those crackers.
courtesy of The Cracker King
Things really came together when a friend who was gluten-free told me they were disappointed by the lack of delicious gluten-free products. So I went to a bunch of different stores to do some research and realized there was a lot less competition in the gluten-free cracker market. I just saw the opportunity if I changed my mom's recipe and made it gluten-free.
Through trial and error, I got the business up and running in 2015; we called it Nita J's Artisanal Crackers, and they came right out of my kitchen. Eventually I moved to a shared kitchen, but I was still bagging them in my living room. The best way to start would have been to sell directly to customers, but it was next to impossible to get into a farmers market in the Oakland area. If I had sold directly to customers I would have learned some things that are essential to a successful food business, like setting a good price point.
[Subscribe to our 2x-weekly newsletter and never miss a story.]
I sold the crackers directly to about 20 grocery stores in the Bay Area, including Safeway, Draeger's, New Leaf and Rainbow Grocery, but it was a costly mistake: it's next to impossible to be successful without getting your product in people's mouths, first, and creating a buzz. I was lucky to sell a bag a week in each store. In 2017, about two years after I launched my first cracker business, I filed for bankruptcy.
The stay-at-home entrepreneur
That same year my family moved to Beaverton, Oregon, a suburb just outside of Portland, because my wife had been recruited to work for Nike. We had two-year-old twins and a three-year-old, so it was better for us: affordable housing, better education for the kids, and there was nothing left for me in the Bay Area. The move was stressful, and the bankruptcy only made it harder.
Part of me wanted to give up—and my wife, who had championed me every step of the way and taken out loans to help me get started, stopped believing in the business. But everyone who tried the crackers loved them, and I couldn't let go of the idea that they were my way to provide for my family. I did everything I could to reassure my wife, and I restructured the whole business.
While she was at work during the day, I took care of our kids. As soon as she got home in the afternoon, I'd make crackers, and then, after four to six hours, I'd work as a rideshare driver all night. I formulated a new, cost-effective recipe and infused different flavors. I was obsessed with making sure the crackers were light, crispy and crunchy. Then I got into farmers markets in and around the Portland area.
I adopted a new business name: The Cracker King. Sure, "cracker" may be a word used by the older generation as a derogatory reference to poor whites. But most people don't make that connection. In the entire time I've sold my brand, I've only had two people comment on this double meaning of cracker, and they were in their 50s and 60s.
Then I redesigned the packaging. It was important to me to let people know that The Cracker King is a family business, so I created a package with an illustration of my kids standing in front of me as the Cracker King. I was a little apprehensive about putting us on the label because I wasn't sure how people would respond to seeing a Black family, but I'm proud of being Black and proud of my family, so why would I hide who we are? I'm representing myself in a positive light. That's important to me because it's the only way we can change the racism that exists in our society.
And it worked. I was at five farmers markets, selling 100 to 120 bags a day.
One day, I met a rideshare customer who worked at New Seasons Market, and through this connection, New Seasons became my first retail customer. They put our gluten-free crackers into five stores, and we sold just enough to stay in the stores, but we weren't doing great. Most of the sales I got were through the farmers markets where I had the chance to convince people to try the crackers.
All I needed was someone to give me a chance.
Heartbreak and opportunity
George Floyd's death shouldn't have been the turning point, but it created a snowball effect.
Suddenly, local magazines wanted to interview me. The Portland Monthly, Willamette Week, and Portland Business Journal brought new attention to our Web site. Our online sales, which were small, picked up.
Because of the Black family on the front of the package, people started grabbing my product for the first time; I'd been there the whole time, but before they just walked by. Now, they tasted the cracker and came back for more. Sales skyrocketed from an average of 12 bags per store per month to 50 bags per store per month.
Because of the Black family on the front of the package, people started grabbing my product for the first time; I'd been there the whole time, but before they just walked by.
And places that I'd tried before but wanted nothing to do with me, now want to support Black businesses. Around 40 retailers were showing interest, including Whole Foods, where we launched in December, across the entire Pacific Northwest. While George Floyd's death isn't the reason I was able to get in the door there—I crashed a party that was for existing vendors and was, okay, who do I have to talk to?—I think the protests helped speed things along, especially because of the interest from competitors.
Prior to the protests we were in 18 stores. Now we're in more than 80, with three flavors: Cheddar N' Pepper, Sriracha, and Rosemary and Sea Salt. And we were just named a winner of the Good Food Foundation's 2021 Good Food Awards for Best Snack. I mean, things are moving. It's not a joke.
With this newfound traction, we've made some more changes. Now it's just the Cracker King on the label, not my family, because we had to make space to show an image of the crackers. My team expanded by 7 employees and a CFO, and to meet increased demand and scale the business, we need a co-packer, an established bakery manufacturer that could produce and package our crackers. It's a much cheaper alternative to building our own manufacturing facility, but it still comes with a hefty price tag—$80,000 of the $200,000 I hope to raise starting February 1 on Wefunder.
The long-range plan
Despite Cracker King's success, it's been very difficult to lock down an investor. In 2020, our crackers won the Taster's Champ audience award from Oregon Entrepreneurs Network, while another company won the pitch contest. They got $300,000. We got nothing. I've also pitched at The Beaverton Startup Challenge. I've to so many people, often white men who clearly have no interest in partnering with a Black business.
But we're finally in negotiations with Zebras Unite, a women-led, multicultural investment group that heard of my brand when I won the Taster's Champ award.
Not only do they share the vision for the company, but I feel like I can be myself around them. As a Black man, I feel like I'm constantly trying to make people not feel threatened, especially in the business arena. And if I come off as too Black, investors will assume I'm ignorant. It's a very fine line, so it's refreshing to have connected with investors where this isn't an issue.
But I've learned never to let other people's assumptions about me hold me back. One way or another, my goal is to be the number one snack food company in the nation. I'm planning a line of crackers for children and a graham cracker cookie—and then, I'm going to help other gluten-free snack food brands launch their products.