Amid severe drought in Oregon farming region, competing needs for water spark tense debate over what comes first—farmers, endangered fish, or tribal food sovereignty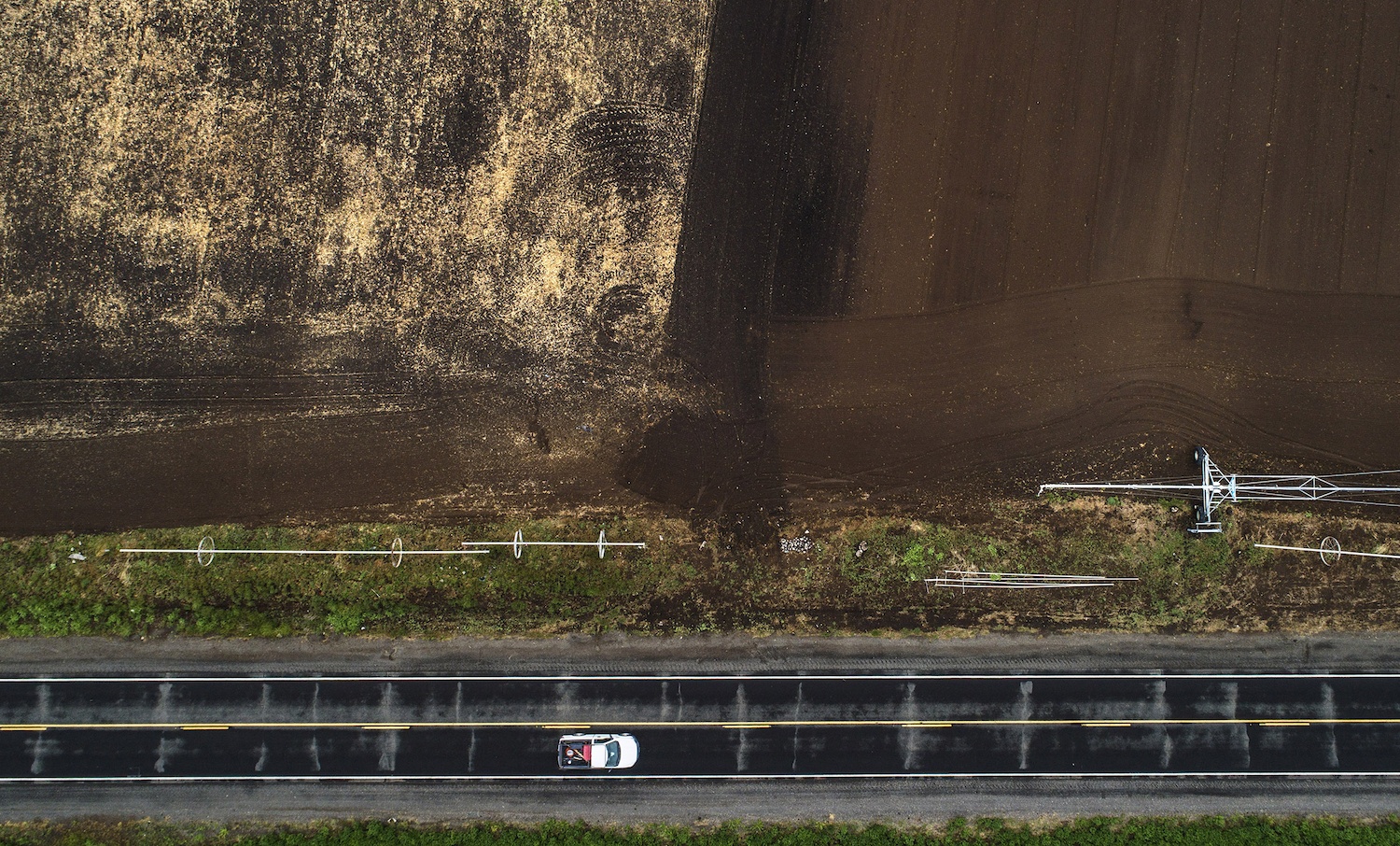 Carlos Avila Gonzalez/The San Francisco Chronicle via Getty Images
The federal government is strictly curtailing irrigation this year in an attempt to protect endangered fish important to Indigenous tribes. Farmers say this will make it all but impossible to farm, while tribal groups say the plan doesn't go far enough to save their fisheries.
In mid-April, a farming region in southern Oregon began to release water from the Klamath River into its irrigation canals. According to the local water authority, this was a standard move to jumpstart the farming season during one of the driest seasons in recent memory. But according to the federal government, it was an illegal maneuver that could further jeopardize the survival of multiple endangered species and food sources important to Indigenous tribes and fisheries in the region.
Pictured above: A car drives by a field owned by Walker Farms, which decided against planting crops and left its field half-plowed after learning it would lose water in the Klamath Basin outside Malin, Oregon, on Monday, May 18, 2020.
Because of severe drought conditions in the region and low snowpack levels, the Upper Klamath Lake—a large, natural reservoir of freshwater that drains into the Klamath River—has experienced historically low inflow this year. That means there's not enough water to go around for everyone who needs it: tribes that depend on the lake to sustain culturally important species of suckerfish, commercial and tribal fisheries downstream who depend on flow from the lake to support salmon populations, and farmers and ranchers who rely on irrigation to harvest crops.
On April 14, the Bureau of Reclamation (USBR), a federal agency that oversees the Klamath irrigation project, announced that farmers would only get 33,000 acre-feet of water this year due to drought conditions—the lowest allotment in its history. The project spans from southern Oregon to northern California. For context, farmers say they need 400,000 acre-feet in drought years. That didn't stop the Klamath Drainage District (KDD) in southern Oregon—a public entity contracted to deliver water in the region—from turning on the spigot for its constituents two days later.
"We tried to hold off [diversion] as long as we could," said district manager Scott White. White said the district board faced immense pressure to divert water from farmers in the region dealing with low soil moisture. "Our landowners were just champing at the bit."
White said that the district was accessing water from the Klamath River through a state water permit rather than through the federal government's allocation, which he claimed was standard operating procedure. The federal government doesn't see it that way. In a letter addressed to the district shared with The Counter, USBR ordered White to stop making the diversions, which it called unlawful.
"[The] water that is currently in the Klamath River is committed to satisfying the Endangered Species Act (ESA), an obligation that supersedes irrigation deliveries and rights," the agency wrote. "Therefore, KDD's diversion of water … is contrary to the ESA and may subject KDD to legal action if it does not immediately cease diversions."
Editor's Note: The initial headline for this story said the water was illegally diverted by Klamath Drainage District. We have since changed the wording to reflect that the KDD is disputing who has authority in this matter—KDD or USBR.
The releases mean that there's less water to go around for everyone else who needs it, in a year where there was already little to begin with.
The releases mean that there's less water to go around for everyone else who needs it, in a year where there was already little to begin with. According to a USBR spokesperson, the agency is making up for the diversions by releasing more water from the lake. However, tribes and commercial fishermen downriver are worried that prolonged diversions will reduce river flow long-term, in turn exacerbating poor environmental conditions and further harming salmon populations that they depend on for food, income, and ceremonial practices.
"It felt very, very disappointing that individuals would take actions, such as to illegally divert water, when there is so much pain being felt throughout the basin for communities who aren't getting the flows or the water levels necessary for their communities," said Frankie Myers, vice-chairman of the Yurok tribe. "It felt like a pretty selfish act."
Salmon are a culturally and economically important species for the Yurok. But poor river flow, pollution, disease, and dams that obstruct movement have all played a role in the decline of the Klamath River's salmon population.
Every year, a coalition of tribal representatives, fishermen, and community and environmental advocates sets catch limits on salmon in the region in order to maintain long-term viability. Three decades ago, Myers recalls, Yurok families could each harvest hundreds of fish from the Klamath River, enough to sustain themselves for a year. This year, he estimates that the tribe will be allocated the equivalent of one fish per person, raising concerns about food sovereignty. The water shortage also exacerbates the woes of non-tribal commercial fisheries. For years, the region has put in place strict quotas to conserve salmon populations. Earlier this month, the coalition closed off commercial fishing in the region completely.
Not only does the water shortage pit agricultural interests against the needs of communities downriver—the scarcity also puts the survival of different endangered species in conflict.
"The politics here in the Klamath, just like in the rest of the country, are pretty volatile."
"I think it's pretty clear there's not enough water to support the existing level of agriculture."