Foreign beef can legally be labeled "Product of U.S.A." It's killing America's grass-fed industry.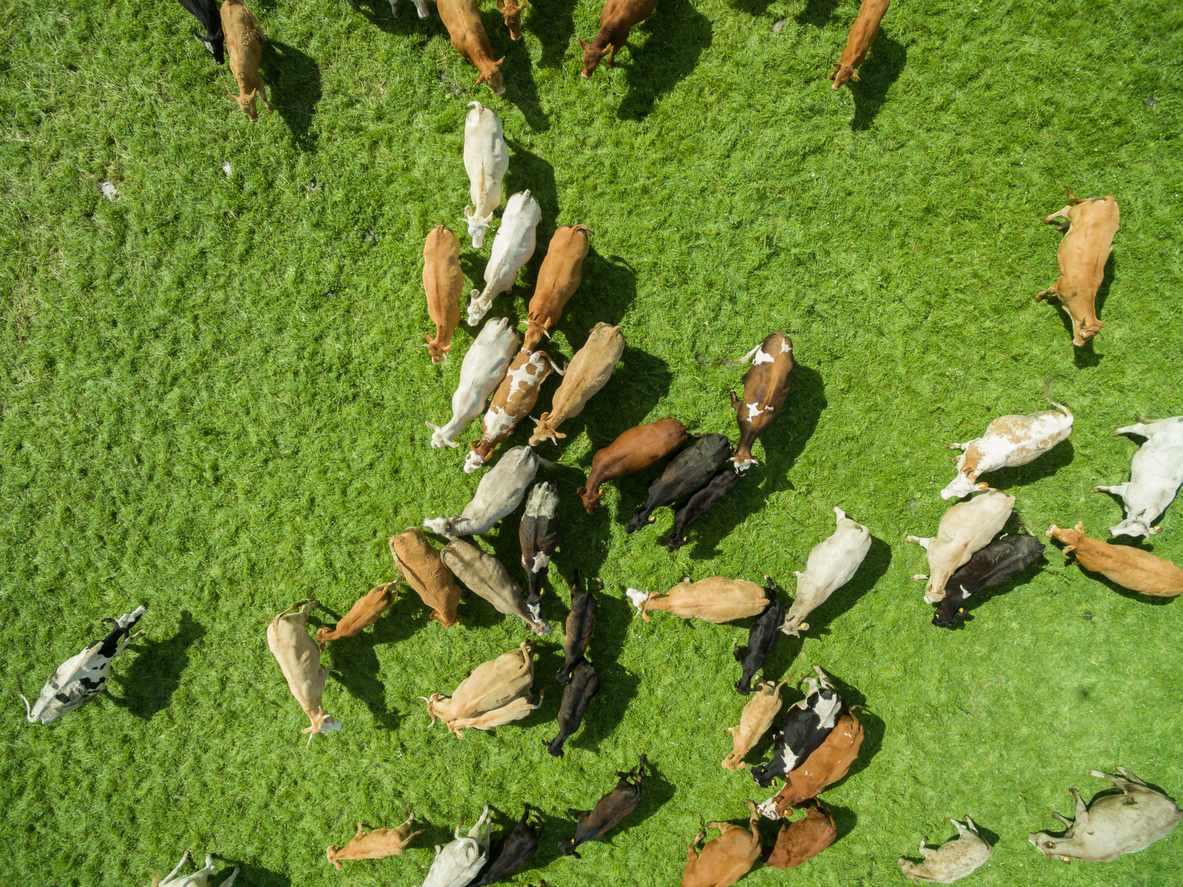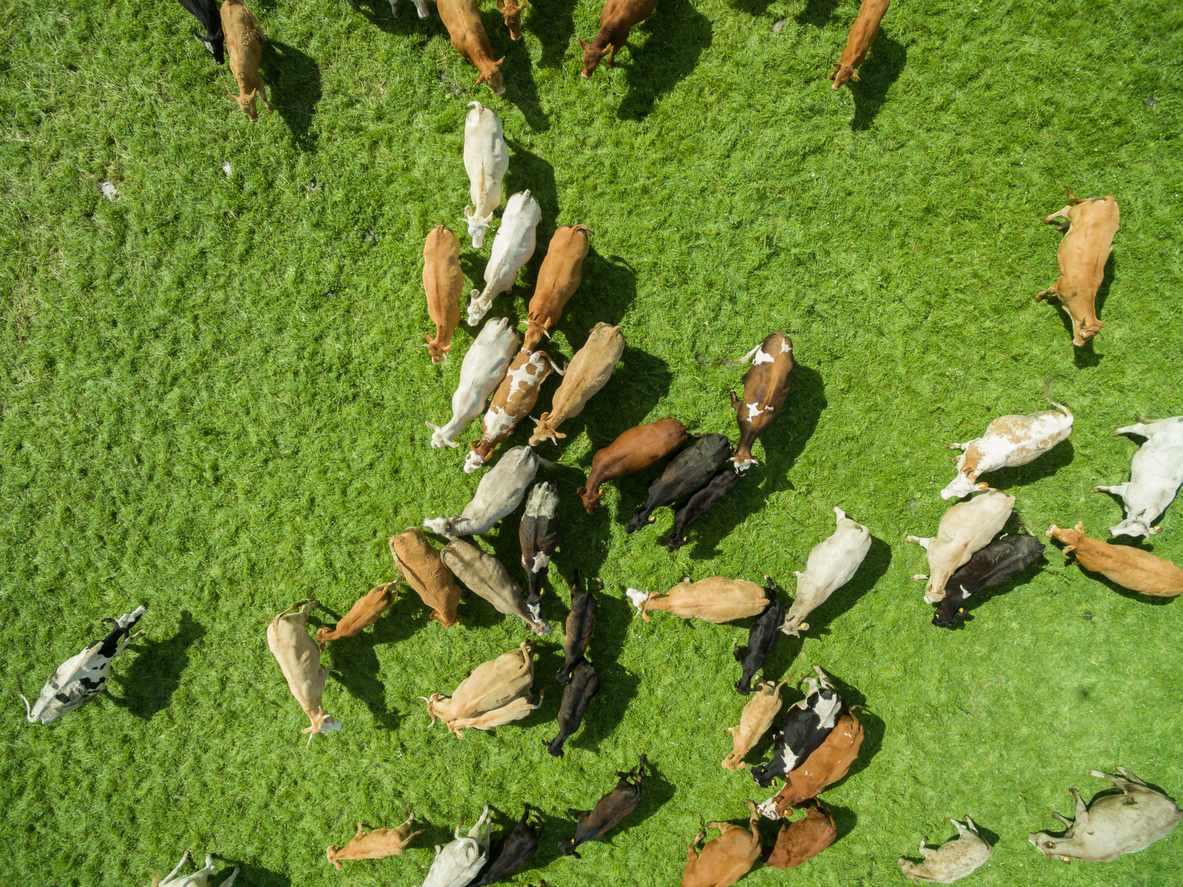 iStock / bestgreenscreen
How rampant mislabeling puts America's grass-based cattle producers out of business.
Last month, in a petition formally filed with the United States Department of Agriculture (USDA), two advocacy groups made a stunning claim: Your American grass-fed beef might actually come from overseas, even if it's labeled "Product of U.S.A."
This story received an honorable mention in the 2018 Society for Advancing Business and Editing and Writing Awards (retail category).
Those two groups—the American Grassfed Association (AGA), which offers the country's leading "grass-fed" certification, and the Organization for Competitive Markets, a watchdog group that fights corporate consolidation in the food industry—point out that a massive regulatory loophole allows companies to falsely, and yet legally, claim their imported beef comes from our pastures.
The trouble began in 2015, when the Obama administration's USDA rolled back Country of Origin Labeling (COOL) for beef and pork products, allowing meat to be sold without disclosing its home country on the label. But that decision, which angered many American ranchers, has further muddied the waters in a way no one quite anticipated. Under the current rules, beef and pork products that are shipped to the United States and processed further here, can be labeled "product of U.S.A.," even if the animal was raised a continent away. That means a steer slaughtered in Uruguay and broken down into steaks at a meatpacking plant in Colorado is technically American meat—even if it isn't.
That's a huge issue for American grass-fed producers, who are now finding themselves undercut by foreign competition. Allen Williams, a 6th-generation rancher and founding partner of Grass Fed Insights, a leading consulting group on grass-fed beef, says U.S. producers owned more than 60 percent of the domestic grass-fed market in 2014. Then came COOL repeal. By 2017, American ranchers' share had plunged to just 20 to 25 percent, according to an industry analysis by the Stone Barns Center for Agriculture. Today, Williams, who consulted on the Stone Barns report, says American producers claim only about 15 percent of the grass-fed market—and that share is rapidly shrinking.
Imported grass-fed beef brands are taking advantage of a legal ambiguity—and some are downright deceptive.
Ranchers attribute the decline directly to COOL repeal. The fact that foreign companies can pass their imported beef off as American, they say, has made fair competition impossible.
"The very idea of labeling beef in a grocery store 'product of U.S.A.,' when the animal never drew a breath of air on this continent, is just horrible," says Will Harris, owner of White Oak Pastures, which produces its branded line of grass-fed beef in Bluffton, Georgia. (Harris is also on AGA's board of directors.) "I don't begrudge importers or producers from other countries selling to knowing consumers that want to buy that imported product. But I'm appalled at what the deception has done to the economies of our membership. It has moved the needle from grass-fed beef producers being profitable, to being a very break-even—or, if you're not careful, a losing—proposition."
"The very idea of labeling beef 'product of U.S.A.,' when the animal never drew a breath of air on this continent, is just horrible."
But though pastured beef often isn't as American as it looks, a question remains: How much does it actually matter? I found myself wondering how much we mean to prioritize domestic purchasing when we spend a little more to buy grass-fed, and whether the product's country of origin makes a meaningful difference. Are grass-fed steaks from Australia all that different from those raised on a ranch outside Austin, Texas? I wanted to know whether we we should stop handwringing about geography—or if misleading labels somehow betray the grass-fed ethos, and amount to a profound abuse of consumer trust.
Grazed and confused
If Williams is right that only 15 percent of the grass-fed beef is raised domestically, you wouldn't necessarily know it just by strolling through the grocery store. On a recent trip to Trader Joe's, I inspected a package of "100 percent grass-fed organic ground beef," looking for clues about its origins. The casual observer could be forgiven for mistaking that product for American meat. The splashy consumer-facing label features a USDA organic seal, a USDA inspection sticker, and, in smaller print, the phrase "processed in USA" alongside Trader Joe's corporate address in Monrovia, California. Of course, foreign beef can still be certified USDA organic and all imported meat goes through USDA inspection. But this product features not one but four allusions to the U.S. on its label. The average shopper wouldn't be crazy to assume it's coming from here.
Flip the package over, though—to the side few people read up close—and the label tells a different story. In small, no-frills font, below the freeze-by date and above the safe handling instructions, are the words "Product of USA, Australia, and Uruguay." That phrasing would seem to suggest that Trader Joe's ground beef is a blend of beef from American, Australian, and Uruguayan cows—an arrangement that might surprise some customers, given what the front of the package says. But even that reasonable assumption may not be accurate. Trader Joe's may only be buying Australian and Uruguayan meat that's then ground at a facility in the U.S.—enough to qualify as American in the eyes of regulators. It isn't really possible to tell.
If someone wants to help the environment, they're likely to want to do so in their own backyard first.
Imported grass-fed beef is not a better product, necessarily. It's simply cheaper.
"You're working on razor-thin margins and any little economic hit can take you out of the game."
But grass-fed producers selling directly via farmers' markets can keep up to 85 percent of the retail dollar, according to Williams. And ranchers who run branded programs—paying a smaller, custom packer to process their animals, then selling that signature line of beef with the help of various retail partners—can reach thousands of customers while still keeping 25 to 50 percent of the retail dollar.
There are challenges, of course. Greenmarkets are a low-volume business—it's hard to reach that many customers, even if the margins are signficantly higher. And branded programs are a more expensive way to do business, with added costs related to marketing, distribution, and slaughter. Still, the margins improve enough to double or triple the income earned on every animal—giving ranchers a chance to make up for the increased costs of grass-fed production, mitigate their risk, and earn a sustainable living.
But now that the market's been flooded with cheap imports, America's grass-based ranchers aren't thriving the way they'd hoped to. Though retail sales of grass-fed beef have soared—from $17 million in 2012 to more than 16 times that, $272 million, in 2016—American ranchers aren't the ones reaping the benefit of all that increased demand. Harris and other ranchers attribute this directly to consumer confusion over labels. If we can't tell the difference between Australian and American grass-fed beef—if both are labeled "Product of USA"—even a locally minded shopper is more likely to go with the cheaper product. The result, for ranchers who have spent heavily to transition or grow their herds, may be economic devastation.
If the U.S. took back only 50 percent of the market, it would send hundreds of millions of dollars into local communities each year.
Let's go back to the petition that the American Grassfed Association filed with USDA for a moment. The organization believes that, if labeling law can be changed, ensuring that only truly American-raised beef is labeled that way, shoppers will start buying domestic grass-fed again, even if it costs more. If the choice between domestic and imported is made more apparent, grass-fed proponents like Carrie Balkcom and Will Harris think American grass-fed beef will have a fightning chance—that our rural communities will finally see the economic benefits of the standard they helped to build.
The fact that USDA is taking public coments on the issue suggests that the agency may be reconsidering things. And that could be a sign that significant change is on the horizon.
"As a U.S. grass-fed beef producer, I believe it is imperative that honest, transparent labeling is required for grass-fed beef sold in America," writes Kay Allen, a Texas rancher, one of many producers who has commented publicly on the petition. "Not only does honest labeling protect American beef producers economically, it insures that WE, American citizens, control our own food supply."
For those who want to see rural economies revitalized, the stakes are high. Labeled grass-fed beef is only about a $1 billion market in the U.S., tiny compared to the nation's $105-billion conventional beef industry. But Williams points out that if the U.S. producers took back only 50 percent of the market—still down from more than 60 percent market share they enjoyed in 2014—it could send hundreds of millions of dollars into local communities each year. That would be a major departure from the current system, where profits from grain-finished domestic and grass-fed imported cattle flow primarily to large corporations.
"Instead of requiring just a handful of mega feedlots to finish all this beef, we would need tens of thousands, even hundreds of thousands of smaller farmers and ranchers," Williams says. "So instead of having one mega business, one major corporation, we'd be allowing thousands of small businesses, vibrant small businesses, to thrive. It would be a major boon not just to ranchers, but to local processors, and cold storage, and everyone who has a finger in this pie. Why would we not want to do that?"
The USDA is currently asking itself that same question. The agency will take public comments until August 17.