Thousands of food workers walk off the job in a "Strike for Black Lives"
32BJ SEIU
This week, a coalition of trade unions and progressive organizations came together for a mass walk-out staged in the name of racial justice—a new chapter in the long, uneasy alliance between civil rights groups and organized labor.
Update, 7/20/2020: This story has been updated to include photos from the Strike for Black Lives in New York City.
On Monday morning, Angely Rodriguez Lambert, a McDonald's cashier in Oakland, will clock in and walk off the job.
"There's a lack of protection, and we're more targeted and more vulnerable," she said, through a Spanish translator. "And it's something that we want to change."
Pictured above, protesters stand outside of Trump International Hotel and Tower, during the Strike for Black Lives on July 20th, 2020
She's referring to the coronavirus pandemic, but she could just as well be referring to the scourge of police brutality—two public health crises whose burdens have been disproportionately shouldered by people of color, and especially Black Americans.
Lambert is one of thousands of workers in more than 25 cities expected to take part in the Strike for Black Lives, a nationwide protest that organizers are calling "to bring about fundamental changes in our society, economy and workplaces." The July 20 strike targets workers in fast food, app-based delivery, airports, and nursing homes—essential industries in which people of color, including Black workers, are heavily represented.
The strike is led by the Service Employee International Union (SEIU), which has been organizing McDonald's workers for years, and backed by other labor unions like the International Brotherhood of Teamsters, the United Food and Commercial Workers, and the United Farm Workers.
The goal is not only to pressure corporations to do more to protect vulnerable workers during the pandemic—though a list of specific demands insists that companies must provide paid sick leave, employer-funded health care, stronger workplace safety measures, and ample personal protective equipment, among other priorities. The strikers are also asking for more comprehensive concenssions, including that businesses offer a $15 minimum wage and the ability to unionize without repercussions, changes that they say would help address economic exploitation and systemic white supremacy in the workplace—and make meaningful, profound impacts on the Black lives that corporations have been eager to say matter.
The walkout is just the latest, but perhaps largest, job action during the pandemic. Amazon, Instacart, Whole Foods, Walmart and Target workers have all walked off the job or engaged in coordinated sick-outs, as have workers in meat plants, fast food restaurants, grocery stores, and other essential workplaces.
More than the pandemic's previous strikes, this one draws overt attention to the ways that economic inequality and systemic racism are deeply and inherently linked.
But these demands are being made in the wake of nationwide unrest stoked by the police killing of George Floyd, a reckoning that has renewed calls for racial justice. More than the pandemic's previous strikes, this one draws overt attention to the ways that economic inequality and systemic racism are deeply and inherently linked. Beyond the workplace, the strikers are demanding that Black people set the agenda for education, housing, and criminal justice reform. They also call on elected officials to pass laws that uplift Black communities while fighting to ensure fair elections.
"We don't want piecemeal solutions," said Ash-Lee Woodard Henderson, a Movement for Black Lives organizer. "They don't work. We want to talk about a holistic approach to building sustainable, healthy, and well-taken care of communities, where they have the access to the resources that they need to be able to live healthy, long lives together."
During the pandemic, Americans of color have faced greater threats to their health and economic well-being than others, in part because they're more likely to have frontline jobs. Black people make up about one in nine workers overall, but about one in six essential workers, according to the Economic Policy Institute, a progressive think tank, due to their disproportionate presence in grocery stores, public transit, health care, social services, and other industries.
"We don't want piecemeal solutions," said Ash-Lee Woodard Henderson, a Movement for Black Lives organizer. "They don't work."
It's not just that frontline workers are more likely to be exposed because they can't work from home. Many of their employers offer limited sick leave, or none at all, a reality that presents a terrible choice. These workers can go to work and risk their health—or they can stay home, lose shifts and income, and jeopardize employer-dependent benefits like health insurance.
This precarious position is linked to a pair of tragic statistics: Black Americans have been infected by the coronavirus at significantly higher rates, and are more than twice as likely to die.
Franklin Coley, a partner at the Orlando-based public affairs firm Align Public Strategies, said aligning with racial justice activists is a sharp political strategy for unions like SEIU. The Black Lives Matter movement has galvanized broad national support at a time when organized labor groups have watched their political power decline.
"The upswing in support for Black Lives Matter is unprecedented … and the SEIU and Fight for $15 obviously see an opportunity in that," he said on a recent podcast. "They have been very, very pointed in trying to make this link. Obviously this is the forefront of discussion right now."
The unions' active support of the Black Lives Matter movement is notable, given the long, uneasy alliance between civil rights groups and organized labor. Labor leaders have fought alongside Black activists to end discrimination, and unlocked necessary economic advancement and financial security for Black people, said Naomi R. Williams, a Rutgers historian of labor and social movements. But many trade unions also have sordid racist and exclusionary histories, despite their role in fighting for civil rights. That legacy persists in other ways today. Union leaders are sometimes critized for avoiding direct rhetorical connections between economic issues and racial justice.
Still, while union membership is only one tool to chip away at systemic inequality, its promise of economic security and stability remains appealing to many Americans of color, especially African-Americans, who are disproportionately union members.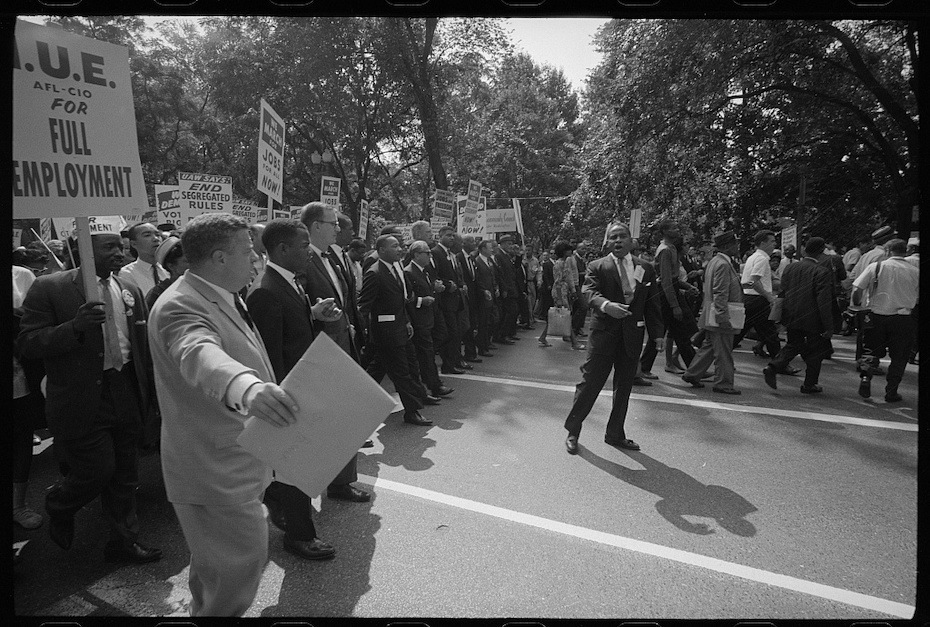 "I've seen it with both of my parents. My dad kept his job through Covid-19, and kept all of his hours paid, because of the union and the representation in the company," said Jeremy Espinal, a Chipotle line cook in Manhattan. Last year, he walked off the job to protest the fast-food chain's fair workweek violations in an action organized by SEIU, which is trying to unionize the company.
Coley advised restaurant operators and managers not to interfere with the walkouts, which he predicted would be one of the largest national labor protests in years.
"Arguing over whether they're walking off for political reasons, or for a legit workplace issue, it's probably not the time," he said, on the podcast, which was geared towards restaurant operators. "They're walking off due to work conditions, which is what they'll claim, and they have a legal right to do so, so you can't stop them."
Though workers can be penalized if they walk off the job for purely political reasons, Black Lives Matter is not merely political, a reality underscored by a recent decision to allow federal employees to express support for Black Lives Matter at work. "BLM is a 'hot-button' issue and both politically and culturally salient," the Office of Special Counsel wrote, in a memo. "But BLM terminology is issue-based, not a campaign slogan."
The movement's ultimate goal is to draw attention to the unjust forces that shape Black lives, while at the same time demanding better—a mission that transcends partisanship, even if it has been heavily politicized.
"That $15-dollar minimum wage is the minimum of what we could be doing at this moment," said Woodard. "My hope is that this intervention not only wins these workers the demands that they raise, but that it also sees them [treated] as intersectional humans that actually deserve care and respect and dignity in all aspects of their lives inside and outside of the workplace."
For more details and photos, click here.