The hunt is on to find 5.6M seniors eligible for SNAP, but not enrolled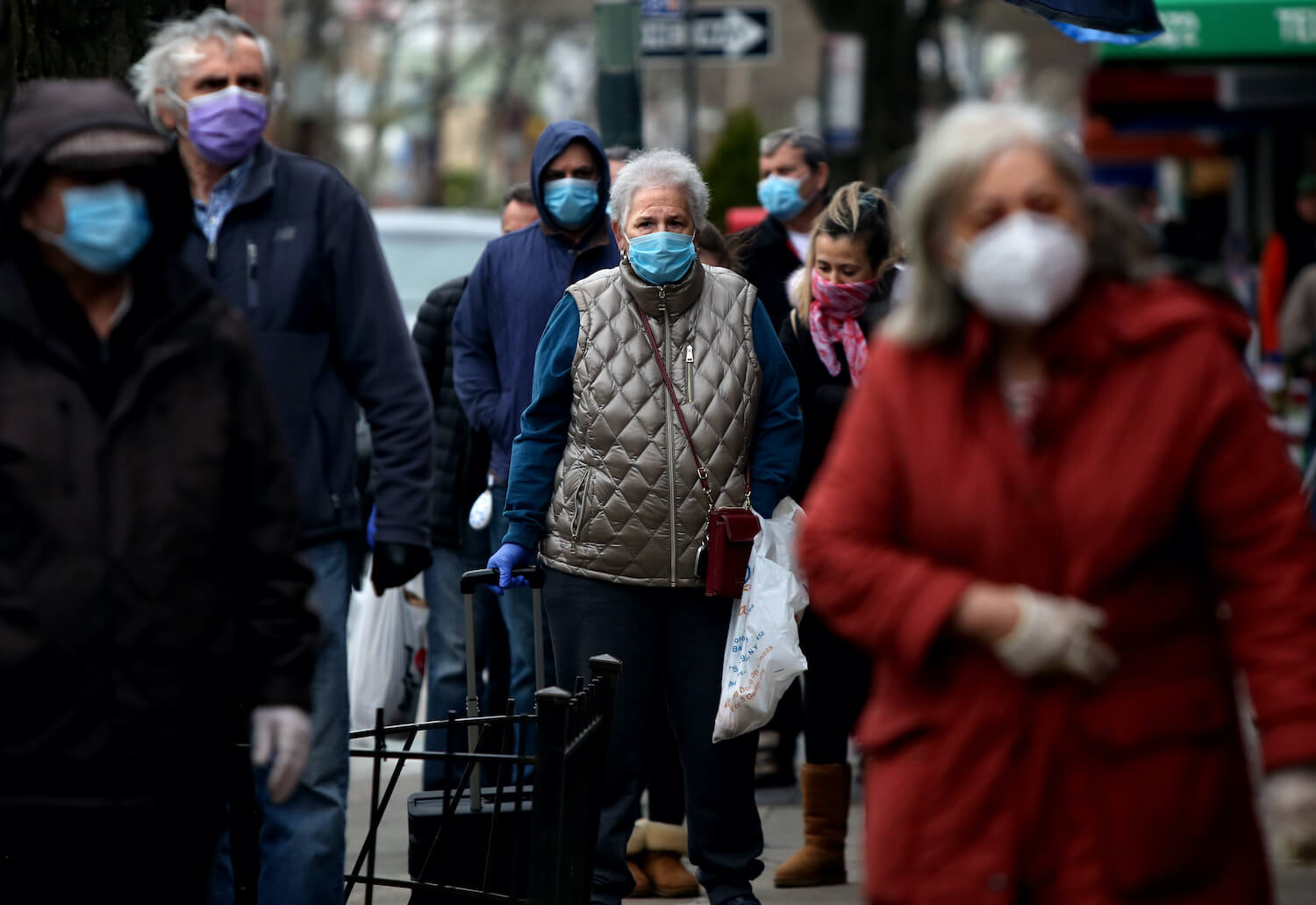 Yana Paskova/For The Washington Post via Getty Images
Using millions in grant funding, 40 food banks and other community organizations are pursuing a variety of tactics to track down this vulnerable older population.
In response to a nearly 60 percent increase in the number of adults over 60 reporting food insecurity since the start of the pandemic (see chart), food banks are intensifying their efforts to reach seniors and enroll them in SNAP. 
This article is republished from 
Food Bank News
, which seeks to end hunger by advancing best practices in hunger relief. You can read the original article 
here
.
With fewer opportunities to meet seniors in person, these food banks are emphasizing digital communications and online SNAP services, while also leaning into partnerships with community organizations and senior residences.
Seniors are far less likely to enroll in SNAP than other populations, averaging enrollment of only 42 percent of eligible seniors, compared to 83 percent for all age groups, according to the Food Research and Action Center. Nearly 5.6 million seniors are eligible for SNAP but not enrolled, according to the National Council on Aging. 
The NCOA is determined to chip away at that 5.6 million, and has enlisted some food banks to help. Over the summer it announced a two-year initiative to connect 1.15 million seniors to SNAP, funded by a $4.35 million grant from Walmart Foundation. The grant will support use of its virtual BenefitsCheckUp tool, designed to screen seniors for benefits eligibility and sign them up, as well as funding for 40 community-based organizations that provide in-person benefits counseling.
Eight food banks were among 40 community-based organizations to receive a total of $2 million in grant funding for SNAP outreach and application assistance efforts. These include: Atlanta Community Food Bank, Feeding the Gulf Coast (AL), Feeding Wisconsin, Feedmore WNY, Greater Chicago Food Depository, Greater Cleveland Food Bank, Manna Food Bank (NC) and Treasure Coast Food Bank (FL). These and other food banks are on a mission to find seniors, educate them about SNAP and enroll them, despite the challenges Covid presents.
In Wisconsin, De'Kendrea Stamps, Feeding Wisconsin's SNAP Outreach Director, noted an 11.5 percent spike in residents age 65 and older using her agency's resources to enroll in SNAP. Despite the increased need, the coronavirus has presented new barriers for enrollment. "With Covid, we can't do a lot of on-the-ground outreach at community centers, senior centers or libraries," Stamps said. "We have had to figure out a new plan." 
Part of the plan includes a pivot to increased print and digital resources. In addition to an expanded digital footprint, Stamp said her team's print pieces have doubled. "Some of our messaging over the last several months has focused on changes – like online ordering – and working closely with our state's grocery association to message using SNAP for curbside pick-up," Stamps said, about two programs that have the potential to keep populations at higher risk for the coronavirus safe.
The usefulness of technology in connecting seniors to SNAP, combined with its unreliability in rural areas has presented challenges. Stamps said her team is specifically targeting seniors living in rural parts of the state and is putting some funding toward research on internet connectivity for this population.
Stamps' team is also emphasizing partnerships with community organizations across the state. "By effectively communicating about the work that our outreach specialists provide, we have deepened these relationships," Stamps said about this network on the ground. "Additionally, our FoodShare helpline provides over-the-phone application assistance so seniors can access FoodShare from the safety and comfort of home," she added about Wisconsin's SNAP program.
According to Krista Garofalo, Chief Strategy and Advocacy Officer at Treasure Coast Food Bank in Fort Piece, Fla., technology has dissuaded some seniors in the counties her organization serves from enrolling in SNAP. "A lot of it has to do with access to technology, familiarity with technology," Garofalo explained. "Many of the seniors we serve at our Your Plate Health & Wellness Center lack access to technology or are not technology savvy."
At Food Bank for the Heartland in Omaha, Neb., Shelley Mann, Assistant Director of SNAP, said that she often sees low enrollment amongst her community's 60 and over population due to lack of knowledge about SNAP's functionality. "Knowing the income qualifiers is huge," said Mann about understanding if one is eligible for the program.
"And, knowing that if you take it [SNAP], it doesn't mean that you are taking away access for someone else," Mann added. "We hear that all the time, 'Give it to someone with kids, give it to someone who needs it,' and it's like, 'Well that's not how this works, SNAP is available for anyone who needs support.'"
In 2019, Mann spearheaded an effort to enroll eligible seniors while they were receiving seasonal flu shots. "We started reaching out to groups that were doing flu clinics," Mann explained. "It turns out, they were trying to do the exact same thing we were, which is to find the seniors. So, we started tagging along with them to enroll seniors in SNAP."
The food bank also trained nurses and pharmacists to screen for eligibility for SNAP during flu drives with the goal of referring food insecure seniors to the food bank. Mann printed screener questions on coffee mugs, which were distributed to hospitals and other medical facilities. However, that's as far as the program progressed before Covid's arrival.
According to Kyle Waide, President and CEO of Atlanta Community Food Bank, the sixth-largest food bank in the country with $164 million of FY 2019 revenues, increased funding to target the 60 and over population has allowed partnerships between his food bank and other agencies in the community to flourish. "Our core model is to work with organizations that already have relationships with senior populations," Waide explained about senior centers, housing facilities and medical practitioners. "The funding helps us connect more effectively," he added about his group's work in Georgia, where he said 10% of the senior population is food insecure.
Through the Elderly Simplified Application Project, or ESAP, the USDA grants people aged 60 and over with no earned income with 36 months of SNAP enrollment. Populations outside of this segment have to re-enroll every 6 to 12 months.
According to Esteban Gonzalez, Senior Manager of Benefits Outreach at Atlanta Community Food Bank, NCOA funding has allowed the nonprofit to partner with more senior residences. Over the last year, thanks to the financial support, his team has reached 8% more eligible seniors, despite the challenges of operating under increased access barriers due to Covid, he said.
In addition to the efforts of individual organizations, the federal government is striving to make it easier for seniors to get enrolled in SNAP and remain so. Through the Elderly Simplified Application Project, or ESAP, the USDA grants people aged 60 and over with no earned income with 36 months of SNAP enrollment. Populations outside of this segment have to re-enroll every 6 to 12 months. The program also waives recertification interviews and additional program verifications such as household income and size.
The hope of all these efforts is that greater SNAP enrollment among seniors will result in a healthier senior population. Research shows that SNAP enrollment by eligible seniors results in lower health care costs, fewer hospital stays, better nutritional outcomes and greater medication prescription adherence.