What if the only coffee shops left after Covid-19 are Starbucks?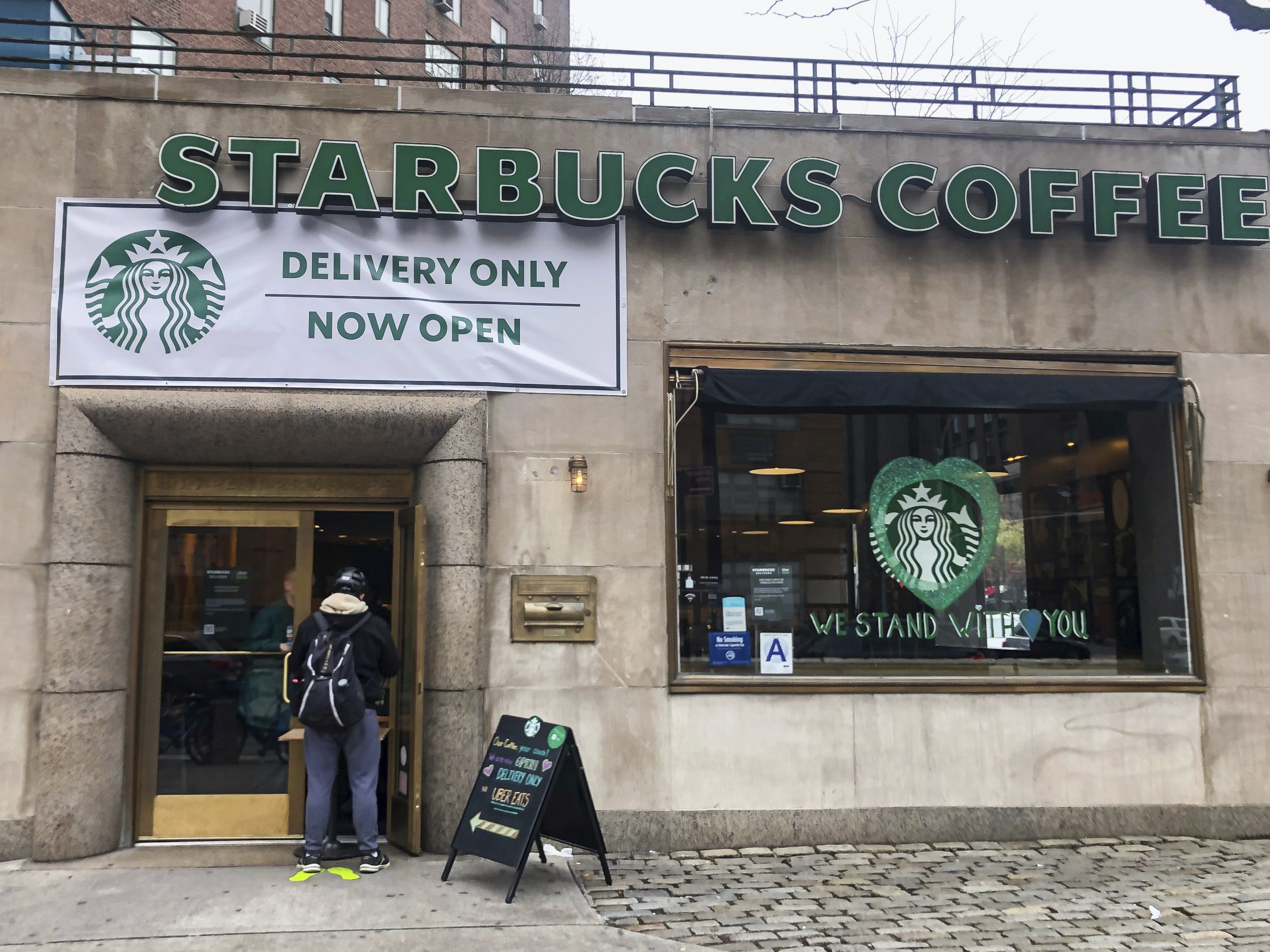 Samuel Rigelhaupt / Sipa USA via AP Images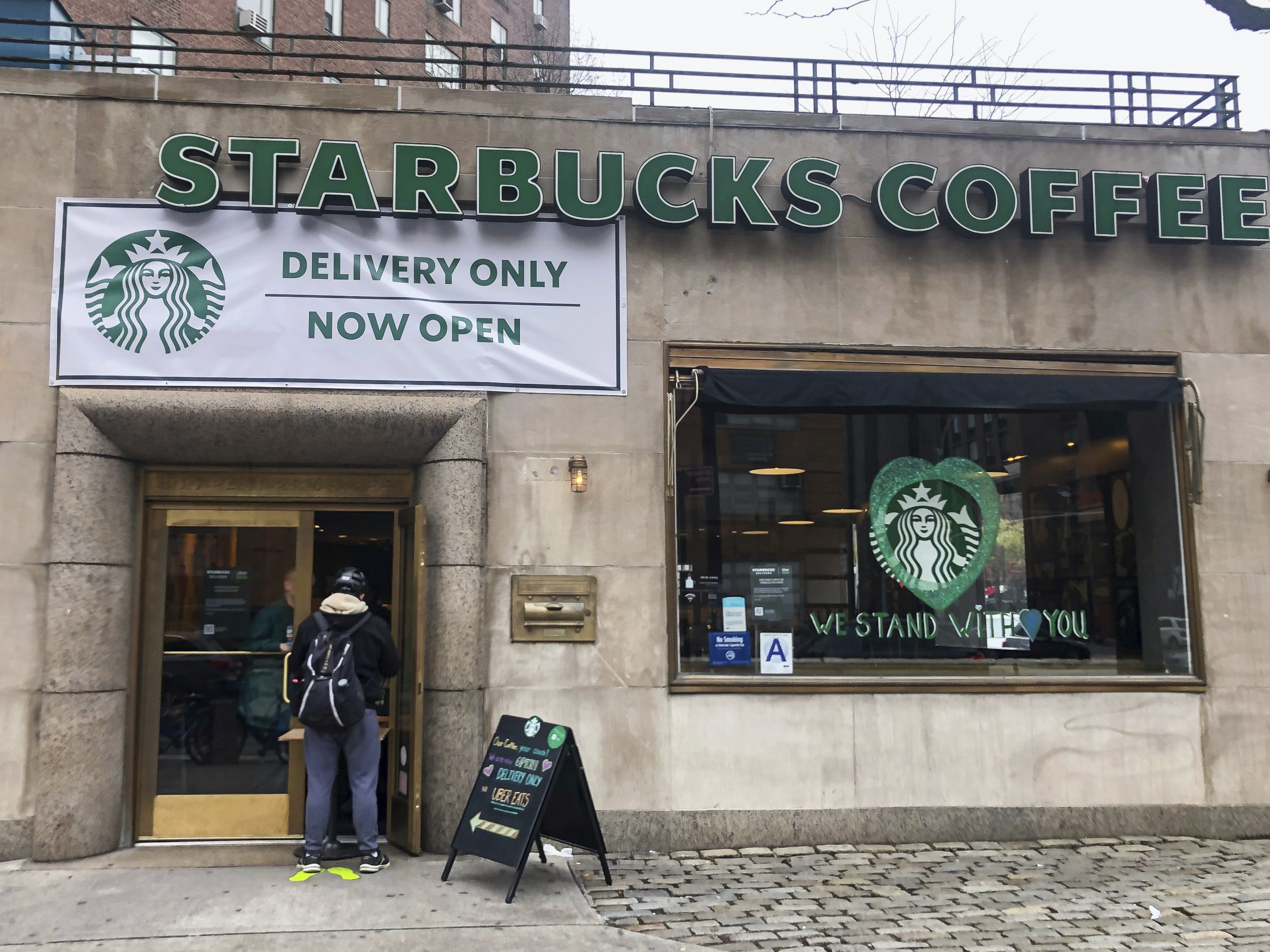 Samuel Rigelhaupt / Sipa USA via AP Images
Independent coffee businesses have been forced to revamp their business models almost overnight to survive the pandemic. Many of them won't make it.
There's a lot of hurt right now, but spare a kind thought for the independent coffee shop. George Howell, an eponymous roaster in Massachusetts with 30 years in the coffee business, has been devastated by the loss of revenue from the pandemic-related closure of his four cafés.
"We're trying to maximize what we can hold in terms of cash while continuing to roast with a skeleton crew … At this point, every roaster in the country with the means is looking at mail order," says Howell.
According to the U.S. Department of Homeland Security (DHS), coffee is considered a "critical infrastructure industry," meaning coffee and related support businesses may continue to operate through the pandemic. However, the spread of the virus has forced independent businesses to revamp their operating models practically overnight.
Covid-19's most visible damage lies in the shuttering of brick-and-mortar spaces and related job cuts. While big players like Starbucks have the luxury of raising pay for certain employees, most independents have furloughed all but core staff. Government-mandated closures don't automatically hit the pause button on job losses, rent payments, or mortgage obligations. Cash flows out while little to none flows in.
"We were very hopeful at the beginning but seeing how loan programs are rolling out, we are less and less optimistic."
Sixty-nine percent of coffee-based businesses have reported significant negative impact from Covid-19, according to a survey conducted in March by Peter Giuliano, chief research officer at the Specialty Coffee Association (SCA). As American independents fear closing, some worry Starbucks will be the last one standing. Giuliano's global survey of retailers, roaster retailers, coffee retailers, and roaster wholesalers found that 80 percent of these businesses earn less than $2 million in revenue each year, with a quarter of that group bringing in less than $100,000. Starbucks' revenue in 2019 was about $26.5 billion.
Not all small coffee businesses can pivot quickly to new channels to survive the pandemic.
The owners of NYC-based Café Buunni, Sarina Prabasi and her husband Elias Gurmu, long focused on the community aspect of Ethiopian coffee culture, serving beans sourced from that country's fair trade cooperatives. All four locations from Manhattan to the Bronx have now closed indefinitely. As a business largely based on people coming together, Café Buunni's revenue losses approach 100 percent.
To generate income, the couple have explored opportunities in online sales, local deliveries, and a new campaign to send a carton of coffee to health workers. A virtual tip jar on Venmo raised $1000 for staff who were let go with two weeks of pay.
While offering a glimmer of hope, these efforts amount to putting a band-aid on a broken leg. Prabasi and Gurmu say they need loans or grants if they're ever going to reopen.
"We were very hopeful at the beginning but seeing how [loan programs are] rolling out, we are less and less optimistic," Prabasi said. "We're applying for everything we can, but nothing has come through yet."
Last week, the Small Business Association said a $350 billion emergency loan program designed to help small businesses keep workers on their payrolls had already run out of funds.
"We've seen a huge spike in online sales, but it represented such a small slice of our pie before, that even a 300 percent increase isn't much to write home about."
Most respondents to Giuliano's survey reported a significant decrease in sales to both consumers and businesses. One bright note: 34 percent reported an increase in online consumer sales, and conversions to delivery and walk-up sales have been promising. Howell, for instance, is updating his website to boost e-commerce capabilities, a channel he had previously eschewed in favor of physical stores. Many also consider developing their social media presence a necessary pursuit.
Deemed an essential business by the state of New York, Coffee Labs in Tarrytown was an early adopter of the walk-up window. The specialty coffee roaster operates a single retail café, now with taped social distancing marks on the sidewalk and a protective Plexiglas window installed at the counter. "We're knee deep in loan paperwork, but hanging in there, just trying to get to the other side. We have let go of 60 percent of the employees but hope to hire them all back" said owner Alicia Love.
On the West Coast, Wrecking Ball Coffee Roasters in San Francisco kept two cafes open by installing sneeze guards and instituting zero-contact sales. Owners Nick Cho and Trish Rothgeb shared sanitation and safety efforts on their website to reassure clients it was safe to stop by. To keep customers engaged, they've turned to digital community-building across their social media platforms, hosting interviews with colleagues on their YouTube channel, for example.
Largely invisible to the public eye, businesses reliant on non-grocery wholesale accounts have suffered dramatic revenue losses.
Kim and Nick Walton of Flag and Wire in McMinnville, Oregon, are wholesale roasters with a retail shop and online presence. "We have lost nearly 80 percent of our wholesale business. Cafes and restaurants in tourism-focused areas are shut down. Offices have sent workers home," said Nick Walton.
Flag & Wire's online retail business has grown 300 percent, but it may not be enough. "We've seen a huge spike in online sales, but it represented such a small slice of our pie before, that even a 300 percent increase isn't much to write home about." Nevertheless, Walton believes it's an encouraging trend and plans to build on it.
Driven indoors, more people are brewing coffee at home. By ordering coffees from their favorite roasters or local cafes, consumers can provide direct support to the flailing industry. Given this growth in digital sales, it follows that direct-to-consumer platforms with an established online presence and low overhead, would fare well.
Companies like Trade market and sell beans from high-quality roasters. George Howell and 50 others across the U.S. participate. Trade's platform gives customers in underserved or shuttered markets access to unique beans, while providing roasters with a ready-to-go online sales channel.
However, Trade delivers through the United States Postal Service. The agency is facing funding shortages exacerbated by the pandemic and the White House recently blocked potential emergency funding, forcing companies like Trade to consider pricier delivery options.
"The Roaring Twenties was transformative for coffee."
How a coffee business weathers the pandemic will depend on its agility, debt management, and sales channels, and perhaps a healthy dose of luck. That's before factoring in logistical challenges beyond its control, like illness across the supply chain or lockdowns in coffee-growing regions.
With unpredictable disruptions on the horizon, businesses must navigate on a week-to-week, even day-to-day basis. Some are buying as much coffee as they can afford and stashing it away. Due to cash flow, others must simply wait and see.
Though Covid-19 will prove disruptive and even catastrophic for many coffee businesses, the post-pandemic landscape could offer fresh opportunities for a collective rethinking of commerce, society, and the environment.
"What we forget when we compare Covid-19 to the Spanish Flu is the period that came after. The Roaring Twenties was transformative for coffee," said Giuliano.
Depressed rents in major cities could invite back creative businesses long shut out of tony neighborhoods like Manhattan's West Village. And more people preparing coffee at home might increase appreciation for this undervalued export. The industry has long known great coffee is an affordable luxury. Maybe the American consumer will finally agree.