People with disabilities fear that permanent outdoor dining will make inaccessible cities even worse
Sam Bloch
Crowded sidewalks and streets make it harder for people in wheelchairs and mobility devices to get around, though some see a silver lining.
Edith Prentiss, a 68-year-old resident of New York City's Washington Heights neighborhood, has relied on a wheelchair for 28 years because of a badly injured right leg. She struggles to navigate many of the city's sidewalks, some of which are too narrow for her 23-inch motorized device or lack the corner slopes she needs to cross the road safely.
But when bars and restaurants moved outside in response to Covid-19 lockdowns, a bad situation got worse. Broadway, her local thoroughfare, is jammed, she says, by a "constant stream" of servers, bussers, and guests at Locksmith, a neighborhood bar at the corner of 192nd Street.
"When people in wheelchairs and pedestrians are trying to cross, it's problematic," she said. "I think sidewalks should be for transportation. Unfortunately, the mayor has deemed that they are all auxiliary restaurants."
Joelle Ludwig, a manager at Locksmith, said that the restaurant has not had any complaints: "There is more than enough space between where we have outside seating and the sidewalk, for a wheelchair to go through," she said, though that doesn't address how crowded the space might get. "Anybody that expresses any problem with our restaurant, we address it right away."
But the pandemic has redefined physical distance, challenging everyone. While able-bodied people have seen their personal space grow to six feet in every direction, people with disabilities—nearly 1 million in New York City—say their footprint has shrunk.
"I think sidewalks should be for transportation. Unfortunately, the mayor has deemed that they are all auxiliary restaurants."
Outdoor tables and chairs on sidewalks and in the street can block the passage of people who use devices to get around. With Washington, D.C. and Chicago encouraging restaurants to extend outdoor dining through the winter, and New York City's September announcement that it's permanent, advocates fear the seasonal inconvenience could become a long-term problem.
[Subscribe to our 2x-weekly newsletter and never miss a story.]
"Everyone is making a sacrifice—motorists, pedestrians and diners," said Christopher Schuyler, a disability attorney at New York Lawyers for the Public Interest. But, he adds, "the more restaurants have outdoor dining, the greater the chances are of creating accessibility issues for people with disabilities."
It's not like New York City restaurants made life easy pre-pandemic. Susan Dooha, executive director of the Center for Independence of the Disabled, New York, said she already had "a lot of issues" with restaurant door entrances, inadequate space between tables, and a lack of ADA-compliant bathrooms, which meant that disabled guests might refrain from drinking
"We have long wanted the city to ensure that, when it grants certificates of occupancy to restaurants, it ensures the facility is accessible," Dooha said. "But there are no ADA police."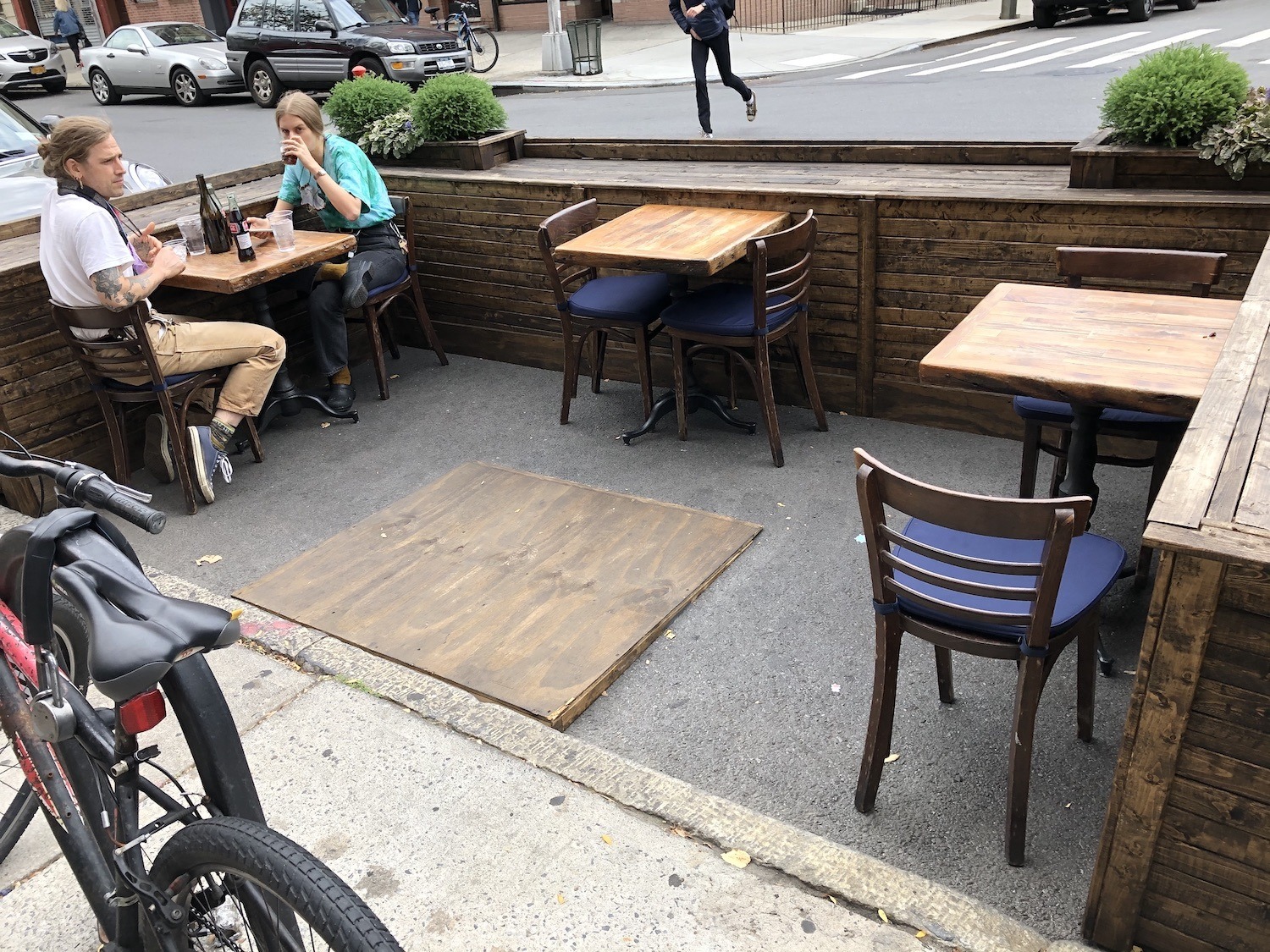 Open Restaurants, as New York City's outdoor dining program is called, requires ADA compliance, including three-foot pathways around every table, eight feet of clearance on sidewalks, and ramps to ensure wheelchair access to roadway seating. The issue is enforcement. On an afternoon walk along Atlantic Avenue, a major thoroughfare in downtown Brooklyn, and Court and Henry Streets, The Counter saw roadway dining rooms that didn't have space between tables for wheelchairs. Four of the 15 open restaurants didn't have their ADA ramps out.
Businesses that don't meet requirements can lose their outdoor seating; customers can file a complaint by contacting 311, and a spokesperson for the Department of Transporation, which issues permits, says that inspectors are in the field. So far, DOT has received 16 ramp-related complaints.
"I'm not against restaurants, and restaurant workers particularly, making money," Dooha said. "But it doesn't need to be at the expense of civil rights."
Two restaurant owners and managers contacted by The Counter say they have so far resisted making substantial investments in their roadway dining rooms because they thought Open Restaurants was temporary.
"We thought we'd have until Labor Day," said Patricia Ageheim, co-owner of Chez Moi, a French bistro in Brooklyn that offers sidewalk seating, as well as parking lane tables that are ADA-accessible to patrons who request a ramp. "It was, 'Let's get something up quickly, so we can make use of the remaining months,'" she said, adding that she hasn't had any problems accommodating guests with disabilities. But now that outdoor dining is forever, she's met with a contractor about building a raised platform and adding heat lamps.
"I'm not against restaurants, and restaurant workers particularly, making money. But it doesn't need to be at the expense of civil rights."
Prentiss and two other people with physical disabilities said they much prefer raised platforms that are flush with the sidewalk and obviate the need for ramps.
Nicholas Sakatis, owner of Moo Burger, a fast-casual operation, says he considered that pricier option but decided against it, fearing he would have to remove or rebuild his deck if regulations changed again. For now, he's sticking with a home-made wood ramp that descends to three street-level tables.
"I would do anything I can to accommodate people that have disabilities," he said. "But the city's not always on the same page."
Restaurateurs in other cities are waiting for clarification. Caroline Styne, the co-owner of A.O.C., a Los Angeles wine bar and restaurant, wants to add accessible sidewalk seating, but needs assurance that she won't have to get rid of the furniture, which includes plexiglass barriers, in a few months' time. (Outdoor dining in L.A. was recently extended to the end of the year, but hasn't yet been made permanent.)
For now, she seats patrons in a patio courtyard, accessible via a front-door ramp, and in the parking lot, where tables have 42 inches of clearance.
"Accessibility is a major issue that comes up continually in the restaurant industry," Styne said. "You can't not consider it at this point. It's just part of the vernacular of permitting."
One Brooklyn resident sees the situation differently, as an opportunity, not a new set of obstacles.
Shelly, a Brooklyn performing artist in her late 30s who asked The Counter not to use her full name, was born with a disability and has relied on mobility devices all her life. Wheelchair-accessible ramps for restaurants are "segregated entrances," she says, that make her feel different from able-bodied people. But during the pandemic, more restaurants are greeting patrons outside the front door, on the sidewalk—easier access, she says, and an equal set-up for everyone.
And she loves all the platforms in the street. Before the tables come out, she says, she takes to the deck and dances—turning, spinning and gliding freely in her chair.
"They're amazing," she says. "If the restaurant closes for a day, or if it's the late afternoon or evening, I can dance on it, like a stage."