Cheese is perishable and animals can't stop making milk. How Covid-19 is disrupting America's most time-sensitive industry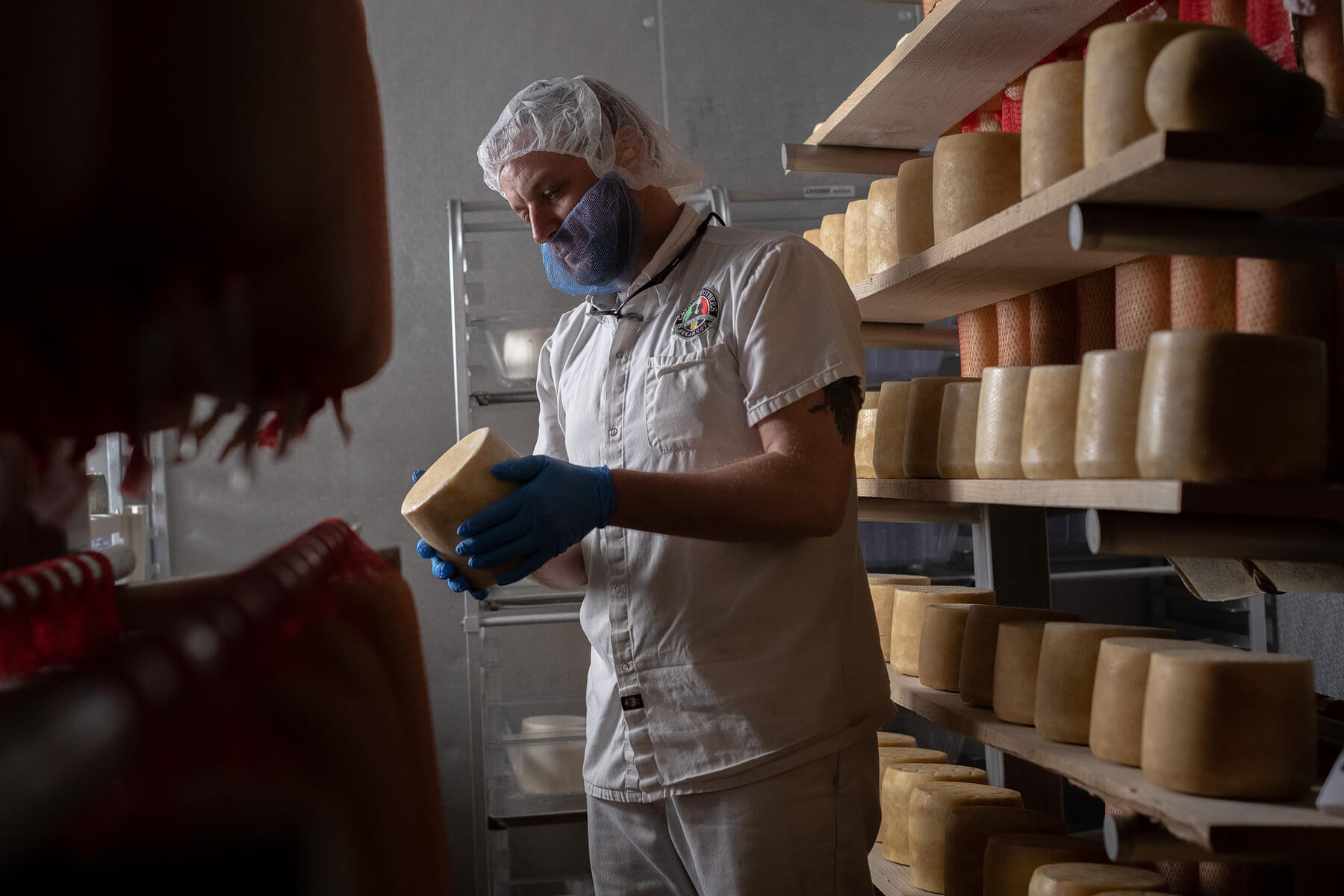 With restaurants closed and farmers' markets on hiatus, survival means finding new ways to feed animals, preserve highly perishable product, and bring in enough income to weather the pandemic.
Over the past few weeks, restaurants across the U.S. have drastically reduced operations in response to the Covid-19 pandemic, and many have closed their doors entirely. The effects have already begun to ripple through the American food system, resulting in lost revenue for farmers and foodmakers—and the nation's cheesemakers are among the hardest hit.
Pictured above: Wade Smith, executive director of production for Caputo Brothers Creamery in Spring Grove, Pennsylvania. The company has pivoted from fresh to aged cheeses in an attempt to compensate for a precipitous decline in orders.
"We've lost 95 percent of our restaurant business. We would typically ship 5,000 pounds of cheese out to restaurants in a week, and I think we did a few hundred pounds last week," said Rynn Caputo, president and co-founder of Caputo Brothers Creamery in Spring Grove, Pennsylvania.
Though Caputo Brothers produces a range of Italian cheeses, it specializes in fermented mozzarella curd: a minimally processed ingredient that chefs and home cooks can hand-stretch to make fresh mozzarella. After several years of steadily growing the business, building a mail-order program, and developing a state-level retail partnership with the supermarket chain Giant, the company was poised for big growth in 2020. One major initiative was an expansion of its creamery, including new equipment that would allow the company to mass-produce its own brand of finished mozzarella for the first time.
But since the coronavirus crisis began to unfold in the U.S. at the beginning of March, those plans have come to a standstill. The 4,000-gallon bulk tank and mozzarella stretching machine sit unused. Giant has stopped making fresh-stretched mozzarella from Caputo Brothers curd, and no longer fills cannoli to order with the company's products, to save time and streamline its strapped labor force. Now, rather than doubling her milk suppliers from two local dairy farms to a planned four, Caputo has had to cut one loose.
Because the company wants to support its staff of 24, and its remaining dairy farm partner, as long as possible, it's still buying milk, making cheese, and keeping employees on payroll. But the sudden drop in orders has made a strategic pivot necessary—one that will help Caputo Brothers survive for now, if not indefinitely.
"We're shifting from being a fresh cheese business to an aged cheese and frozen cheese curd business. Instead of fresh ricotta, we're making a lot of ricotta salata, freezing more of our mozzarella curd, and making more other cheeses that can age," Caputo said. "But that can only go on for so long, because there's inventory but no revenue coming in. We have to get paid for it at some point."
"There was a misconception that because we're food producers, we are doing well, just because grocery stores are doing well."
With dining rooms empty, some restaurant businesses aren't paying their bills. Overnight, wholesale orders at New York's Saxelby Cheesemongers dropped 70 percent when restaurants in the city shuttered. Its retail stand in Manhattan's Chelsea Market, which usually brings in 40 percent of its total revenue, is still open, but sales have plummeted. While the shop is still shipping cheese through its online store and offering local home delivery through the service Mercato, it's nowhere near enough to make up for the loss. That loss in cash flow has trickled down to producers.
"I'm looking at my weekly sales reports to place orders, [and] it's a 70 or 80 percent decrease from what I'd usually be ordering," said Anne Saxelby, the business's founder and co-owner. "Some farmers are trying to work with us and extend credit, while others are a one-person show, and if they don't get paid they can't feed animals. We're dealing with those concerns and trying to meet everyone where they're at."
It's not just disappearing orders from chefs that are echoing down the supply chain.
Glendale Shepherd's Lynn Swanson raises sheep on Whidbey Island in Washington's Puget Sound. The evening of Friday, March 13, Swanson got word that her three weekend farmers' markets in Seattle—the city that has been ground zero for coronavirus infections in the U.S.—were canceled until further notice. After scrambling to spread the word that she would take pre-orders of meat, cheese, and yogurt for pickup near her standard market sites, Swanson pulled through the weekend with about half her usual sales volume. If meeting customers in a central location is no longer an option, she'll try home delivery as a plan C.
"I've got to keep feeding my sheep, I've got to keep milking my sheep—those things can't stop," Swanson said. "How do I pay for the food, the milking and all that? We've got to keep trying to figure out new ways to get some product sold."
Her predicament highlights the cheese producer's plight: Animals that make milk can't just stop and start production according to demand. At the same time, farmers must scrape together enough revenue to keep animals fed, even if their milk is bringing in no money.
While supermarket chains, big-box stores, and online mega-retailers like Amazon are seeing dramatic spikes in demand during the crisis, that's no guarantee that local cheesemakers or specialty shops are benefitting.
"There was a misconception that because we're food producers, we are doing well, because grocery stores are doing well," said Linsday Slevin, president of the Washington State Cheesemaker's Association (WASCA). "But we're absolutely not, because artisan cheese is not what people are going to the store for."
"I've got to keep feeding my sheep. How do I pay for the food, the milking and all that? We've got to figure out new ways to get some product sold."
Slevin's own business, Twin Sisters Creamery, lost 75 percent of its sales in one week as restaurants shut down and traffic at their retail store slowed to a trickle. Slevin and her husband Jeff had to halt production, lay off two employees, and cut shop hours down to one afternoon a week. She convened WASCA's board, which drafted an appeal to area grocers to take on products from local cheesemakers to keep them from going under. So far, the response has been encouraging, with Haggen Food, a family-owned Northwest Washington chain recently purchased by Albertson's, offering expedited onboarding to cheesemaker vendors to get their items on shelves and invoices paid quickly.
WASCA also put together a social media campaign drawing attention to its members' plight and emphasizing how consumers can help Washington cheesemakers weather the weeks or months of crisis ahead.
"Our simple message is, 'If you see our cheese out there, buy it, because you could be saving a creamery,'" Slevin said.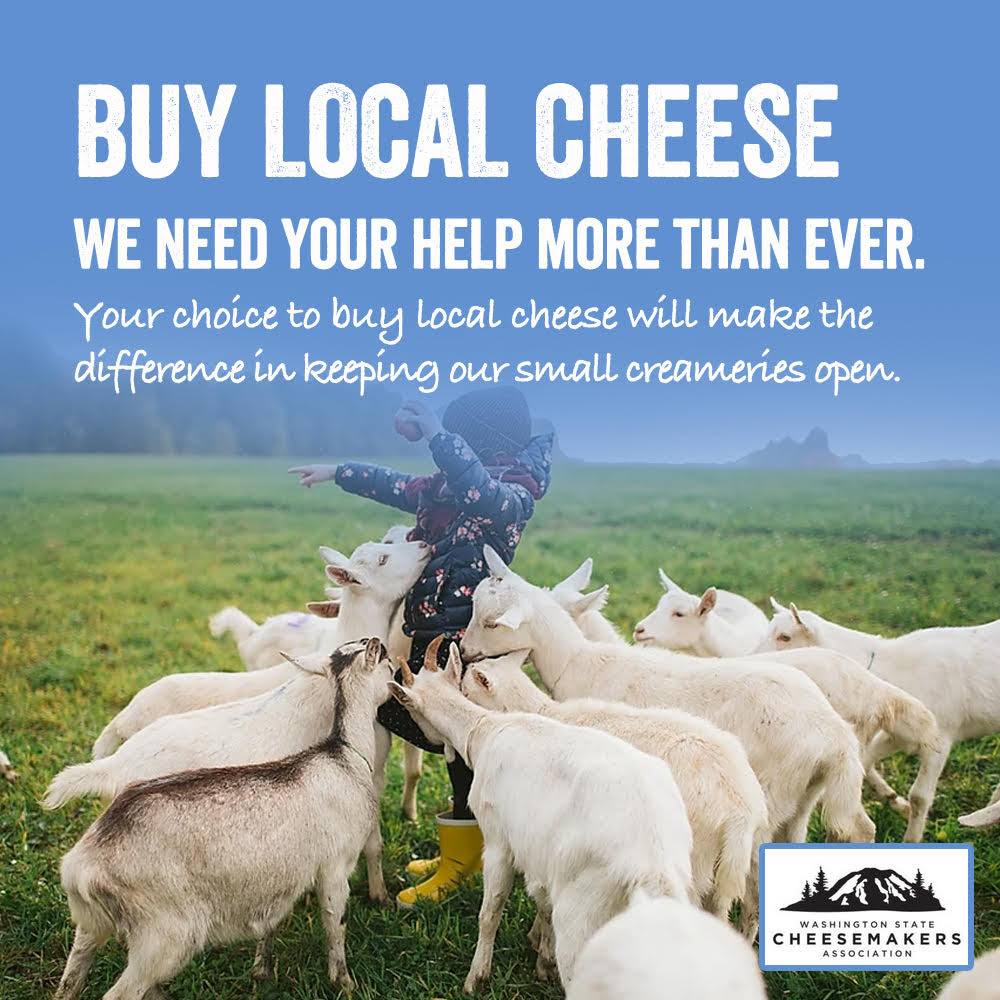 The fact that Covid-19 hit on the cusp of spring is doubly challenging for many cheesemakers who manage their flocks seasonally. Livestock like cows, goats, and sheep traditionally freshen in the spring, having new babies and producing a flush of milk after a dry winter. As a result, many creameries rely on fresh cheeses like chèvre, quark, or cheddar curds for an infusion of quick cash at the start of the spring season. This year, though, many won't be able to access the customers who usually buy them.
Some producers who make both fresh and aged cheese styles are prioritizing aged cheeses, which can sit in the cheese cave for months or even years with proper care before being sold. But the pasture-based, small-scale operations that sustain many artisanal cheese products don't really lend themselves to government cheese-esque dairy warehousing. Not even cheese's long shelf life is a surefire lifeline for small producers.
"Aging means risk," said University of Vermont professor and cheese historian Paul Kinstedt. "You're relying on a cheese designed in terms of its chemistry on the first day of cheesemaking to withstand 2, 4, 6 months, a year of aging time of positive change in the cheese. That is not easy to achieve if you're not well versed with making those aged styles."
The economic devastation of the coronavirus pandemic on cheesemakers is just the latest in a two-pronged squeeze that's affected dairy farms, distributors, and cheese shops, with cheesemakers getting pressure from both sides.
Many cheesemakers who transitioned their cows from conventional dairy to making high-quality milk for cheese still sell a significant portion of their milk to large cooperatives or dairy processors. But the volatile U.S. milk market has seen thousands of farms in dairy strongholds like Vermont, Pennsylvania, Wisconsin, and New York shutter in recent years—more than 2,500 in 2018 alone, according to USDA. Meanwhile, importers, distributors, and specialty retailers who sell European cheeses have been trying to weather a 25 percent cost increase due to the Trump administration's retaliatory tariffs on certain products from the European Union. In that case, what hurts independent cheese shops—many of whom depend on sales from imported cheeses like Parmigiano-Reggiano to balance out margins on items from smaller domestic creameries without economies of scale—hurts U.S. cheesemakers, too.
"At the end of the day, consumers have a choice where they shop. I want people to get creative about how they're shopping, who they're supporting, and do it intentionally."
"It's a perfect storm that we're experiencing," said Kinstedt. "I'm not an economist, but my sense is that the system is deeply broken, and there's nothing more important to national security than food…We have to remake the food system to protect farmers, because they're not going to survive. What we've seen in terms of attrition so far may get a lot worse."
Amid the worsening crisis and daily uncertainty, many small cheesemakers who distribute locally or regionally are scrambling to add online stores to their websites—or put up a website for the first time—in order to be able to take preorders and online payments or offer shipping. To keep the lights on, some are getting creative with marketing strategies and sales outlets.
Caputo, for instance, has led several sold-out virtual mozzarella classes held over Zoom, which create a modest uptick in mozzarella curd sales—not enough to save the business, she notes, but enough to keep her shipping and retail staffers coming in to work. Though Clock Shadow Creamery, a cheese shop and factory in downtown Milwaukee, is down to limited operating hours and a single staffer, owner Bob Wills has started offering block cheeses and curds at "depression discounts" of up to 50 percent off. In Maine, Couët Farm owner-cheesemaker Marie-Laure Couët is streaming facility tours and answering follower questions on Facebook Live.
In Philadelphia, Tenaya Darlington, who writes and blogs about cheese under the name Madame Fromage, compiled links to the online stores of cheesemakers selling online and is highlighting producers on her Instagram account. She also teamed up with cheesemaker Sue Miller of Birchrun Hills Farm to to hold what she called a "dairy drive-thru," handing off bundles of Birchrun's raw milk cheeses, cheddar curds, and spreads to pre-order customers and passersby out the window of a bar in the city's Fishtown neighborhood.
"It was a little bit like running a lemonade stand," Darlington said. "It seemed effective for Sue because it was one drop-off, all the money went to her directly so she knew how much to supply, and it sustained customers who love her but also brought in some new eaters."
But regardless of what cheesemakers and independent cheese sellers might try, they won't be able to weather the coronavirus storm without support from the public.
"At the end of the day, consumers have a choice where they shop. I want people to get creative about how they're shopping, who they're supporting, and do it intentionally," Saxelby said. "It makes a huge difference…Convenience is great, but you have to vote with your dollars and support small businesses and local farms."