Arizona Starbucks store votes to unionize, as organizing drive gains momentum across the U.S.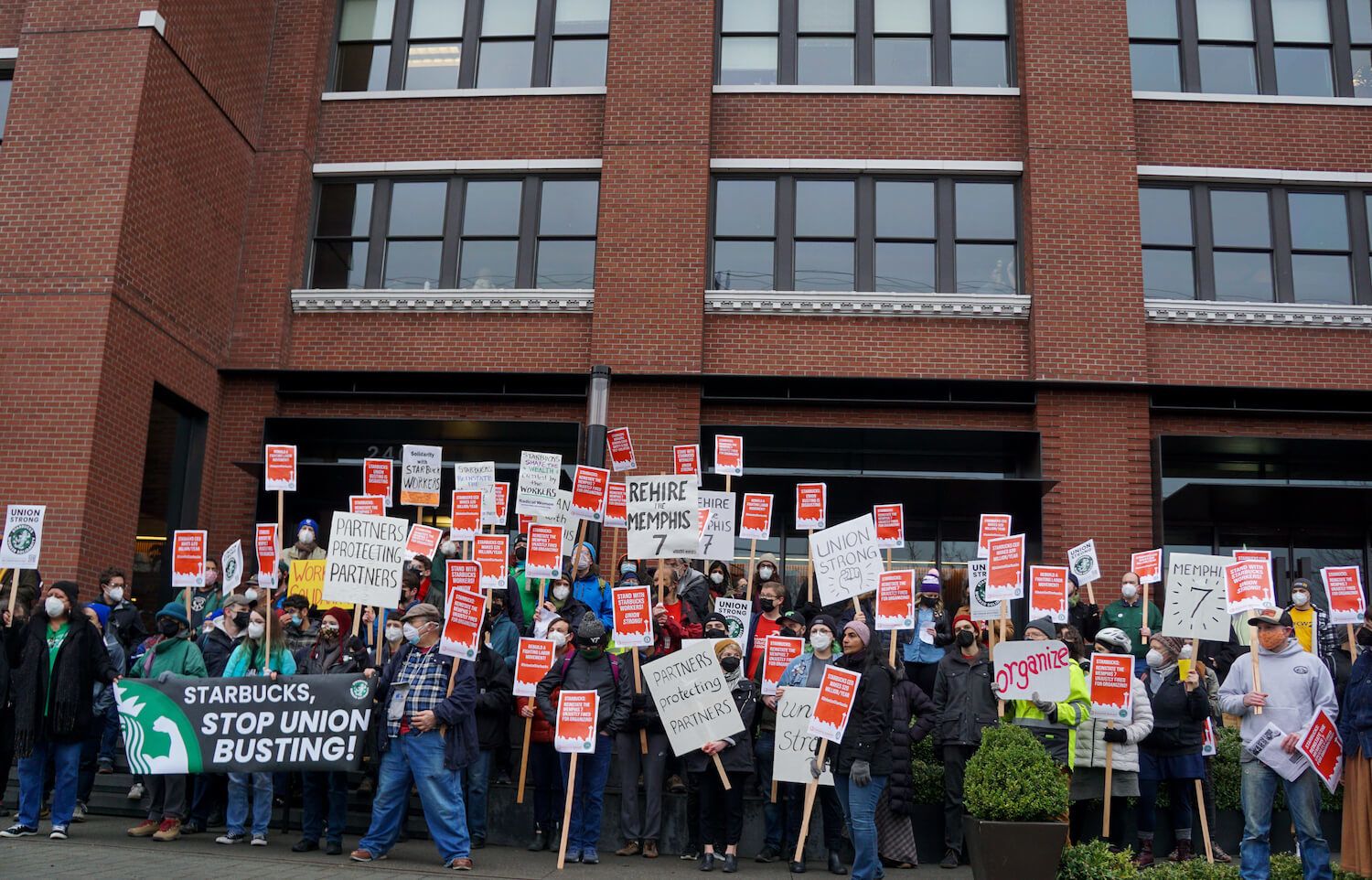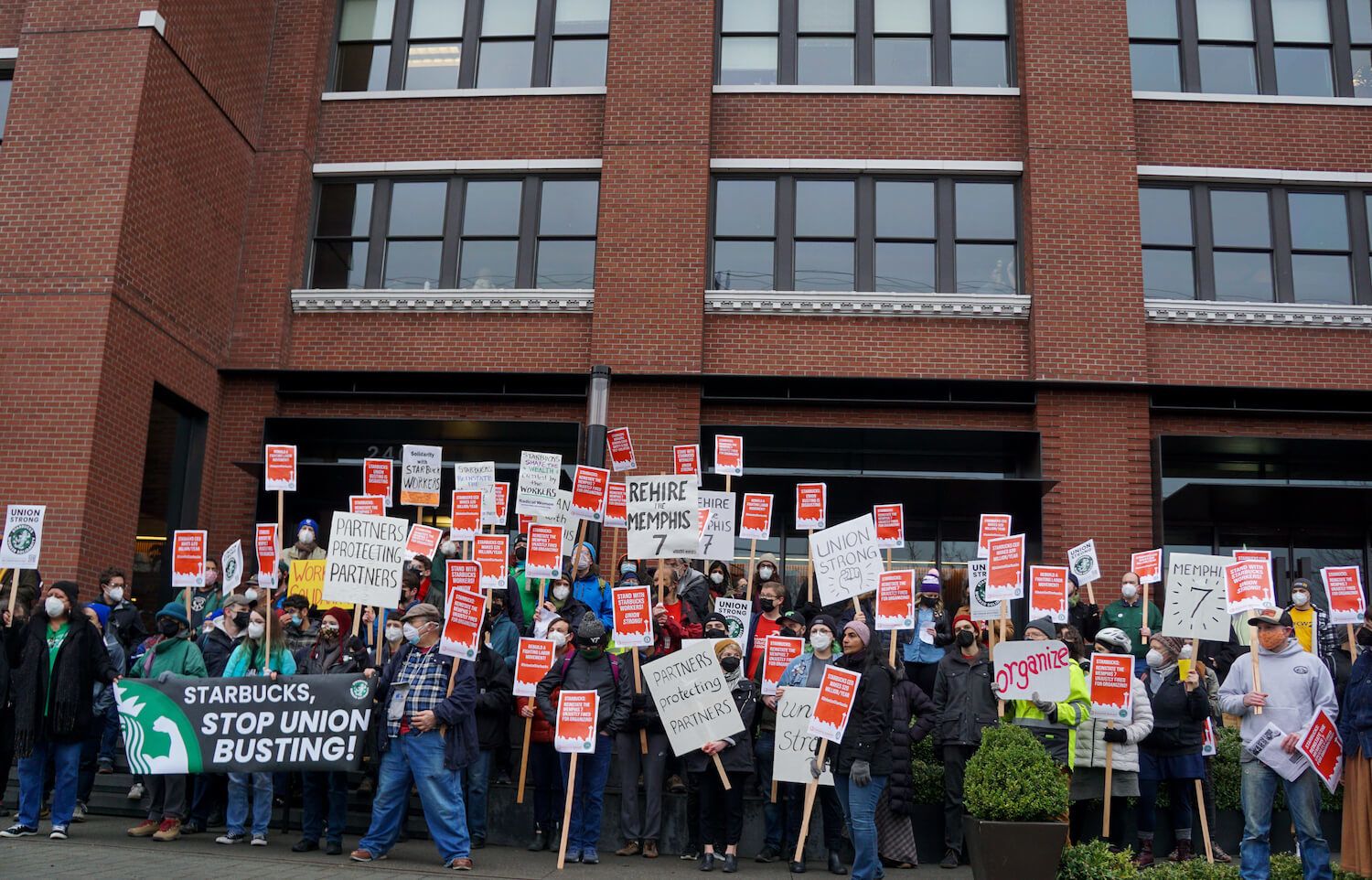 Jessica Fu
The Mesa Starbucks store is the third company-owned location to vote in favor of unionization since December.
Pictured above: Workers gather in protest outside of Starbucks's Seattle headquarters on February 15, 2022.
Starbucks workers at a single location in Mesa, Arizona, voted to unionize, notching another win for a nationwide organizing drive that has quickly blazed across the coffee giant's stores since two in the Buffalo, New York, area voted to organize this past December. The vote count, which had been postponed from last week, came just two days after the National Labor Relations Board (NLRB) ruled against Starbucks's argument over the size of the eligible voting pool, writing in its order that a single-site union election was appropriate.
The NLRB announced the results on Friday afternoon, with employees voting overwhelmingly 25 to 3 in favor of organizing with the Starbucks Workers United (SWU) union, a branch of the Service Employees International Union affiliate Workers United, with three challenged ballots.
"Starbucks tried every trick in the book to get us to vote "no" for the union. We were individually pulled off the floor where our manager cried and told us she would be personally heartbroken if we voted for the union. It made people feel guilty and scared–it was not okay," Zechariah Schwartz, a barista at the Mesa store, said in a statement.
Starbucks has consistently argued that a union is unnecessary to improving its employees' working conditions. On a company-run website called We Are One Starbucks, which encourages workers to vote "no" in union elections, Starbucks touts the various benefits currently available for employees, including health care, college tuition, and a Spotify Premium membership.
The latest union vote results will almost certainly fuel the Starbucks organizing drive that has spread across the country in recent months.
Reggie Borges, a spokesperson for Starbucks, directed a request for comment on the election results to a December letter by Rossann Williams, president of Starbucks North America, which said that the company does "not want a union between us as partners," the company's term for its employees, but that it will "respect the legal process" and "bargain in good faith with the union that represents partners."
The latest union vote results will almost certainly fuel the Starbucks organizing drive that has spread across the country in recent months, with 109 stores in 26 states having filed petitions for union elections, according to the union. And in the process, it continued to reject Starbucks's established legal strategy of attempting to block single-store union elections.
As it had in the case of the Buffalo union election last year—and in appeals to other NLRB decisions ordering union elections throughout the country—Starbucks argued that workers at the Mesa store should vote alongside other Mesa-area locations as a regional unit in a single election, versus as an individual store unit. Such an election would likely benefit the company by requiring more workers overall to vote in favor of unionizing.
In their order on Wednesday, three labor board members again ruled that Starbucks had failed to meet the "heavy burden" to overcome the NLRB's presumption that employees at a single store are sufficient for union vote. The ruling bodes well for workers at another trio of stores in the Buffalo area, who are awaiting a labor board ruling on a near-identical appeal by the company in order to proceed with their own ballot count, along with others who have filed petitions for their own single-store union elections.
While the Mesa victory is certainly a high point in the quickly expanding Starbucks organizing drive, workers have a long road ahead. Even if all stores that have filed petitions for union elections follow suit, it would still be only a drop in the sea of corporate Starbucks stores. And even more crucial is whether unionized Starbucks stores will be able to secure contracts with the company. An analysis by Bloomberg Law reported that it takes new unions on average 409 days to ratify their first contract.
Still, pro-union Starbucks workers are undaunted in their efforts to organize the coffee giant and, eventually, secure a contract for their store and others.
"Every single store needs to be unionized," Tyler Ralston, a shift supervisor at the Mesa store, told The Counter last week. "This isn't a thing that, 'Oh, this store can't be because of X reason.' It's every single store and we're fighting for a contract that will work for every store, and every partner as well."