Is Instacart the worst of the food delivery apps?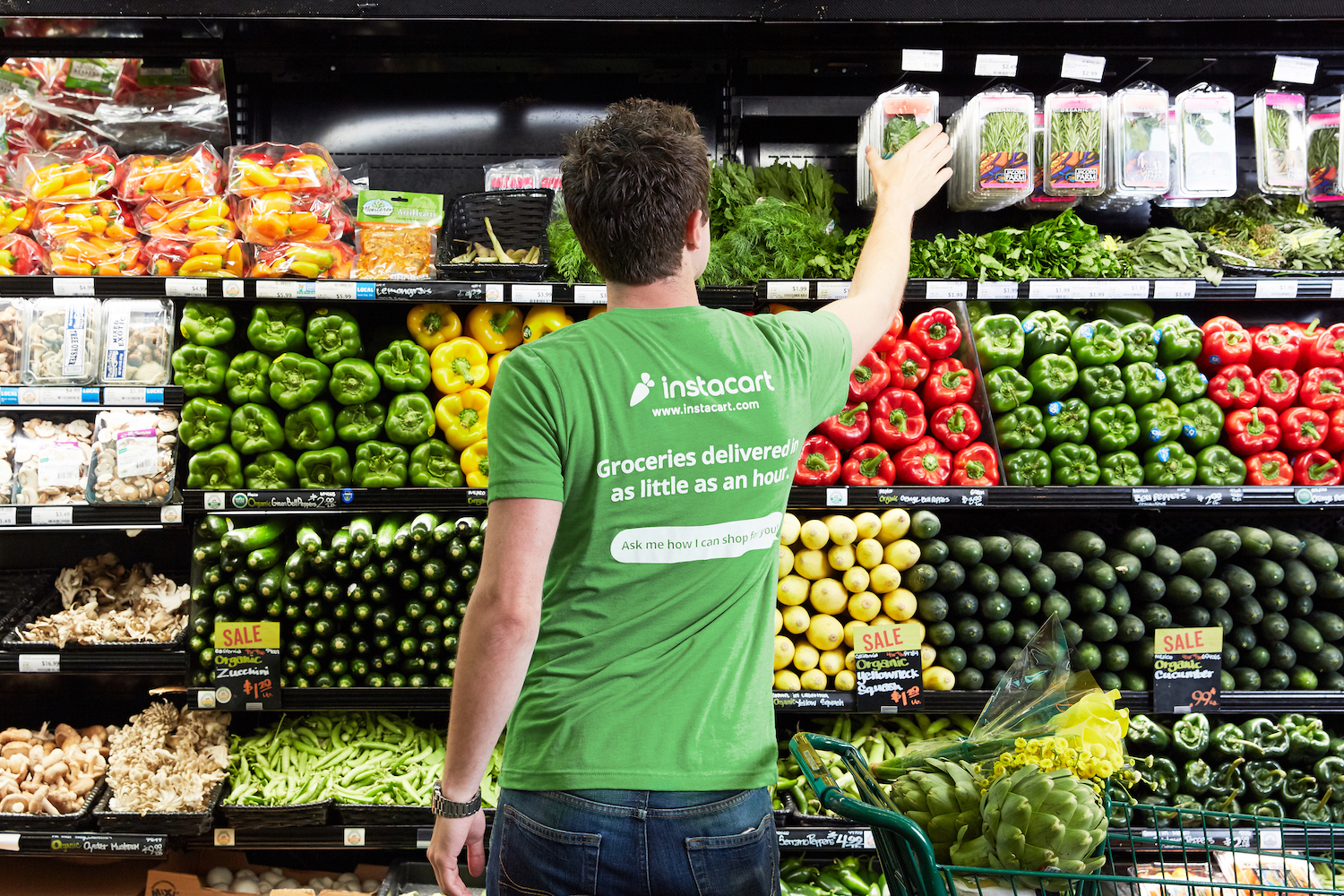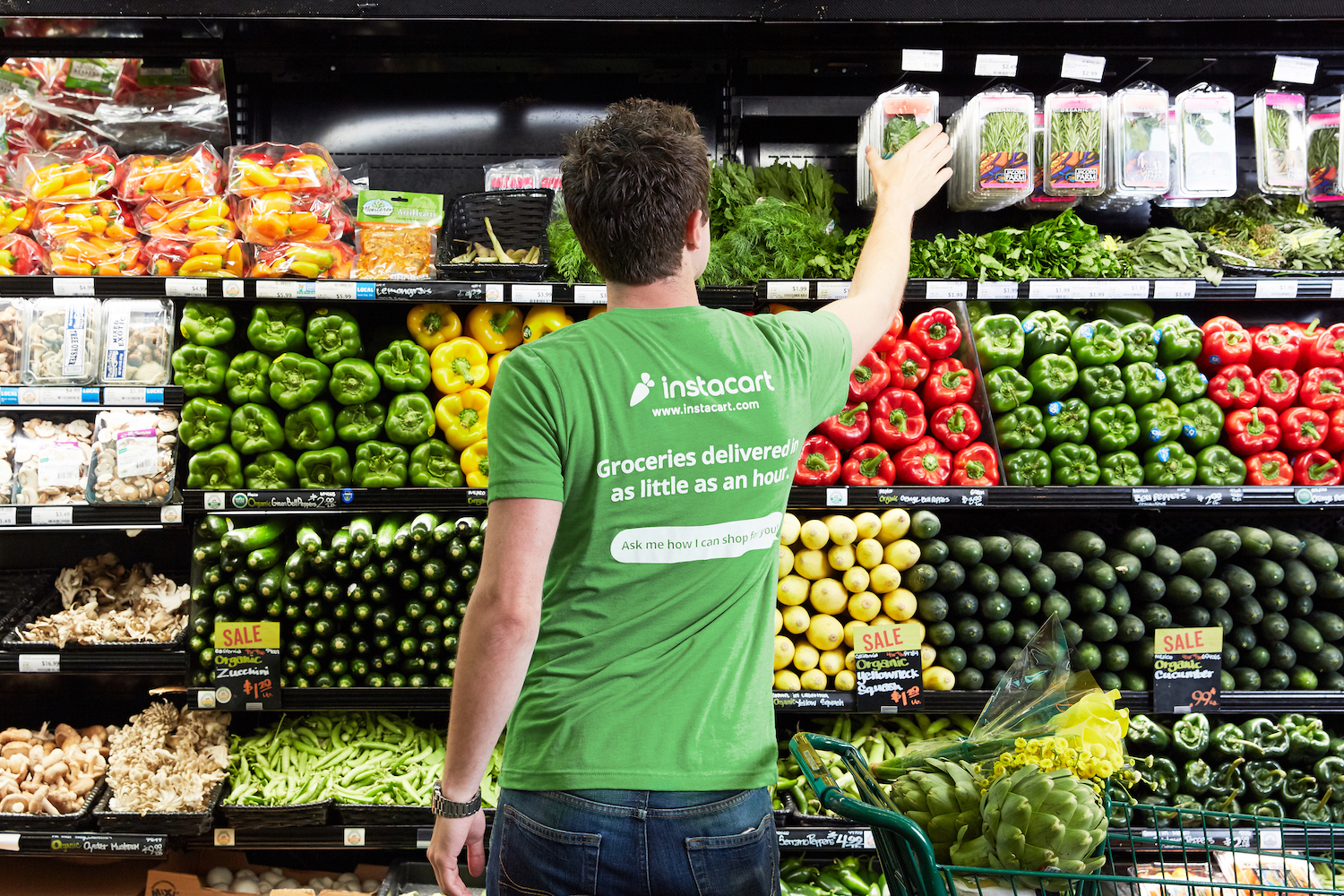 Instacart
Against a backdrop of strikes and labor unrest, emerging research calls the company's dispatch system a "despotic algorithm."
Last week, Instacart workers across the nation went on strike in hopes of persuading the company to change the default tip from 5 percent to 10 percent when a customer uses its app to order groceries. It's the latest volley in a series of worker protests, with accompanying media focus on the delivery platform's relationship with the people who shop and hand-deliver food and bottled water and Tide Pods to Instacart's customers. It's not uncommon for delivery platforms to change policies seemingly out of the blue, often amid loud protests from the independent contractors they rely on, but experts are starting to believe Instacart's habits set it apart from the pack. 
Instacart's workers have been increasingly vocal about feeling jerked around by sudden, seemingly arbitrary changes to their compensation in recent years. They've also voiced concerns about some of the ways the app tries to influence their behavior. In July, for instance, Bloomberg reported that Instacart would ping loudly for four minutes when a job became available; workers typically did not have an option to decline low-paying jobs and had to tolerate the noise while they waited for a more profitable job to come through. 
Still, wage fluctuations and app updates are par for the course in today's gig economy. Are Instacart's tactics really that much worse than those of other food delivery platforms? A recent survey by researchers at Columbia University and the City University of New York suggests the answer might be yes. "Instacart, the most prominent grocery delivery platform, exemplifies what we call 'algorithmic despotism,' because the company regulates the time and activities of workers more stringently than other platform food delivery companies," they write. Their research paper draws from a survey of 955 platform delivery workers and extensive interviews with 55 workers. 
These p
olicies increasingly require that employees be available for several hours out of the day, regardless of whether they're paid for their time.
Kathleen Griesbach, a Ph.D. candidate in sociology at Columbia University and lead author on the paper, says several Instacart features came up over and over again in interviews, which were conducted between October 2018 and February 2019 (an Instacart spokesperson says the company piloted a new algorithm this April—see update at bottom of article.) The platform awarded so-called "early access" benefits to workers who had logged 90 hours over the past three weeks or 25 hours over the last three weekends. Having met that requirement, the workers would be allowed to sign up first for certain in-demand hours. On the other hand, if they failed to meet the minimum, they'd have to wait to sign up until after the initial rush. "If you lose early access, you're pretty well screwed with Instacart because that means you'll only be able to pick up whatever is left over on Wednesday, which is absolutely nothing. So you won't work," one woman named Linda told the researchers. 
Vanessa Bain, an Instacart worker and organizer in California, has worked for the company for several years; she tells New Food Economy that her wages slip when the platform changes its policies, seemingly out of the blue. Policies like early access increasingly require that employees be available for several hours out of the day, regardless of whether or not they're paid for their time. Bain says she used to make a living working solely for Instacart, but she now performs delivery services for multiple platforms including Caviar and DoorDash. 
Other workers surveyed feared being flagged for "reliability incidents," which could result from rejecting too many orders and result in account deactivation. This effectively encouraged shoppers to accept low-paying jobs for which they might actually lose money in order to avoid being punished. One woman described passively declining a low-paying order 27 times during a shift. Not only did the support team refuse to help her, but she didn't earn any money that day because she was only being offered a single opportunity, one that was more trouble than it was worth. Griesbach notes that the workers often only receive information about available orders one at a time, a feature she calls "information asymmetry" that serves Instacart. The company can nudge shoppers to accept low-paying jobs without knowing better-paying gigs are available in the area. 
To complicate the equation, independent contractors don't technically have the right to strike.
Many of Griesbach's interviews revealed that shoppers thought Instacart's policies blurred the line between employee and independent contractor relationships. "From the perspective of a lot of the workers we spoke to, there was definitely this kind of tension and contradiction," she says. "Some people even mentioned how some of the shopper support people would occasionally get involved. They would call them and try to ask why they weren't taking orders." On paper, the contractors were totally independent. In reality, the algorithm was setting up an incentive structure that encouraged them to behave like full-time employees—minus the benefits. 
"At some points it can be a kind of algorithmic despotism, as we call it, because workers feel a certain sense of autonomy because they can, so some extent, choose their hours of availability," Griesbach says. "And so they jump through the hoops to maintain early access, but at the same time, they're not really free to just take some orders and not take others in the way we would expect." 
Griesbach says the implications of this so-called despotism on workers' efforts to organize are unclear. To complicate the equation, independent contractors don't technically have the right to strike. Still, Bain says the company used to respond to annual strikes by waiting a beat and then making a few concessions. This month, the opposite happened. 
"That was just a retaliatory move against shoppers to snuff out our fire." 
A couple days after the strike, Instacart issued a memo to all workers: It was eliminating bonuses earned for five-star ratings. The memo said that the bonuses, which clocked in at $3 per glowing review, "did not meaningfully improve quality." Apparently, the data spoke for itself.
Bain says the timing of the change suggested a relationship to the strike. "Obviously, there was a consensus among those of us that have been organizing and among shoppers in general that this was categorically retaliatory," she says. "That was just a retaliatory move against shoppers to snuff out our fire." 
To wit, the algorithm may soon become even more "despotic." Bain says the company is in the process of changing the requirements for early access benefits, rebranding them as "priority access" to incorporate customer ratings. She doesn't yet know what this will mean for shoppers. Perhaps it'll make life easier by tying benefits to quality of work instead of quantity of hours. But perhaps it'll mean yet another limit on opportunities for shoppers to earn money. "I do think it's interesting that at the same time that they cut quality bonuses, they also made ratings from customers even more important," Bain says. "I think it's sort of like, they see it as though they don't need to pay for quality service anymore, that we'll just work to keep our early access by receiving as many five star ratings as possible." 
"What it does is it squeezes more work and more time out of shoppers without having any sort of material benefit." 
Update, 11/18/2019, 2:38 p.m.: After this story's publication, an Instacart spokesperson provided some background information. Notably, she says the end of the quality bonus was not tied to worker protests. Additionally, she notes that all the interviews in the survey, conducted between October 2018 and February 2019, were based on a model that existed before Instacart introduced a pilot "on-demand" scheduling system that runs concurrent with reservations.