Chain restaurants are required to disclose calorie counts on menus. In the age of DoorDash, that's not happening.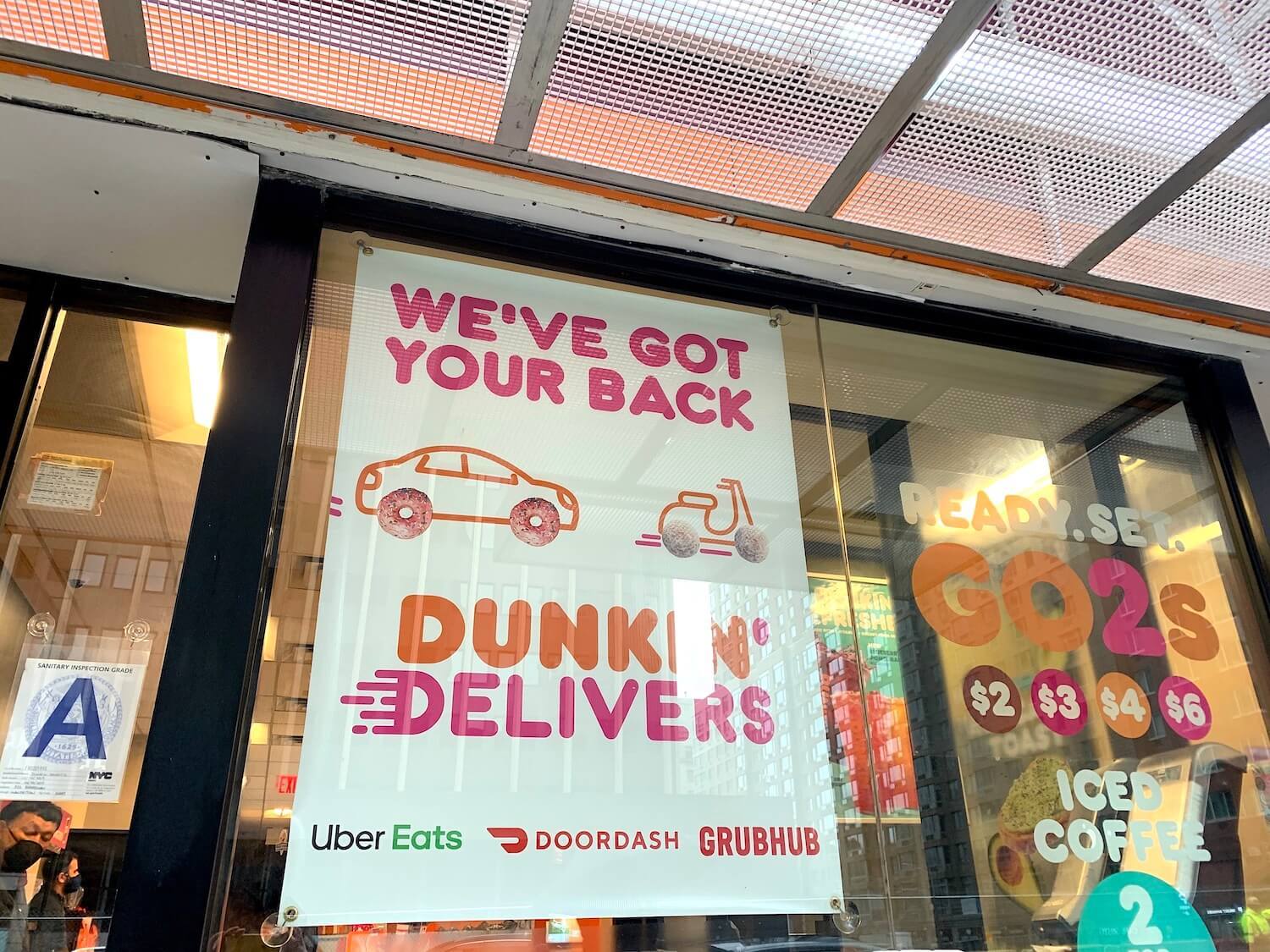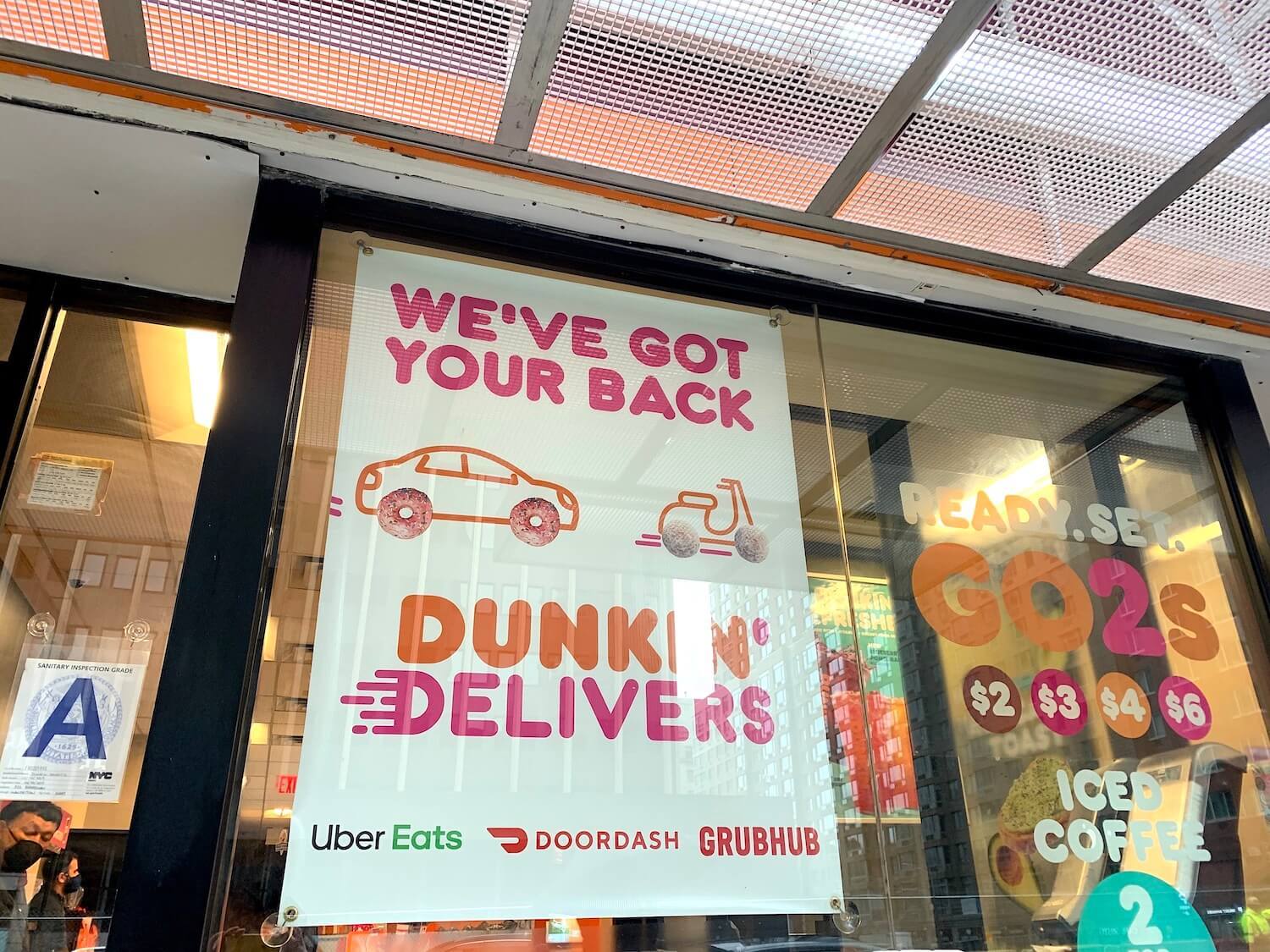 Jessica Fu
Consumer groups say that restaurants on food delivery apps—ever-popular during the Covid-19 pandemic—are effectively circumventing menu labeling laws meant to give eaters transparency and nutrition information.
Third-party delivery apps like UberEats and DoorDash have boomed during the pandemic, in some cases seeing revenue more than double. But while the platforms may promise convenience and safety for users, their popularity has also created an information gap: Federal regulations require chain restaurants—defined as those with more than 20 locations—to disclose calorie counts on menus, including online. On third-party ordering platforms, that isn't happening, at least not consistently.
For example, according to a cursory browse on DoorDash, there's no way of knowing that an order of fries from Shake Shack contains slightly fewer than 500 calories. On UberEats, you'll find calorie counts for every item at Starbucks, but none for chains like Subway and Popeyes. Over on GrubHub, requisite nutrition information isn't listed for restaurants like Applebee's and Buffalo Wild Wings, but it is for McDonald's.
On Thursday, a coalition of consumer groups led by Center for Science in the Public Interest (CSPI) called on the Food and Drug Administration (FDA) to issue new guidance that reaffirms federal menu labeling requirements, in response to what it called an ongoing patchwork of non-compliance.
"Use of [third-party platforms] to order restaurant food has soared in recent years, and online ordering is safer than ordering in-person to prevent the spread of Covid-19," wrote the coalition in a letter to FDA. "However, many chain restaurants and [third-party platforms] fail to consistently provide nutrition information when menus are listed on [third-party platforms], significantly undercutting the public health goals of nutrition labeling."
"This public health legislation won't be as great as it can be unless the calories are posted on menus where people are actually seeing them and ordering the food. And that's on third-party platforms."
In 2010, the Affordable Care Act mandated that chain establishments display calorie counts on menus and provide eaters with additional information as it relates to macronutrient content, like sodium, fat, and sugar, upon request. After years of delay, the rules took effect in 2018. However, CSPI argues, the advent of food delivery apps has allowed some restaurants to effectively circumvent them.
CSPI argues that without FDA action, federal menu labeling guidelines won't have their intended effect: Whether calorie disclosures significantly influence eating choices has long divided public health experts and those business groups opposed to it. However, emerging research has suggested that even minor changes in what eaters order can add up to measurable health benefits in the long run. Proponents of menu labeling have also pointed out that calorie disclosure requirements may coax companies into proactively retooling recipes to make them healthier.
[Subscribe to our 2x-weekly newsletter and never miss a story.]
"We have this really amazing public health-oriented menu labeling law that requires calories be posted on menus," said Eva Greenthal, a senior science policy associate at CSPI. "But the impact of this public health legislation won't be as great as it can be unless the calories are posted on menus where people are actually seeing them and ordering the food. And that's on third-party platforms."
So who exactly should be responsible for nutrition disclosures on third-party apps? If you ask the app companies, the onus is on restaurants. In an email, a DoorDash spokesperson said that the company gives its restaurant partners the ability to make calorie disclosures via its business-facing portal. (UberEats, and GrubHub did not respond to a request for comment by press time.)
FDA appears to agree. In an email, an agency spokesperson said that third-party delivery companies "likely would not meet the definition of a covered establishment under our current requirements, and therefore would not be subject to menu labeling requirements," though the agency "encourages" websites and apps to voluntarily provide nutrition information to users.
"It's really hard to set out rules for a space that is evolving so fast."
But the CSPI-led coalition disagrees, arguing that the apps can't punt away all responsibility for menu labeling to their restaurant partners, given that they have final say over what does—and doesn't—appear on their sites.
"The restaurants need to provide it, but it's ultimately the third-party platforms that post the menus and they can decline to post menus until they include all the information required by law, including calories," said Greenthal. CSPI wants restaurants and third-party delivery apps to be jointly responsible for ensuring that menus adhere to labeling requirements. (It's also worth mentioning that delivery apps have reportedly engaged in a pattern of listing restaurants and menus without permission, as well as setting up unauthorized shadow websites with menus for partner restaurants over the years.)
Some food labeling experts aren't surprised that the issue of menu labeling requirements on third-party apps has come to a head in the years since the mandate was first introduced more than 10 years ago.
"It's really hard to set out rules for a space that is evolving so fast," said Sean Cash, an associate professor of agricultural economics at Tufts University who specializes in food labeling. "[The regulations] were focused on the experience of walking into a fast food restaurant, and ordering something off of the menu board."
"I think we're going to keep seeing the Wild West for a while."
That tracks with an assessment that the agency itself has made.
"FDA recognizes that the dining landscape has changed considerably since the menu labeling requirements were passed into law in 2010, especially with the rise of third-party websites and delivery apps to provide convenient options for ordering to dine at home," a spokesperson wrote in an email.
In other words, no one could have seen the delivery app boom coming from a decade away. To sum things up: Third-party delivery apps claim that menu labeling requirements are none of their business—despite restaurant menus being central to their actual business model—and FDA seems to agree, effectively leaving many eaters on their own when it comes to accessing legally mandated nutrition information.
As Cash put it, "I think we're going to keep seeing the Wild West for a while."