Amazon paid no federal taxes, bought entry into your home, and now it's coming for your bank accounts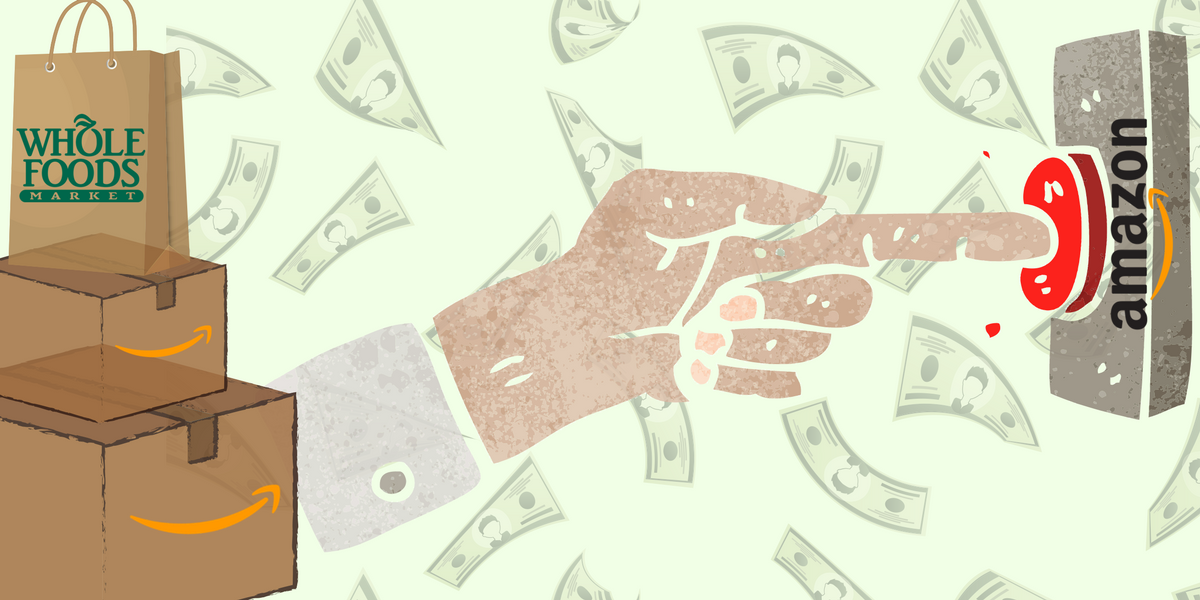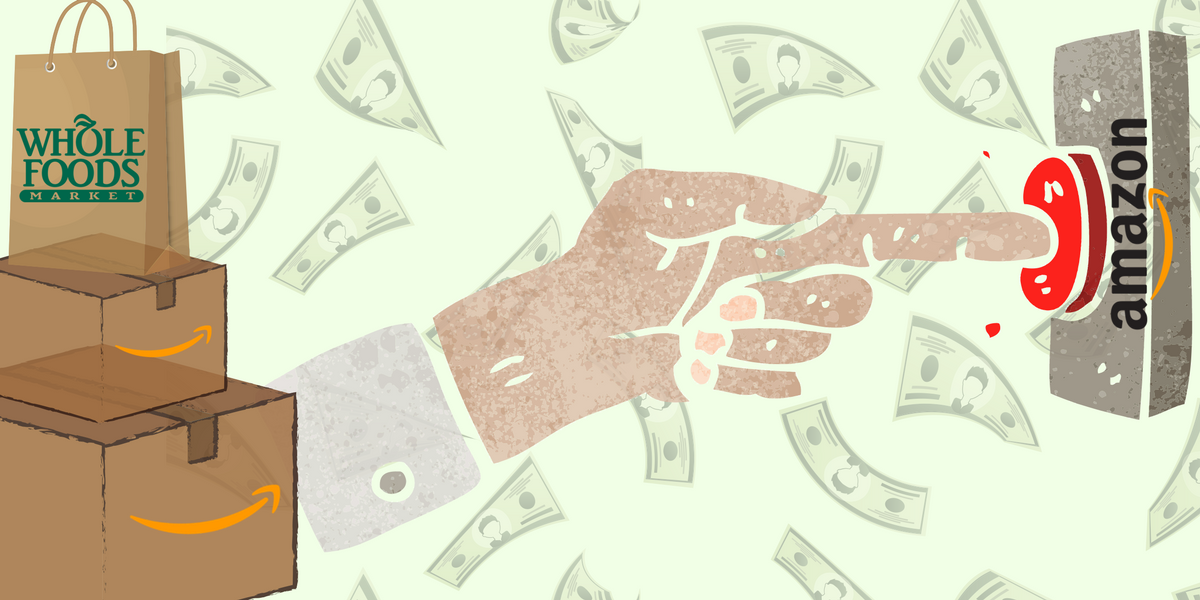 Jessica Fu
We're keeping tabs on the beast that is Amazon-Whole Foods (alternatively, A-Whole). This is your weekly round-up of news, separated from the noise.
On Tuesday, Forbes released its annual ranking of the world's billionaires, the illustrious members of what it calls the "three-comma club." By now, it's no surprise that Amazon CEO Jeff Bezos tops the list. What is surprising is the new height of his ludicrous wealth: At $112 billion in estimated net worth, he beats planet earth's next-richest inhabitant, Bill Gates, by a cool $22 billion. (Only 40 other people in the world even have $22 billion, according to Forbes.) It's the first time that the list has featured a centi-billionaire, an individual whose assets sprawl across 12 figures.    
Keep this in mind as you digest this not-unrelated piece of news:
Amazon's 2017 federal tax bill? Less than zero
Amazon is expected to pay no federal income taxes this year. The company earned $5.6 billion in 2017, according to its 10-K filing, which should work out to a federal tax bill of more than $1.3 billion dollars at the standard corporate tax rate of 35 percent (RIP). Instead, the retailer is slated to pay negative $137 million—meaning the government actually owes Amazon money.
There's nothing illegal or underhanded going on here. Amazon simply took advantage of standard corporate deductions available under the tax system, says Matthew Gardner, a researcher at the Institute on Taxation and Economic Policy (ITEP), a non-profit think tank focused on tax policy.
According to Gardner's analysis of Amazon's 10-K filing, most of the company's massive write-off—nearly $1 billion—came from high-level executives cashing in stock options. That's right: When employees sell their stock, employers get to claim the entire value of that deduction. Say the company gave a VP $1 million in stock in 2008, when it was valued at around $70 a share. Those stocks would be worth more than $20 million if cashed out now—and Amazon could take the whole thing as a write-off. According its 10-K filing, Amazon's execs cashed out nearly $1 billion in stock options last year, negating most of the year's federal tax bill.
"Many tech companies, Amazon in particular, long ago decided that they were going to pay their workers not just in salaries and benefits but in stock options," says Gardner. (Gardner's post on Amazon's 10-K filing was tweeted by Bernie Sanders, and has since become a kind of trust-busting cause célèbre.) The approach makes sense: Employers can skimp on salary payments by offering a form of compensation they can write off down the road.
Which means, ultimately, that Amazon didn't really pay for all that executive compensation—we the taxpayers did.
TL;DR: Thanks in part to its soaring stock price, Amazon will pay no federal income taxes for 2017. Because this is America.
Home Invasion
Amazon really wants to get inside your house. Like a tech-titan version of "the Herlihy boy," the crazed teenage house-sitter Adam Sandler once played on SNL, the company is just dying to "bring in your mail"—and it's willing to spend handsomely on anything that makes it easier for you to hand over the keys.
The latest example: Last week, Amazon bought Ring, a Santa Monica, California-based "smart doorbell" startup that tanked on Shark Tank, for about $1 billion. By allowing delivery people keyless entry, Ring's technology could help ward off "porch pirates," the wayward thieves who scour the neighborhood for Prime boxes. But Amazon's plans are likely more ambitious than that. Ultimately, Ring makes for a more powerful Alexa add-on, allowing customers to "use their voice to arm their security systems, open locked doors and flash video of the person who's ringing the doorbell out front," Bloomberg reports.
A Ring-enabled ledger of the goods coming in and out of American homes is sure to be valuable consumer data—which is likely why Amazon's ramping up its war against Google, as the companies try to lock consumers into their competing "smart home" systems. Last week, Amazon decided to stop selling all Google Nest products on its site, Business Insider reports.
TL;DR: Amazon wants to bring in your mail. (But will it sleep in your bed?)  
Tracking the spoiled side of Amazon Fresh
A coalition of Amazon investors led by the mutual fund Green Century Capital Management are trying to force the company to get serious about food waste, The Wall Street Journal reports. The group—which owns only a $50,000 combined stake in the company—has asked Amazon for a shareholder vote on whether the company should provide an annual report on food waste in its supply chain. Amazon rejected the proposal last month under SEC rules, saying that food waste was less than 1 percent of its overall expenses. But last week, Green Century asked SEC to compel the company to put the issue on its ballot.
TL;DR: Rabble-rousers want an annual report on the scale of Amazon's food waste. Our guess: It's a long shot.
FasKnick knacks
Amazon is inquiring with major banks about offering an Amazon-oriented checking account. Company executives were reported to have toured Denver's light rail system, stoking chatter about whether it might bring its second headquarters to the Mile High City. (Two-hour legal pot delivery by drone?) And the company is piloting free Whole Foods delivery in Atlanta and San Francisco—Prime members only, of course.