At this food hall, public space comes first, vendors order collectively, and employees are trained to work at any counter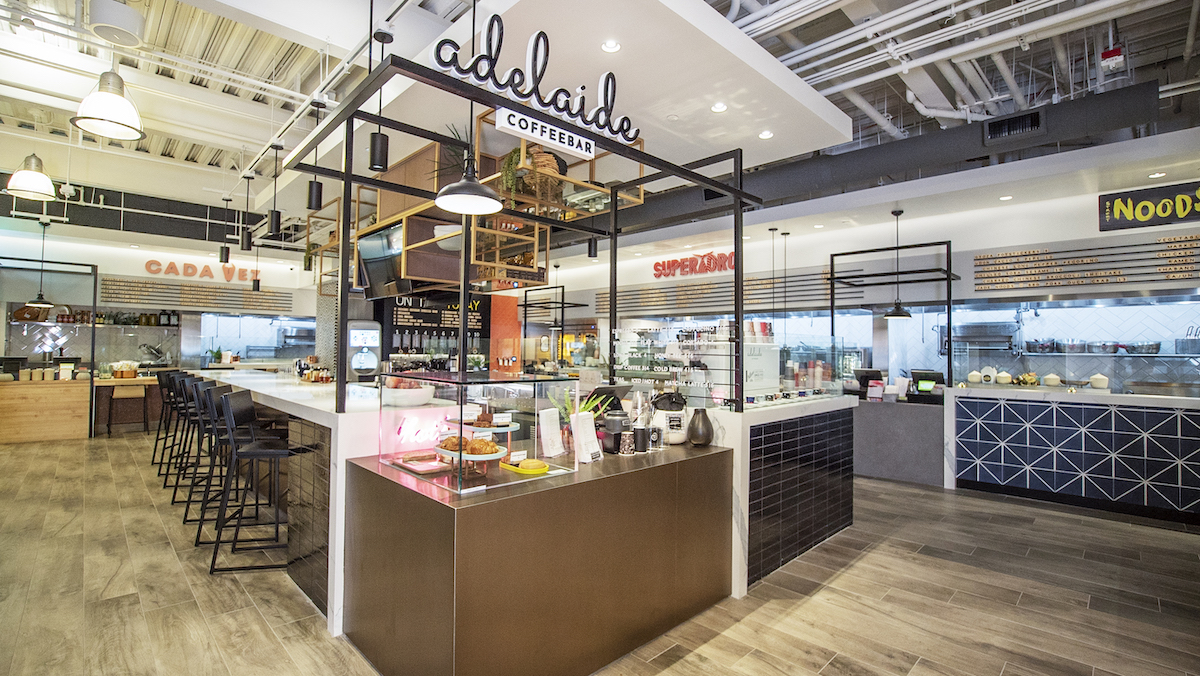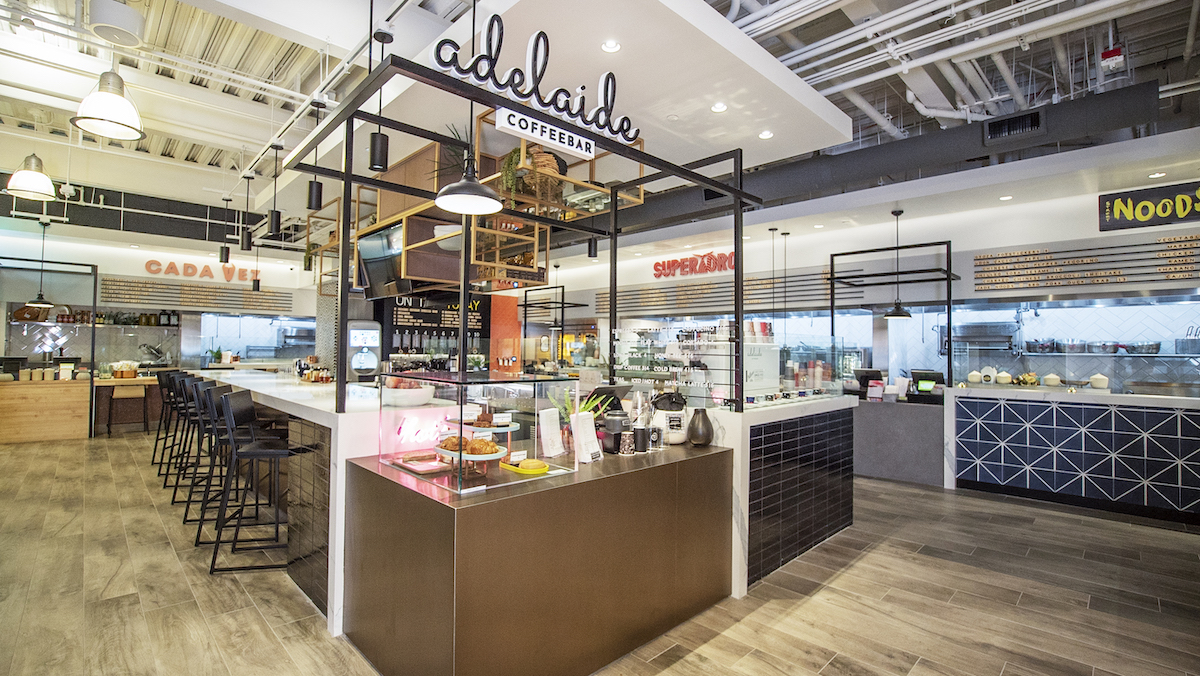 Will Houlihan
The internet economy has broken the old retail and dining model. The future of commercial real estate may depend on experimental models like Santa Monica's Social Eats.
If history in fact repeats itself, a line is forming in downtown Santa Monica, California as you read this. The first West Coast outlet of chef/author/TV personality David Chang's fried chicken place, Fuku, is scheduled to open Wednesday at Social Eats, a tiny food court that debuted this summer, and locals are ready to participate in this generation's favorite outdoor sport: waiting with a bunch of strangers to get something to eat.
The Third Street Promenade, a 54-year-old pedestrian shopping street, has helped to make this Southern California beach city what it is today, a tourist mecca where almost 9 million visitors spent almost $2 billion in 2017. But the street is in trouble, 30 years after its most recent facelift, an outmoded three-block stretch of lagging retail stores and familiar food.
Social Eats is the first step in what the city's urban designer, Alan Loomis, calls "Promenade 3.0," a multi-year attempt to "reimagine, rethink, reinvent, and possibly redesign" the street. To make way for the edible upgrade, the city issued a one-year ban on fast-food operations with more than 100 outlets, hoping to create instead what Loomis calls a "more unique, special" dining experience.
This generation is more idiosyncratic and demanding than its predecessors; a cheap, one-burger-fits-all approach no longer works.
Social Eats operates in a modest 2,600-square-foot space that used to be home to familiar names like McDonald's, Subway, and Baja Bud's, the first floor of a two-story operation called Gallery Food Hall. This time around, Fuku is the brand-name designed to attract customers and introduce them to new, chef-driven businesses—from Graham Elliott, Michael Voltaggio, and others—and unknowns like Adelaide Coffee and Street Noods.
John Kolaski, whose K2 Restaurants put Social Eats together, calls the collection "curated," which translates into diversity of choice in a single space. Old-school fast food required advance commitment, because each outlet had its specialty. Social Eats is the antithesis of that. "The problem we're trying to solve for," he says, "is the group of six where one person wants salad, one wants a pizza, a burger, a taco. Where can you all go to get something good to eat?"
Not every option qualifies as healthy, but everything is a bit of a departure from the past. A self-service beer wall, for instance, offers 10 craft brews on tap. The Coca-Cola machine contains soda, juice drinks, and water that customers can blend to create their own custom beverages. Calories and fat are available for unregenerate diners, but friends who lean toward healthy can get what they want without the group having to split up.
This generation is more idiosyncratic and demanding than its predecessors, according to Kolaski, so a cheap, one-burger-fits-all approach no longer works.
Social Eats incorporates local produce from the large farmers' market that operates just steps away twice a week. The menus reassure repeat customers with reliable favorites, but add seasonal dishes to keep things interesting. And the way the place works is as important as what's on the plate. The crowded layout, with lines that snake past each other, is on purpose.
"It's 100 percent about socializing," says Kolaski of the tight quarters. "There's more energy in an environment where you're shoulder to shoulder. Maybe you put your phone down for a few seconds and acknowledge that we're all here in this moment."
If you don't want to unplug, there are outlets and televisions everywhere. If you do, you might notice a tantalizing plate from another vendor as someone walks by, increasing the likelihood of a return visit.
The city issued a one-year ban on fast-food operations with more than 100 outlets, hoping to create instead a "more unique, special" dining experience.
A seating-without-borders policy helps as well. "We're not like other environments, where if you order from this concept you sit in this chair," says Kolaski. "You want to order from Fuku and sit at Cada Vez with a friend? Go for it. Sit at Adelaide for coffee and bring down pizza from upstairs. Everyone says 'no' in big environments. We say, let people sit where they want, order what they want, as much or as little as they want."
Social Eats embeds promotions in the experience, including free churros with a return taco order, football-night "snack & sacks" specials, and weekly events like Marg Mondays, Taco Tuesdays, and FryDays, with half-off deals on margaritas and margherita pizzas, tacos, and fried sandwiches, respectively. There are strategies to keep the business humming in off-hours: Adelaide cuts coffee prices after 3 p.m.—and at night, when caffeine intake slows, it turns into a wine bar.
Loomis says that the extras are essential: food by itself, even improved food, isn't enough to draw crowds these days. "People used to come to the Promenade to be entertained, to eat out, to shop, and that created a vibrant public space," he says. "In 3.0, the formula is completely reversed: You want a vibrant public space that people are drawn to—and that will in turn support shopping and dining."
While that's the theory behind larger food courts, which can run from 20,000 to 40,000 square feet, Kolaski thinks it will play out differently in a space where customers can see every main-floor option at once. "It's not too big," he says. "If you don't have a plan when you walk into a bigger environment, you can get lost."
Kolaski talks as much about energy and connection and social interaction as he does about smart business practices, as though he were the offspring of a '60s social activist and a Wharton MBA. Before he created the K2 Restaurants group and assembled Social Eats, he was president of a company called Disruptive Restaurant Group, and his shake-it-up mentality defines his approach to the Promenade: He rejected existing notions of how to feed people fast and came up with a new configuration, both front- and back-of house, to improve the bottom line.
The city's mandate was clear. Kolaski had to dodge what city planning manager Jing Yeo calls the "down-market" reputation of traditional fast food, which was as diplomatic as the adjectives got among city officials. Andrea Korb, economic development manager for Downtown Santa Monica, Inc., a consortium of private property owners that works with the city to define priorities, was blunt about the food agenda: "We got wind that several fast-food joints were sniffing around the Promenade," she says. "But to maintain the unique character of the street we wanted to steer away from big outlets.
"You want a vibrant public space that people are drawn to—and that will in turn support shopping and dining."
"If you open fast-food places," says Loomis, "it's a slippery slope to becoming a generic mall that loses its luster. The fear is that they downgrade the overall experience." The Promenade already has a Chipotle and a Pinkberry frozen-yogurt chain, but Loomis anticipates renewal of the one-year, franchise-food ban at the end of this year.
But new concepts are only as good as their profits, which in restaurants are notoriously slim. Kolaski has retooled the parts of dining out that customers never see, to improve the odds of success. Mingling is the guiding principle there, as well as in the public space—the vendors at Social Eats operate collectively, not competitively.
"Food halls typically are multiple vendors," says Kolaski, "all fighting for the guest who walks in the front door. They're not working together to bring more guests into the space; they're working in silos."
The only silo here belongs to Dialogue, a small fine-dining restaurant on the second floor. All the Social Eats outlets participate in what Kolaski calls "streamlined ordering," which includes "proteins, staples, dairy, produce and restaurant supply," with specialty items added separately and Fuku sourcing some products from the chain's preferred distributors. It's simple math: Volume orders mean lower prices, which makes it that much easier for the restaurants to make a profit.
Employees are trained to work at any of the counters—if there's a rush on tacos, someone who's working the sushi counter can step over and fill in, which reduces the need to call someone in on their day off and risk having to pay overtime.
And there's a commissary kitchen where employees handle "prep, cold dishes and other menu items that are then finished at the counter," says Kolaski.
"One operator and a lot of shared operational infrastructure," says Loomis. "It's the most interesting experiment happening on the Promenade right now."
"It's a really flexible box to play with," says Kolaski, whose company is a majority shareholder in Social Eats outlets other than Fuku, and who will oversee operations for Chang's venture. He intends to replicate the concept in other locations, which sets up a central irony: A unique new model, if successful, will evolve into the next standard approach, as Kolaski expands and others embrace and imitate what he's done.
Loomis says the change can't come fast enough. The internet economy has broken the old retail and dining model, he says, and the future of commercial real estate may depend on the ability to buy high-quality tacos with one friend who wants ramen and another who's ready for dessert, all of it washed down with discount drinks while watching a football game.
But not just any dessert. The outlier at Social Eats is one of the two frontage businesses, Sloan's Ice Cream, its window display full of candied apples and cookies, with a counter full of ice cream, all of it across the aisle from Kameo Shave Ice, a lower-calorie, lower-fat dessert option.
Sloan's had an existing lease, so it shares the space with Social Eats, but it won't be part of the traveling show. Kameo is a pop-up designed to provide a healthier alternative, according to Kolaski. When he mentions "advanced conversations" on other Social Eats locations, shave ice is part of the new mix.