In Puerto Rico, a judge has ordered the government to open hundreds of school cafeterias. Why are they still closed?
Courtesy of Lucia Santana
Just 150 of 780 lunch rooms in Puerto Rico are open and running. Advocates say that each passing day causes "irreparable damage" to hungry families.
Lucia Santana's neighbors in the Manuel A. Perez Housing Project in San Juan, Puerto Rico, frequently call her "mother" and "godmother," out of gratitude for the aid she provides them during times of emergency. Since mid-March—when the island's governor announced a lockdown and curfew to curb the spread of Covid-19—Santana, 51, has devoted a significant amount of personal time and money to filling gaps in the government's social safety net. She delivers meals to senior residents, many who have disabilities and can't leave their homes. She buys groceries for neighbors who struggle to afford them, whether because they've lost income during the pandemic, or because they haven't received the benefits they're owed.
"We are a big family here," Santana says. "We are a big neighborhood, and we support each other." She's happy to do it, but she wishes that the government would do more. In particular, Santana believes that public officials could efficiently reduce food insecurity in the community by opening nearby school cafeterias and using them to serve meals. After months of inaction by local education officials, anti-hunger advocates have taken the issue to court.
In the mainland United States, as in Puerto Rico, most schools have shut down or switched to remote learning to prevent the spread of Covid-19. However, in many districts—large and small, in regions both rural and urban—cafeterias are still running, churning out breakfast and lunches, not just for enrolled students, but for all kids in the surrounding community. The idea is to alleviate a significant burden on people's food costs during an economic downturn that has seen unemployment rolls swell by 36 million. Across the country, approximately 95 percent of school districts have some kind of emergency feeding program, according to a survey conducted by the School Nutrition Association (SNA).
While the Department of Agriculture (USDA) administers the national school meal program—which reimburses districts, including those in Puerto Rico, for some food service costs—it's up to local officials to decide whether or not to operate at all during Covid-19 shutdowns. In Puerto Rico, that responsibility lies in the hands of the Department of Education (PRDE). Per a PRDE spokesperson, approximately 150 of the territory's nearly 780 school cafeterias are up and running. Those that are closed include an elementary school and a middle school near the Manuel A. Perez Housing Project with a combined enrollment of about 650 children, Santana tells me.
"If they opened the schools to give out breakfast and lunch, it would be a relief," Santana says. "When children go back to their homes, their families would only need to provide dinner."
"If they opened the schools to give out breakfast and lunch, it would be a relief," she says. "When children go back to their homes, their families would only need to provide dinner."
To ramp up pressure on the territory's government to open all cafeterias, a coalition of anti-hunger advocates like Santana have taken the issue to court. Yet, despite a recent judicial order in their favor, hundreds remain closed, leading the lawsuit plaintiffs to go so far as to call for Secretary of Education Eligio Hernández Pérez's arrest.
Courtesy of Lucia Santana
A sustained and comprehensive form of hunger relief for the community is beyond what any individual or non-profit can provide, Santana argues. Last September, she started a community organization called Solidaridad Humanitaria (Humanitarian Solidarity in English) to advocate for services for the housing project. Through the nonprofit, Santana was able to get food boxes from USDA's Farmers to Families Food Box program. But that has its limitations, too: Of scheduled four shipments, each destined for a different extension of the housing development, only two have been delivered so far, and the final one isn't set to arrive until June 30.
Solidaridad Humanitaria has just $29 in the bank, Santana tells me. Instead, she believes that the responsibility to mitigate rising food insecurity during the Covid-19 public health emergency falls in the hands of the government, and that one of the most logical tools at its disposal are public school cafeterias.
For its part, the Puerto Rican government has maintained that it is meeting the needs of food insecure families during the Covid-19 pandemic, via the school cafeterias that are open, in addition to its work with non-profit food distribution partners.
Hundreds of school cafeterias remain closed, leading the lawsuit plaintiffs to go so far as to call for Secretary of Education Eligio Hernández Pérez's arrest.
But hunger relief is still inaccessible for many, including residents of remote areas and people without transportation. Parents have spoken out about having to skip meals in order to feed their children, and teachers report buying food for students who otherwise would have to go without.
—
In April, a coalition of nonprofits, including Solidaridad Humanitaria, filed a lawsuit against the Puerto Rico Department of Education (PRDE) and the government of Puerto Rico on behalf of families whose children rely on schools for breakfast and lunch.
The lawsuit argued that the territory's closure of cafeterias was "depriving the entire school population of the food that until [the shutdown] they received in the school." The plaintiffs also pointed out that this disproportionately impacts poor families, who are more likely to depend on school cafeterias for meals in the first place. The plaintiffs called on the court to mandate the immediate reopening of cafeterias. "Every day that passes without [reopening] … causes irreparable damage," the lawsuit reads.
In late May, the judge overseeing the case agreed, ordering the Secretary of Education to "open all school cafeterias as necessary to feed the entire population in a state of need as a result of the emergency situation caused by Covid-19, while the state of emergency lasts." But that has yet to happen.
Courtesy of Lucia Santana
The conflict reached new heights on June 15, when the lawsuit's plaintiffs filed a motion calling for the Secretary of Education to be jailed for contempt of the court.
"[The government of Puerto Rico and PRDE] are not complying with the order," says Osvaldo Burgos Pérez, lead attorney for the lawsuit's plaintiffs. "There are communities where there are not any cafeterias open and there are children [that] are not receiving food."
Earlier on the pandemic, PRDE refused to open any schools for meal service, saying that doing so would primarily put older cafeteria workers at risk for contracting Covid-19, the Associated Press reported. The agency later reversed this stance, opening 100 schools.
"What that means is that the vast majority of children are living in homes where there is no economic security and people are struggling to meet their day to day needs."
In response to a request for comment, a PRDE spokesperson pointed out in an email that there were cafeterias now open in 73 of the island's 78 municipalities. Additionally, the spokesperson said: "In those towns where there are no open kitchens, there are other alternatives that have been endorsed by the PRDE, such as private kitchens [and] non-profit organizations, to all of which the PRDE provides food for its preparation or distribution." The spokesperson said that the agency would open any cafeteria as requested by local mayors.
What makes the issue of shuttered school cafeterias particularly consequential in Puerto Rico is the territory's high level of food insecurity. According to the U.S. Census, 58 percent of children in Puerto Rico live in poverty, compared to 16 percent nationwide. In late May, the Youth Development Institute of Puerto Rico, a research organization focused on child poverty, estimated that that number could rapidly rise to 65 percent during the Covid-19 pandemic.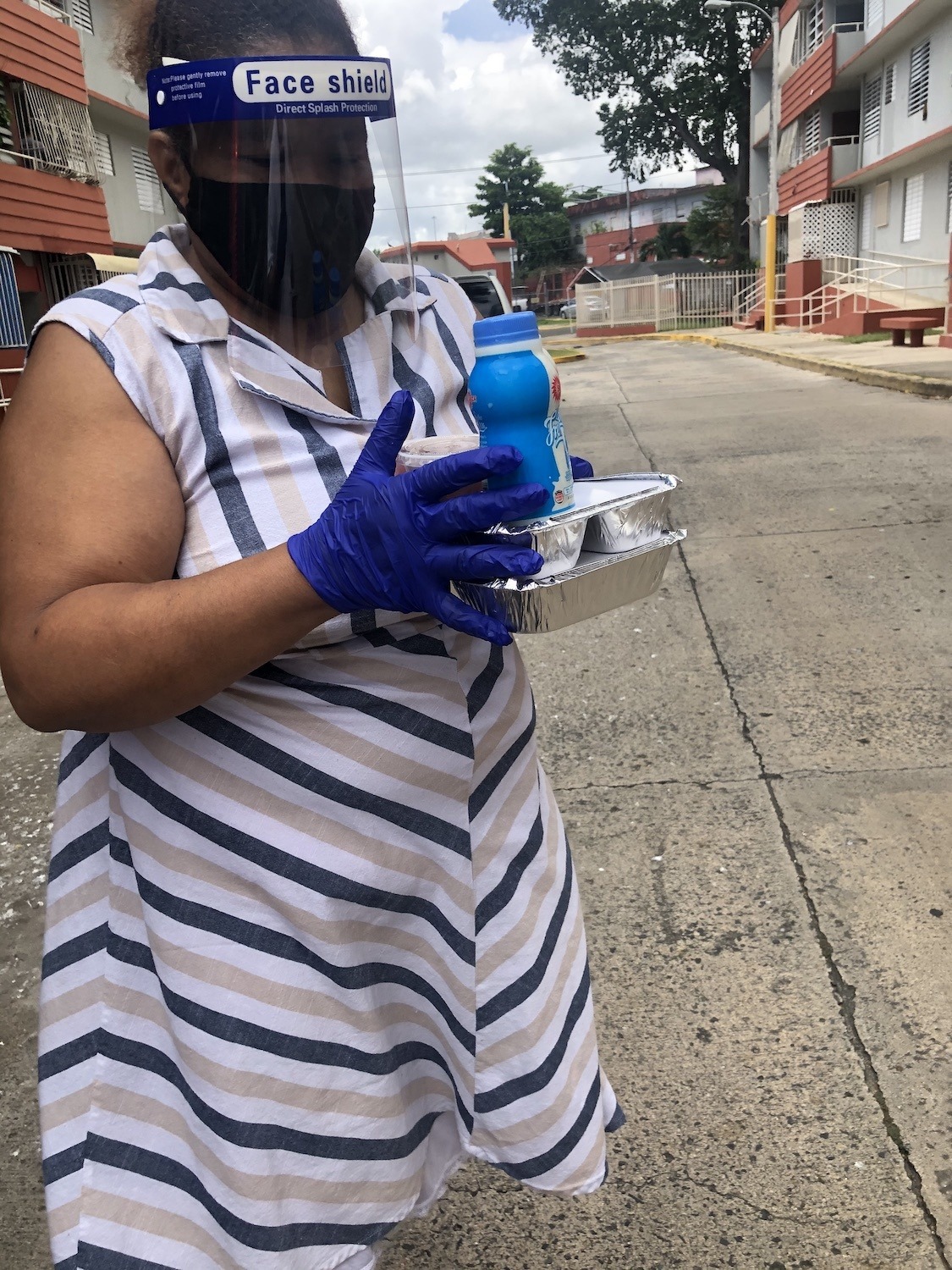 "What that means is that the vast majority of children are living in homes where there is no economic security and people are struggling to meet their day to day needs," says Amanda Rivera Flores, executive director of the institute. "[This] has been, of course, aggravated by the fact that we also had a series of hurricanes in 2017, earthquakes, and now this crisis.
"Every time there is a disruption in school where a lot of children get their lunch and their breakfast, that puts an additional strain on the families in terms of their ability to provide, among other basic needs, meals to their children," Flores added.
There are also a number of policy shortcomings in Puerto Rico's social safety net that the pandemic has made far more apparent. For one, food assistance in Puerto Rico isn't governed by SNAP, the commonly known food stamps program. Instead, it operates on what is called the Nutritional Assistance Program (NAP), which distributes fewer benefits than what recipients would get under SNAP. Congress—where Puerto Rico does not have representation beyond a non-voting delegate in the House—has approved additional funding for NAP during emergencies, including this one, but these are only temporary infusions. Disease experts have estimated that the Covid-19 pandemic could last for years.
In addition, a crucial Covid-19 relief program that is supposed to offset the cost of missing school meals via additional benefits to families doesn't apply in Puerto Rico. Because food assistance in the territory runs on NAP instead of SNAP, families in the territory are ineligible to participate in the Pandemic Electronic Benefits Transfer program, which was authorized by Congress in March to provide families with children who qualify for free or reduced price lunch a one-time payment of $5.70 per closed school day as a financial substitute for school meals.
Courtesy of Lucia Santana
In the face of these policy limitations, anti-hunger advocates argue that schools are uniquely positioned to provide food-insecure families with immediate and long-term relief right now.
"[Schools] have the warehouses and they have the kitchens and they have the buses to distribute the food," says Amarilis Pagan-Jiménez, another plaintiff in the lawsuit. She is also the executive director of Proyecto Matria, an organization that aims to help people who have experienced domestic violence attain self-sufficiency." Additionally, they have the names and the addresses of the students of the school system. We do not have that. If someone has the administrative infrastructure to not only identify the people who need food, but also to register who is receiving food, it's the Department of Education."
The lawsuit is still winding its way through the judicial system, and is set to appear in an appellate court next Monday. In the meantime, Santana plans to keep showing up for her neighbors.
"If the schools were open, and provided breakfast and lunch, I wouldn't need to do it," she said. "I've been forced to do it—because with the little I receive, I'm going to help [someone else]."
She tells me she can't imagine turning someone away if they approached her for help in a time of need: "That's not me."