Pizza for boys, cupcakes for girls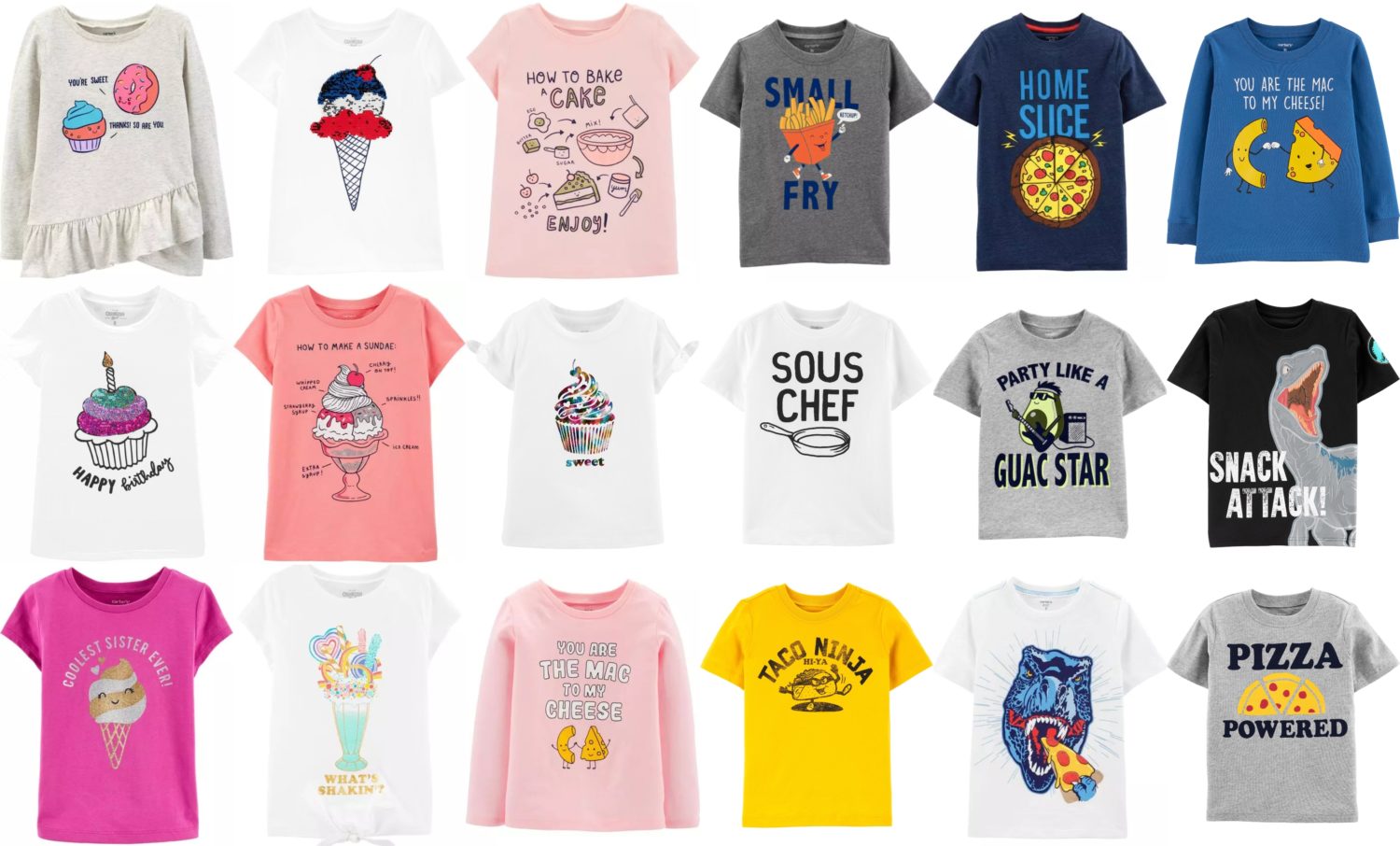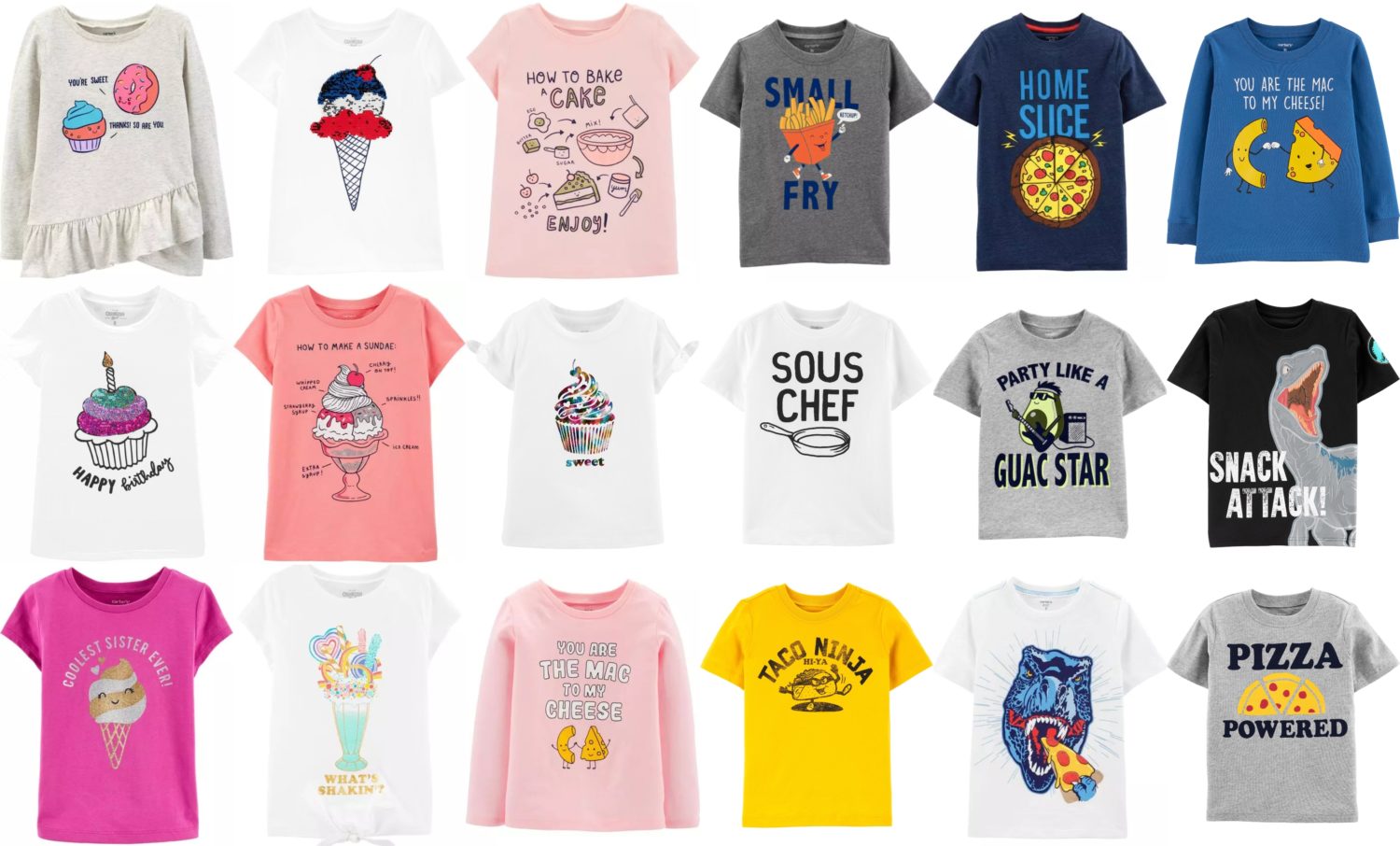 Carter's
A new study takes stock of how often food imagery appears on children's apparel. Turns out, it happens a lot—and there are big gendered divides.
What do you think of when you think of children's clothing? Cheery graphics, cheesy puns, and anthropomorphic cartoons probably come to mind. Especially compared with clothing for grown-ups, logos and names of brands often take a backseat to simple images that convey a vague sense of "fun!"
And truly, what says "fun" more than food? Recently, a team led by Dr. Megan Pesch, a pediatrician at the University of Michigan, set out to quantify just how much food dominates the world of children's clothing. Not only did they find a significant swath of kids' clothes decorated with food, they also discovered strong gender correlations.
To conduct the study, the researchers first gathered a database of all t-shirts and pajamas sold at four of the biggest single-brand children's apparel retailers—Old Navy, Gymboree, The Children's Place, and Carters—between January and February 2018. Eventually, the team amassed a collection of over 3,800 items. They then sorted through every piece and "coded" each one based on a) whether the item was food-based and b) its targeted age and gender. The food-based items were then graded for healthfulness, as determined by the Department of Health and Human Services' dietary guidelines.
Do children's clothes shape our collective preferences and notions about gender—or is fashion simply a reflection of them?
What Pesch and her team found is that more than one out of every 12 clothing items they'd examined featured food in some way. And 72 percent of the clothing was coded as being either unhealthy or moderate. That fits neatly with pervasive notions about which foods are "fun!"—and which ones are less so. Pizza and cake are treats associated with comfort or celebration, while broccoli and Brussels sprouts get pushed around a plate or
tossed into the trash
. (
Out of 3,800-plus items, only five portrayed vegetables.)
Perhaps even more striking than the number of food-based items of clothing is just how gendered they were. Pesch found that there were twice as many food-based items targeted towards girls than boys. Further, those clothes were predominantly designed with sweet foods like pastries and frozen desserts. For clothes marketed to boys, savory foods like pizza and fast food took center stage.
"We wondered if the trends in images on girls clothing being 'sweet foods' represented societal behavioral expectations for boys versus girls—meaning that girls are often expected to be sweet, kind, and demure," Pesch said in an email to The New Food Economy.
Out of 3,800-plus items, only five portrayed vegetables.
But do children's clothes shape our collective preferences and notions about gender—or is fashion simply a reflection of them? Pesch is careful to point out that the study doesn't draw any conclusions about clothing's effect on children's behavior, either short-term or long-term. But she does suspect that there is a connection, one that hasn't been sussed out yet.
"There does exist a sort of 'genderism' in foods," she noted. "Certain foods in our culture are considered to be more masculine or feminine. For example, eating a steak or meat is often considered to be more masculine, whereas salads or desserts can be considered more feminine. The pictures or images we saw on clothing seem to propagate those stereotypes."
Pesch's study is significant because it highlights yet another way that unexamined ideas about gender crop up around us. In the past decade, products from yogurt to beer have faced ridicule for implying that even the most ubiquitous products must be tailored to women's specific needs—something lighter, something pinker, something more saccharine. On a large-scale, it's difficult not to interpret all the marketing as a suggestion that women reflect those characteristics, too.
Pesch tells me that she plans to more deeply research how exactly food on children's clothing affects the way they eat. This study, after all, is just a brief glance—a snapshot of some retailer offerings over a specific period of time. Nonetheless, it gives a glimpse into the way that children's clothing mirrors our ideas about food preferences, as well as gender. Something to chew on.