A common swine drug, banned in Canada, Australia, and the EU, is now under review by the FDA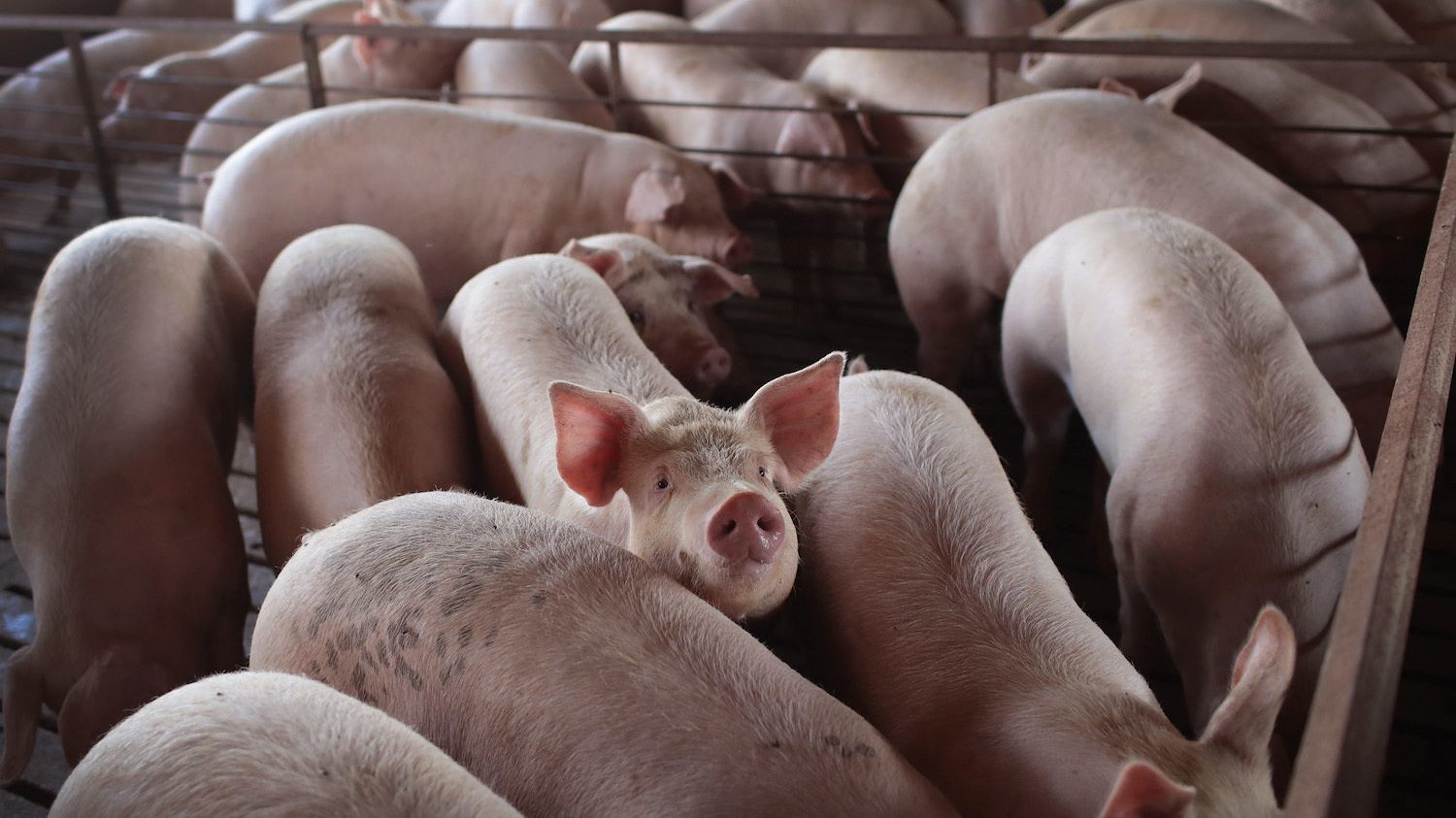 Not for the first time, the agency takes steps that could determine whether carbadox, a cancer-causing livestock drug, should remain on the market.
You may not have heard of an antibiotic called carbadox, but its usage in treating sick swine has been common in the U.S. since the '70s—despite the fact that it's a likely carcinogen, shown to cause tumors in lab animals. In fact, the Food and Drug Administration (FDA) was seeking to ban carbadox back in 2016 at the tail end of the Obama administration, going so far as to announce that it intended to allow the drug maker to request a hearing on the matter. That never happened.
"Things pretty much just stalled during the next four years, as we had the new administration coming in," said Steven Roach, Safe and Healthy Food Program director for humane farming nonprofit Food Animal Concerns Trust (FACT). According to a spokesman for FDA, who answered questions from The Counter via email, the agency backed away from its original plan after it determined that the main concern about carbadox centered on the inadequacy of the method drug maker Phibro Animal Health used to measure carcinogenic residues in pork tissue.
So, on March 10, the agency held a public hearing on that measurement method. If FDA decides that method should be revoked, the agency will pursue yet another hearing—the next one to potentially ban carbadox use in hogs. The FDA spokesman said this could lead to the agency withdrawing approval of all new animal drug applications for carbadox's use. This effective ban would put the U.S. in line with the European Union, Canada, and Australia, where carbadox has been disallowed for a number of years.
Carbadox is added to livestock feed to control diarrhea in young pigs after they are weaned from their mothers, as well as to promote their growth (despite a federal ban on antibiotic use for growth promotion, it's allowed for carbadox). And though Phibro leaned heavily on the drug's medical necessity at last week's hearing, company marketing materials focus primarily on how carbadox helps fatten pigs rapidly. FACT, the only group to present anti-carbadox comments at FDA's hearing, estimates that over 50 percent of U.S. hog farmers use the drug, while Bloomberg put that estimate considerably higher—90 percent. Although FDA explicitly disallows carcinogenic drugs in treating animals, a proviso allows their use if no residues of them are "found by an approved regulatory method in any edible tissues of or foods from the animal." Phibro maintains that its continued use in hogs is essential to production, and to human health.
Though Phibro leaned heavily on the drug's medical necessity at last week's hearing, company marketing materials focus primarily on how carbadox helps fatten pigs rapidly.
"The drugs to which veterinarians would turn to replace carbadox are, in many cases, medically important antibiotics in human medicine, things like aminoglycosides, which…FDA has deemed…to be medically important in humans," said lawyer Jeannie Perron, speaking on behalf of Phibro in last week's hearing. "But if carbadox were not available, swine veterinarians would be forced to use drugs like that." She insisted on multiple occasions that carbadox use was safe, despite the fact that residue measurements used in Canada, for example, find carcinogenic residues where Phibro's methods do not. (Phibro did not respond to requests for comment from The Counter.)
Other proponents of the drug who spoke during the hearing claimed that banning the drug would result in increased animal suffering and death. "It's my job to advocate for the pig," said Clayton Johnson, a livestock veterinarian. Without carbadox, "Our pig populations will get sick [and] animal caretakers will be frustrated," he said.
Rather than presenting FDA with a new method for detecting carbadox residues, which it had been invited to do, Phibro representatives doubled down in insisting that their old methods were adequate, and suggested FDA could come up with an alternate testing method on its own.
Narrow though the scope of this particular hearing was, FACT's Roach pointed out that the issues of concern with carbadox go beyond carcinogenic residues in pork tissue. For starters, "Workers who are handling the drug and putting it into feed can be exposed through inhaling [carbadox] dust, and we've seen some reports of absorption of carbadox through the skin," he said, mentioning that worker safety was a concern cited by the EU in banning the drug.
"These facilities have continuous problems of swine dysentery and we keep putting new pigs in them and adding a bunch of drugs to their feed."
Additionally, United States Geological Survey (USGS) has found evidence of carbadox in some surface waters in the U.S. This sort of environmental exposure through water "is another scary outlet that we're seeing," said Roach's FACT colleague, Safe and Healthy Food Program associate Madeleine Kleven, who spoke at the FDA hearing. "We don't know the risk this poses, but it could be even more dangerous"—not just to humans but to wildlife as well. As with determining the full extent of human cancer risk from carbadox meat residues, understanding the effects of carbadox in water would necessitate scientific study; Roach and Kleven were unaware of any such studies.
Perhaps most troubling, however, is research showing that carbadox could actually be speeding up the antibiotic resistance of Salmonella and E. coli. "Relevant to the question of whether carbadox should be considered medically important, some of the transferred genes coded for resistance to antibiotic classes that are commonly used in human medicine, including tetracyclines, aminoglycosides, and beta-lactams," according to the authors of one study.
Carbadox proponents say that hog farmers in the EU are suffering losses as a result of the continent's carbadox ban, a challenge that Roach said is accurate, and of concern. "They are having some trouble with resistant swine dysentery, a disease that causes bloody diarrhea, and that's a real issue," he said. Still, he said a bigger concern—both there and here—is the unhealthy systems in which hogs are raised. "These facilities have continuous problems of swine dysentery and we keep putting new pigs in them and adding a bunch of drugs to their feed." If hog farmers and veterinarians were concerned with animal welfare, they'd "clean out the facility and make sure [it's] clean." Additionally, since young hogs get diarrhea when they're weaned from their mothers at the age of 20 days—too early for their guts to handle solid food—another logical solution would be to "give them another 10 days, so you wouldn't need to use antibiotics," Roach said.
Next up for the FDA is to post a transcript of the hearing on its website "as soon as possible," to review any comments and other submitted information regarding carbadox, then to determine further steps. The FDA spokesperson did not offer a more detailed timeline for these proceedings.