Email reveals who's really paying for Amazon Prime's new discount at Whole Foods: vendors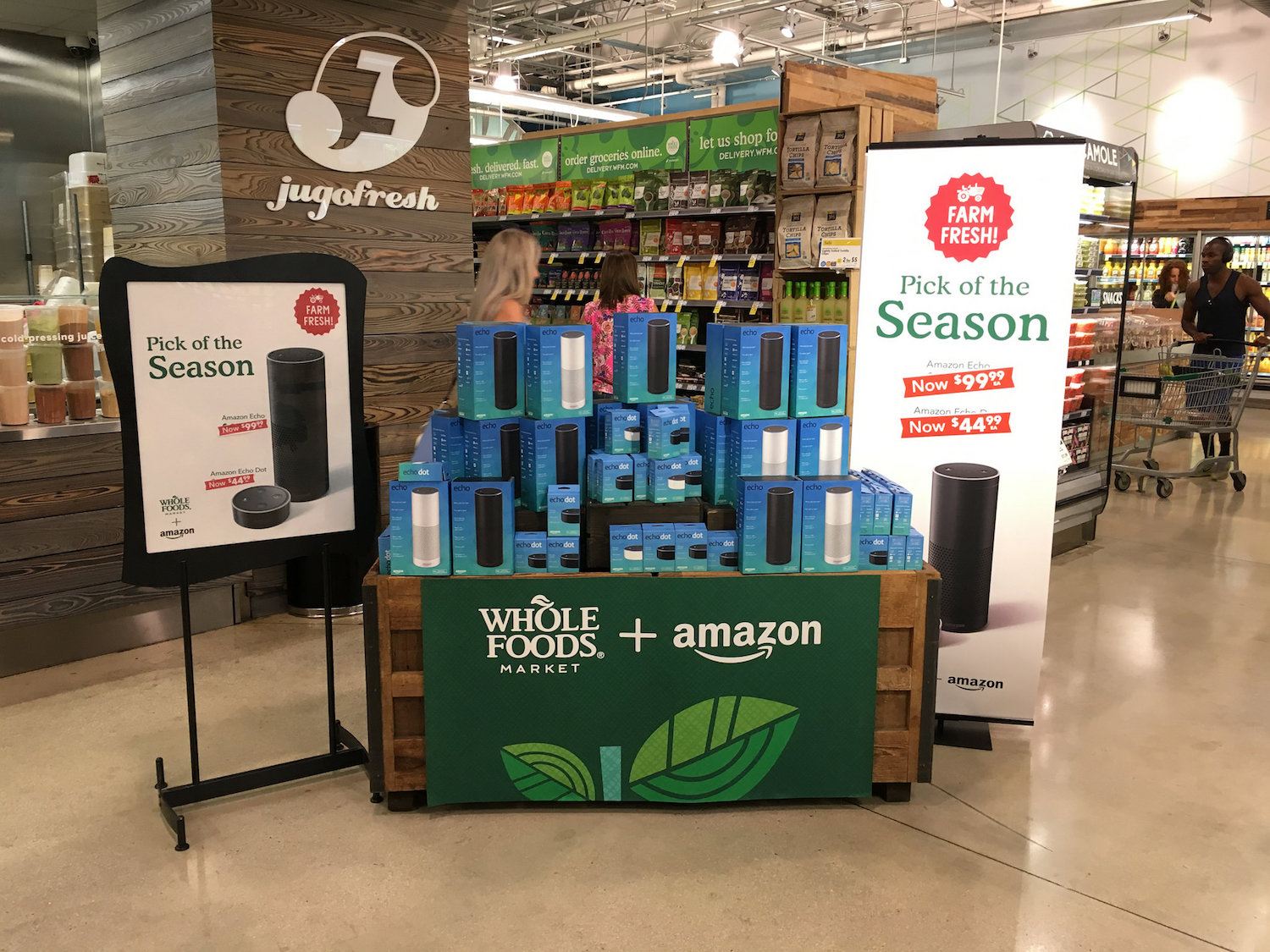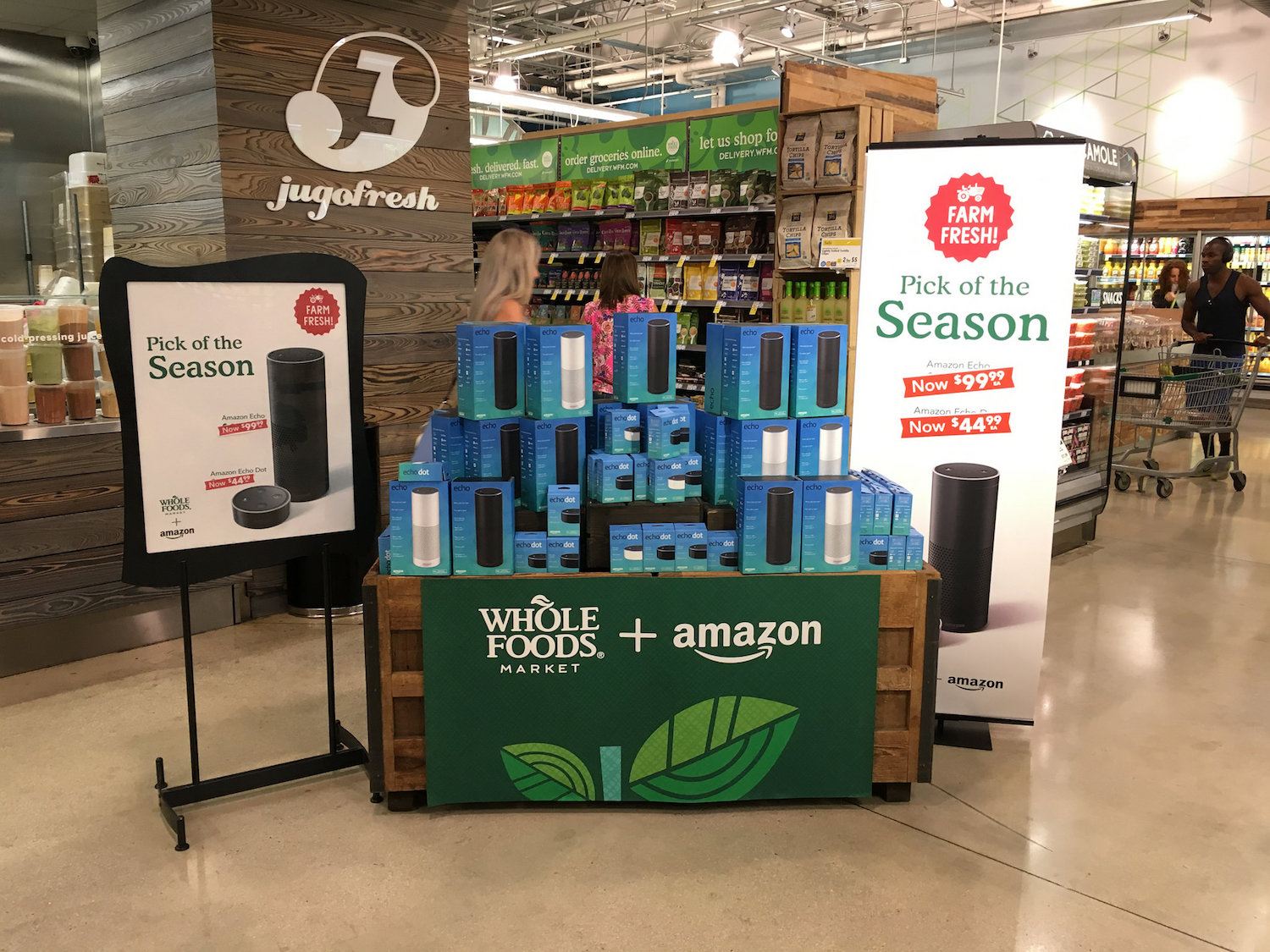 The Counter
The Prime discount cements the creeping realization that Whole Foods is fundamentally changing its role in the natural foods world—and that vendors will have to change, too.
The thing about straws is you never know which one is going to break the camel's back. And though many or most suppliers of Whole Foods Market may not know it yet, the company is in the middle of rolling out yet another pretty hefty straw. This could be the one.
In early June, Whole Foods announced what many knew was coming—a significant integration of Amazon's prized Prime membership program into its crown-jewel acquisition, Whole Foods Market. As of June 25, Amazon Prime members will receive an extra 10 percent discount on "hundreds of sale items" at Whole Foods stores nationwide.
"Since launching Prime savings at Whole Foods Market, we've seen excitement and momentum from both Prime members and our supplier partners," said A.C. Gallo, president and COO of Whole Foods Market in a statement. Flyers and Whole Foods team members are in place to educate customers in-store.
But if shoppers are getting a discount, someone in the supply chain is taking the hit. And in the case of the Amazon Prime discount, internally called the Prime Savings Program, it's food companies, large and small, that are getting stuck with the bill.
In advance of the nationwide rollout, a distributor servicing Whole Foods in the Northeast emailed its vendors to announce the new program and how it will work. This type of communication likely went on between dozens—and maybe hundreds—of distributors, vendors, and buyers, but just one email made it into our hands.
In the email, obtained by The New Food Economy, Whole Foods explains that it will apply a 10 percent "scanback charge" for any product purchased that is currently on sale. This means that, when a customer purchases a sale item (think yellow shelf tag), the deeper discount—an extra 10 percent—offered to Prime customers will mandatorily be charged back to the vendor. This charge makes the hit that vendors already take on sale items even bigger.
The email was sent before the national rollout was moved up to the end of June and says that the program will go into effect in the Northeast in August. It is currently unclear if this policy will affect smaller product categories like meat, seafood, and produce. It is also unclear if vendors were offered the opportunity to change their sale plans ahead of the nationwide launch. Whole Foods did not respond to our request for clarification in time for publication.
Tensions between Whole Foods' suppliers and the store are not new. For the last year, some vendors say, communication about policy changes and new fees has been poor.
"Since the acquisition, there has been a lack of clarity [on their plans] for all the vendors and the people supporting the vendors who are vital to the brands," says Sam Miller, CEO of Phoodie Marketing, an experiential marketing agency, which works nationally with Whole Foods vendors. Phoodie is part of the varied universe of support companies that offer services like sampling demonstrations and merchandising—both crucial elements for a successful in-store sale.
In fact, most of the vendors I spoke to in the days before the nationwide launch had not even heard of the policy change yet. So what does this mean for them? And what ripple effects will it have up and down the supply chain, from farmers to shoppers?
Promo or bust
Under normal circumstances, sales are a critical tool for grocery brands.
When Greg Keller launched Frontera Foods, a Mexican snack foods and sauces company in 1999 with celebrity chef Rick Bayless, Whole Foods was a trusted and valuable partner. He describes the relationship as friendly, productive, and personal.
"Whole Foods carried a lot of weight and we had good data and really could understand whether something was additive or cannabalistic to our line," says Keller, who sold the business to frozen foods giant ConAgra in 2016 and is now an independent consultant in the industry.
Since Frontera sells chips, salsas, and sauces, sometimes all in the same aisle, Keller's strategy was to always have something from Frontera on sale to keep bringing new customers to the brand. In-store promotions are one of just a few levers brands can pull to acquire new customers in a crowded grocery store with tens of thousands of products.
"In order to raise awareness you need to promote in grocery stores because it is the most efficient way to hit the largest subsection of shoppers walking by the shelf," says Keller. Yes, vendors take a hit on the price—but it's a calculated risk. The idea is that in-store discounts will increase sales and awareness enough to more than make up for profits lost.
But with no clear figures on how many Whole Foods shoppers may actually take advantage of the Prime discount, vendors are in the dark about how the scanback charge may affect them. Yes, the uptick in sales volume that Amazon clearly hopes for could make up for the decrease in profit from each item sold. But brands that operate the way Frontera did, depending heavily on promotions over in-store demonstrations for example, will need to take a hard look at their strategies. It may turn out that an additional 10-percent loss—on top of existing discounts—is just too large a deficit to overcome.
Though no vendors I spoke to had heard of the Prime savings program, not one was surprised.
"What this is going to mean to manufacturers is either margins are going to be impacted, or they are going to raise prices," says Keller. A small raise in prices could balance out the hit that the Prime savings program demands—though raising prices does not always go over well with grocery store buyers. Vendors could also rely on their discounts less often—a strategy that would make Whole Foods' scanback charges less painful, but which also deprives them of a critical marketing tool and adds up to less savings for Whole Foods customers overall.
"I think vendors will change their promo plans eventually. I expect lots of vendors will try the experiment and those that don't will lose shelf space," says Brian Ballan, founder of A&B American Style, a line of small-batch pepper sauces, and a former vendor to Whole Foods. "I would not be surprised if category reviews start to include some measure of customer loyalty, and [among] Prime members, in particular."
Category reviews are a yearly exercise where buyers take a fresh look at each type of product (chips, bread, salad dressing) and decide what to cut and what to bring in. Ballan is predicting that vendors' ability to work with the 10-percent discount—and inspire repeat purchases among Prime members—may be an important part of staying on the shelf at all.
But success, ultimately, may not be fully in vendors' hands.
"The main question here is, is Whole Foods going to require the same high discounts?" asks Miller. In other words, will the company pressure vendors to keep running their own promotions on top of the new Prime discount?
After all, Whole Foods has the right to approve or deny any promotion based on the percentage discount or the timing of other promotions in the same category (or, really, for any reason at all). Vendors may find Whole Foods rejects their promotions outright if they aren't steep enough. They may also face strong resistance to raising prices, as Amazon's major consumer-facing intention has been to noticeably lower them across the store.
Though no vendors I spoke to had heard of the Prime savings program, not one was surprised.
"I've been in retail a long time," says one Whole Foods supplier who asked to remain anonymous to preserve their relationship with the store. "The vendor always subsidizes the retailer."
"Amazon is always passing savings on to customers at the expense of vendors," adds Ballan. "They are playing a long game in a very competitive industry. Customer loyalty is the way Amazon has gone from 'best price' for a product to 'first search' for a product. They will continue to invest in that until the end of time."
Straw, meet camel's back
Some vendors may well be excited about the new discounts, as Gallo's statement suggests. If Prime customers flock to the affected items, sales volumes could increase for those products in a meaningful way. Amazon does know a lot about its customers. It also knows how to drive sales by making smart, data-driven decisions about which products to nudge us toward.
The days when a natural foods vendor with a niche product could pour all of their attention into Whole Foods and be successful are long gone.
But for some vendors and other stakeholders, the Prime discount scanback cements the creeping realization that Whole Foods is fundamentally changing its role in the natural foods world—and that vendors will have to change, too.
It's getting more expensive to do business with Whole Foods for vendors large and small. Higher fees, centralized purchasing that crowds out smaller brands, strict limits on in-store demonstration options, and an overall sense of distance from the grocer's new corporate patron has, for some, started to turn a retail account that once was a badge of honor into a bitter burden. And that could mean loyal Whole Foods vendors will need to start looking elsewhere.
"They're not the same partner that they were when Frontera started 20 years ago," says Keller. The days when a natural foods vendor with a niche product could pour all of their attention into Whole Foods and be successful, he says, are long gone.
"Brands feel disrespected that they are implementing new changes that cut into their margins. Brands invest a lot in retailers and at the end of the day, we're going to see a shift of these investments from Whole Foods into other retailers," says one vendor services provider who declined to be named. "Brands are not relying on Whole Foods the way they used to. Whole Foods used to be the anchor for natural foods."