Alaska had a burgeoning, year-round oyster industry. It may not make it.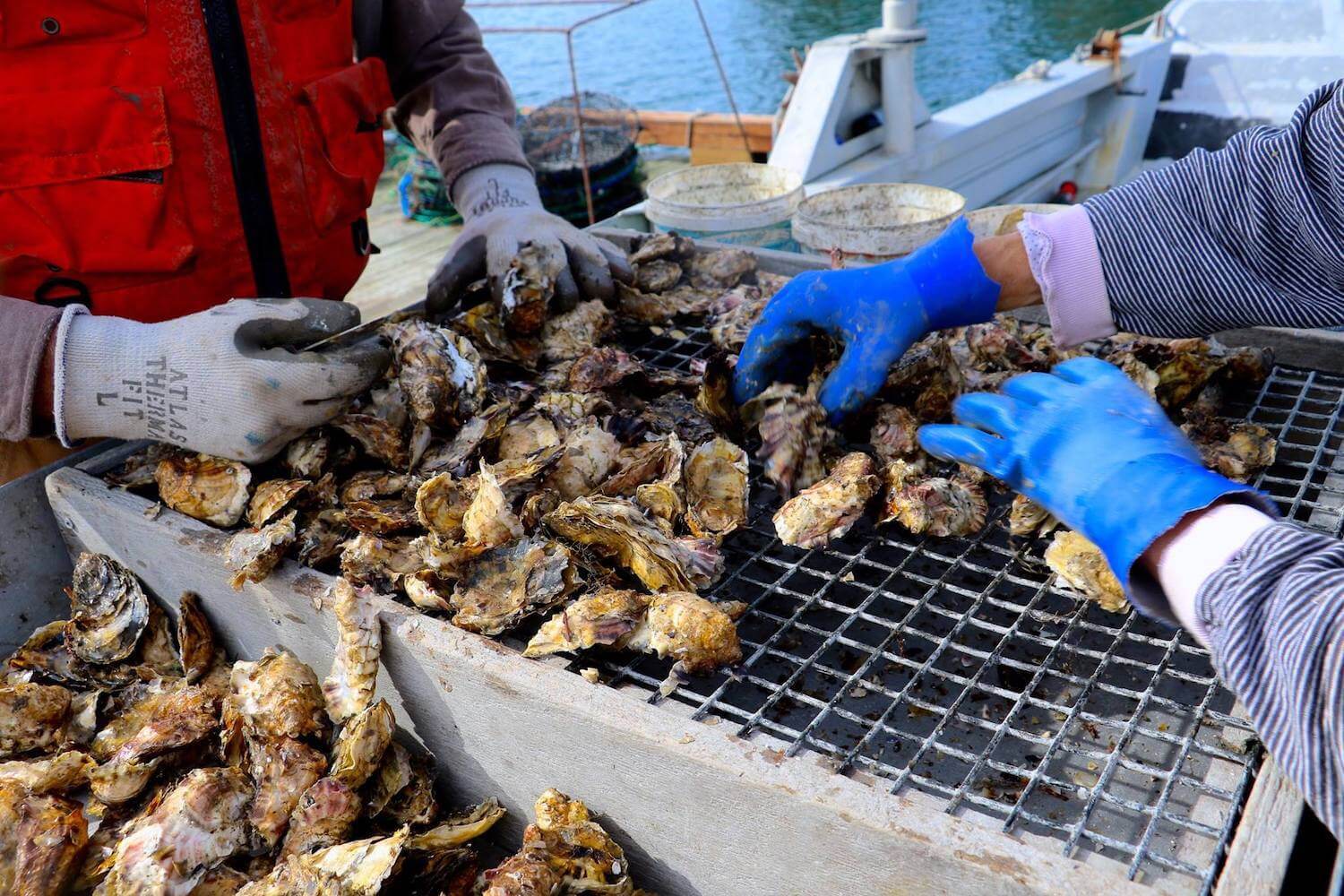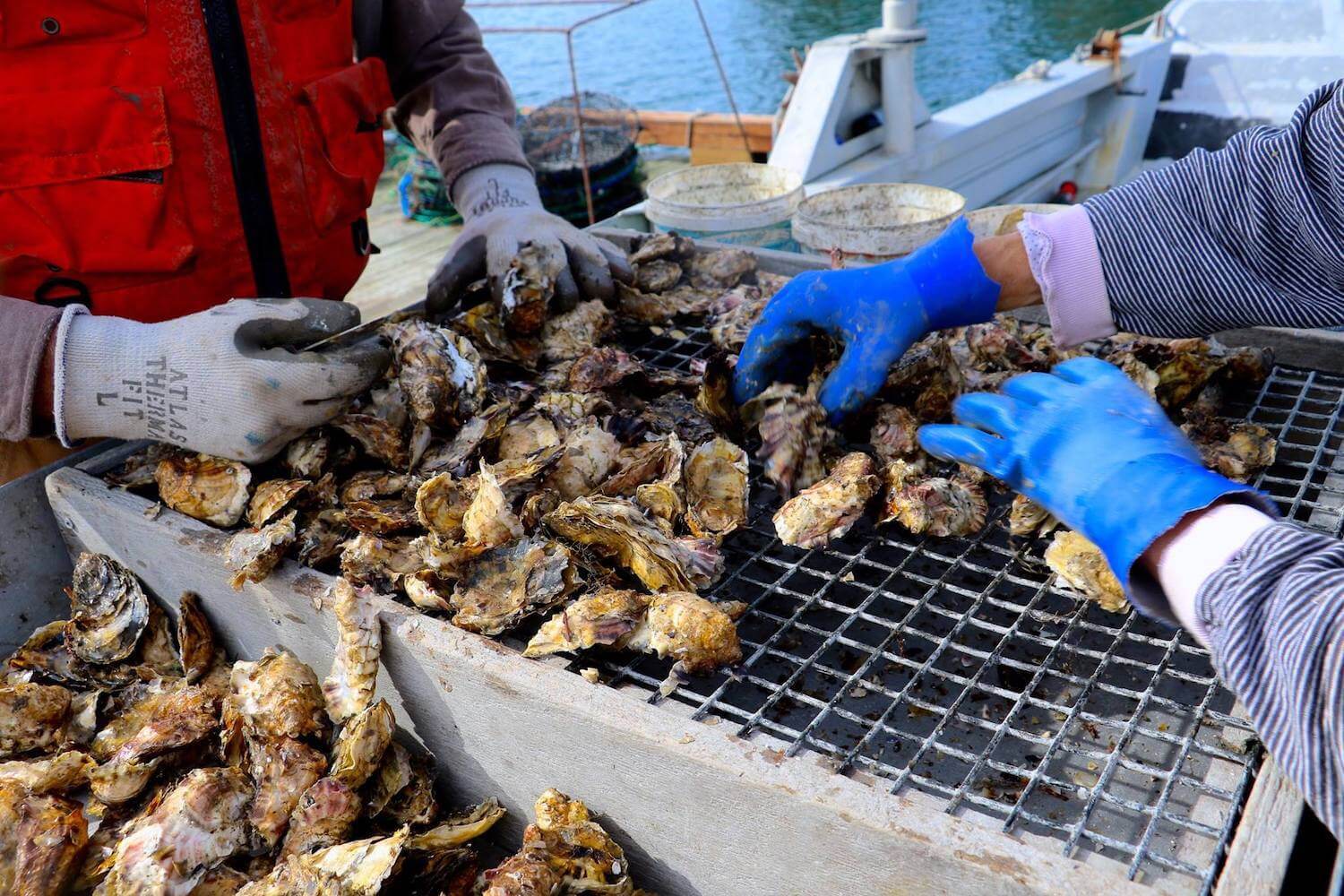 Bailey Berg
Mariculture brought in over $1 million to Alaska's economy last year. But with the pandemic's hit to the tourism and restaurant industries, many oyster farmers are hoping to survive the season.
On a normal day, Weatherly and Greg Bates rise before dawn to tend to their crop. By 5 a.m. the duo are on their skiff boat, motoring to their field near Halibut Cove, Alaska (population 76). Most days, they hope to get in a few hours of work before their 10- and 12-year-old kids wake up. Now that it's summer, the children also help tend to the fruits of the family's labor: Oysters.
The Bates' oyster yield hangs suspended in tiered wire-mesh bins, where they grow for three to five years in the frigid waters of Kachemak Bay. Because the bivalve's aquatic home is so cold, it's impossible for them ever to spawn, so they can be eaten year round. For that reason, the Bates' oysters have a competitive advantage over even the most famous oyster shucking locales in the country. In a normal summer, they spend much of their time packaging their wares to be flown to high-end restaurants nationwide or driven to bigger Alaskan cities where they're gobbled up by the influx of seasonal tourists.
But this isn't a normal summer.
For the Bates' Glacier Point Oyster Farm, the biggest exporter of oysters in Alaska, the coronavirus outbreak has had a dramatic effect on their 13-year-old business. With most of its sales going to restaurants in major cities like Seattle and New York City that largely shut down to contain the spread of the virus, Glacier Point's sales are down roughly 90 percent from prior summers. 
"It's going to be a tough next few years," Weatherly Bates said.
"Oysters are really expensive and it's so risky for restaurants operating on the cusp to commit to buying oysters when they might be forced to shut down again."
The Bates' aren't the only ones struggling. There are roughly 60 permitted oyster farms spread between Kachemak Bay, Prince William Sound, and throughout the southeast of the state. In early May, the Alaska Sea Grant, part of the University of Alaska, Fairbanks, released a survey of Alaska's mariculture industry about the impact of Covid-19 on business. The survey found that sales were down in February and March, "with 43 percent reporting losses of more than half of their revenue" and that "more than a third had laid off employees."
Alaska's burgeoning oyster industry is among a string of U.S. food industries, from meatpacking to produce and dairy, that have been hammered by the spread of Covid-19. Last year, nearly 1.8 million Alaskan oysters were sold. Between the oysters and sales of seaweed and other shellfish species like mussels, mariculture brought in over $1 million to the state's economy last year. While it's a small percentage compared to other Alaska fishing sectors, such as salmon, halibut, and crab, Alaska Sea Grant said there are efforts "in place to grow this industry to $100 million in the next 20 years."
But that's provided the oyster farms make it through the dramatic drop in sales this year and the wider recession.
Unsold oysters can theoretically be left until next season by allowing them to continue to grow or submerging them into deeper, colder water to try to stunt their growth. But there's a chance of loss, either through natural die-off or from other aquatic creatures, like starfish or otters finding a way into the nets and feasting on their husbandry.
"Concerns further down the road include whether or not the economy will rebound, restaurants will reopen, and customers will return with the 'previous enthusiasm for new healthier/more sustainable products,'" according to the Sea Grant survey.
By not selling their current supply of oysters, farmers are unable to bring in—or afford—new juvenile oysters to continue their operations. That's particularly problematic for growers like Eric Wyatt, manager of Blue Starr Oyster Company. While Wyatt has a sizable oyster field, the bigger part of Blue Starr's business is the oyster nursery.
Because it's too cold for oysters to reproduce naturally, farmers purchase and transplant baby oysters from elsewhere into their fields. Companies like Wyatt's import millions of baby oysters (called spat) when they're 2 millimeters in size, grow them to over 30 millimeters in their specialized facilities, and sell them to other farmers a few months later. If nobody buys the spat, he'll run out of space and be faced with a difficult decision about how to proceed.
"We're going to be feeling the effects of this for a long time," Wyatt said. "It's going to take a while before we're good again."
"We're going to be feeling the effects of this for a long time. It's going to take a while before we're good again."
Last spring, when Congress passed the $2.2 trillion economic stimulus bill in response to the economic fallout of the coronavirus, some agriculture industries were unable to access key programs meant to support small businesses. In June, the Small Business Administration reopened the Economic Injury Disaster Loan (EIDL) and the Paycheck Protection Program (PPP), providing a lifeline to some oyster farmers.
"It definitely did us a favor," said Kachemak Bay Oyster Co-op Manager Sean Crosby.
At this point, neither the state or federal government has enacted any additional measures beyond the loan programs to give further assistance to the oyster farmers.
Hump Island Oyster Company is also getting hit from all angles because of the loss of tourism and restaurant sales. Last summer the company launched an interactive oyster farm tour for guests to get a hands-on experience. Usually its port city of Ketchikan sees oodles of cruise ships and interested tourists (Alaska was projected to receive 1.3 million visitors via cruise ship this summer). But the company decided to put the program on ice after the Centers for Disease Control and Prevention (CDC) extended through September a no-sail order for cruise ships, a hotbed for the spread of the coronavirus.
Hump Island maintains the largest operation in the state with roughly four million oysters of varying sizes in the water. When lockdown orders took effect, the company went from 300 dozen oysters sold weekly to zero, virtually overnight. The company didn't sell a single oyster for over six weeks. Now in the waning days of summer, Hump Island is selling a little more than 100 dozen a week, though in previous years, sales were between 1000 to 2000 dozen in August. The company anticipated selling at least a quarter million this year, but now will be lucky to sell 100,000, said Michael Troina, Hump Island Oyster Company manager.
Though the oysters that aren't harvested don't need to be fed (they filter the naturally occuring algae in the water), they're definitely not a set it and then forget it kind of crop.
"They need nurturing whether we sell them or not," said Troina.
The bivalves nets constantly need to pulled up, tumbled and washed to rid them of ride-alongs (like barnacles, sponges, and other plant life), sorted into like-sized groups (so the larger ones don't steal nutrients from smaller ones), and pried apart if they start to fuse together (so that the cups that will one day be nestled into crushed ice and served with lemon are uniform and deep).
For the farmers, it means they'll have a long summer of tedious work with little payout.
Blue Starr thought in July that it might get close to breaking even. By mid-summer it was back up to almost 70 percent of normal sales. But starting August 3rd, all restaurants in Anchorage, the state's most populous city, closed for dine-in service, only allowing outdoor dining. Now the company is back down to 30 percent of its typical sales. One client even called to ask about possibly returning the unsold oysters, Wyatt said.
Because there were no restaurant sales for nearly two months, the competition between farmers has become steeper, said Weatherly Bates. It's especially challenging for farms that send their product out of state — often their oysters are the most expensive on the menu, due to pricey out-of-state shipping and the high cost of raising oysters in the 49th state.
Glacier Point's sales are down roughly 90 percent from prior summers.
"The way I think of it is that oysters are really expensive and it's so risky for restaurants operating on the cusp to commit to buying oysters when they might be forced to shut down again because of new health mandates," Bates said.
However, each of the farmers said they've seen a greater demand for their seafood from locals ordering oysters to consume at home, which might be the only thing that kept them afloat.
"They've really turned out for us," Bates said.
Each of the oyster companies said they're using the slower year to try to expand their operations. While some companies have moved towards pushing new online and door-to-door sales, others opted to refocus their energy on expanding their business for next year.
"The one silver lining is that we thought we might not have enough oysters for all of our orders this year, because we are working on growing the business," Troina said. "By next year we'll definitely be ready."