At the Super Bowl, as much as 40,000 pounds of food could be wasted
Food Rescue US
An estimated 10,000 hot dogs, 6,000 short ribs, and 2,700 lobster tails will be served at the game. How much of that will go uneaten?
Every year, millions of spectators at arenas, stadiums, and sports venues nosh on hot dogs, hamburgers and beer, basking in the light of neon signs and Jumbotrons advertising the companies who supply that fare. Sports matters to food, and food matters to sports.
This weekend, we'll celebrate the granddaddy of spectator sports—the Super Bowl, America's second-biggest food holiday. In Miami, home to the main event this year, thousands of chefs, prep cooks, and kitchen staff are preparing ungodly sums of hot dogs, Cuban pork sandwiches, lobster rolls, and even oysters and bonbons, for the 65,000-plus fans who will cram into Hard Rock Stadium on Sunday.
According to an industry expert, as much as 40,000 pounds of that food could go to waste at the game—a staggering number that doesn't even include all the revelry beyond the gates. But you might be surprised to learn that it won't be the average ticketholders who are responsible for most of that waste. It'll be the VIPs.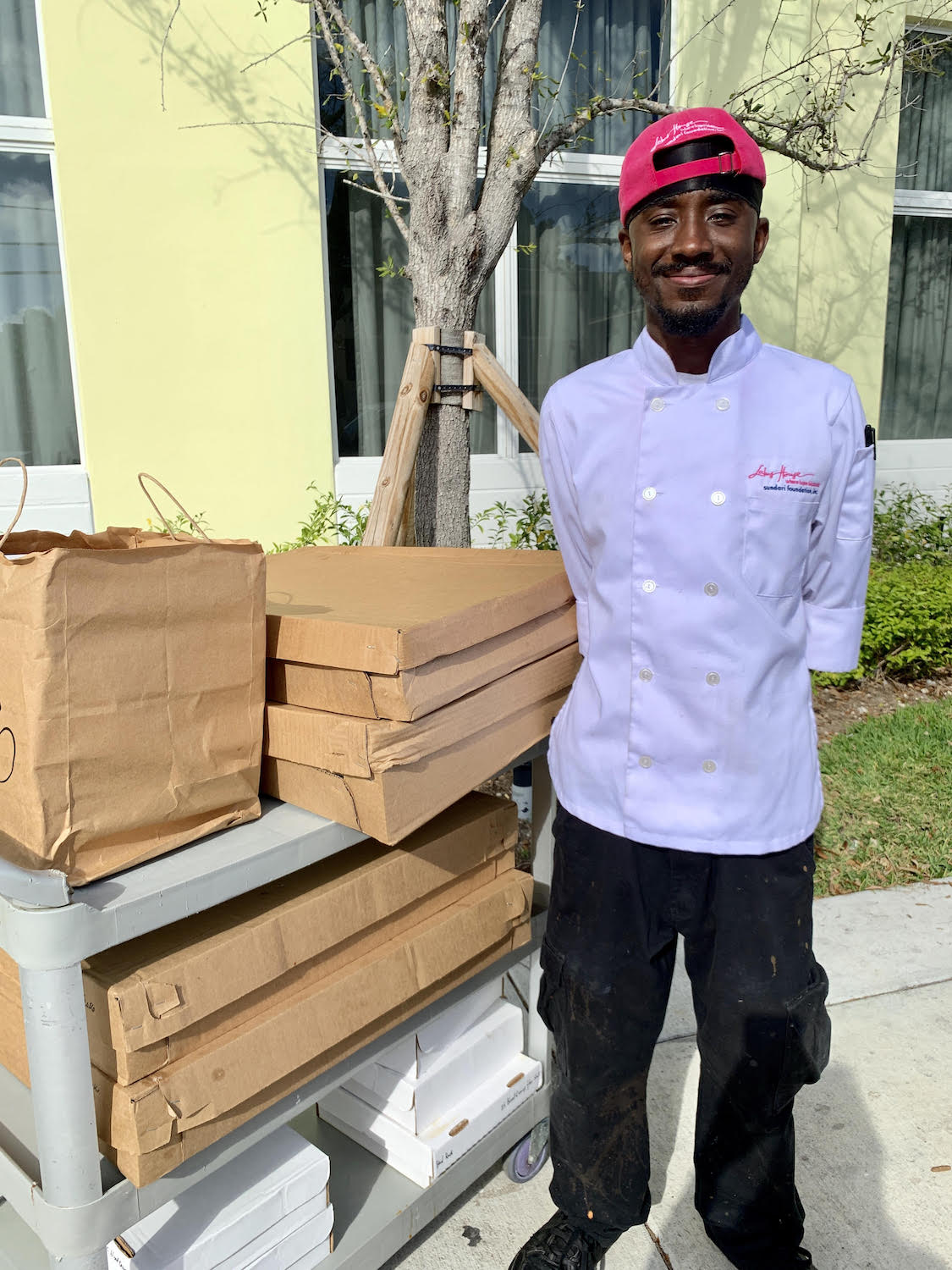 Food waste is mind-bogglingly vast in its various dilemmas and the food-service industry is a major contributor to the problem. Institutional food-service providers like Aramark, Sodexo, and Compass—who supply hospitals, schools, prisons, airlines and sports venues—generate nearly 5 million tons of food waste every year, according to the non-profit advocacy organization, ReFED.
Jack Groh, director of the National Football League's environmental program, says the NFL has been working on the waste issue for decades, since long before 2015, when the Environmental Protection Agency (EPA) and the United States Department of Agriculture (USDA) jointly announced the goal of a 50 percent reduction in food waste nationwide by 2030.
But the notoriously excessive culture of the Super Bowl doesn't coincide neatly with the imperatives of reducing food waste. How's that? EPA recommends that food-service providers could make the biggest impact by cutting back on production itself—it's the most cost-effective solution. But overproduction is baked into the model of the Super Bowl, particularly into the experience in luxury boxes, and at VIP parties, where guests who've spent thousands of dollars on tickets expect nothing less than complete indulgence.
The next best option, according to EPA's food recovery hierarchy, is to donate all those steaks. And that's an idea that the NFL is interested in pushing. At Miami Dolphins games, it's the job of Food Rescue U.S. The national nonprofit, which recovers edible food from corporate offices in Washington, D.C., supermarkets in Connecticut, restaurants in Columbus, Ohio, and hotels and stadiums in Miami, typically descends on the stadium after a game ends, to rescue 1,500 pounds of items like fried chicken and Cuban pork dishes.
"This is 100 percent, edible, fresh good food—food that you or I would feed to our families."
"It's food that's not been put out for consumption at all. It's food that's still held back in the kitchen," says Melissa Spiesman, a national site director. "This is 100 percent, edible, fresh good food—food that you or I would feed to our families."
The Super Bowl, however, is a different animal. Centerplate, the Sodexo company that handles concessions at the stadium, says its kitchens will serve a staggering amount of food this Sunday—2,700 Maine lobster tails, 6,000 servings of short ribs, 1,500 servings of beef tenderloin, and 10,000 hot dogs, according to a company spokesman. Whatever's left unserved from that smorgasbord, Spiesman says, will be packed into pans and tins, and stored in refrigerators and freezers, and the next day, Food Rescue will show up with two or three large refrigerated trucks, along with volunteers in vans and SUVs, to begin a two-day cycle of pickups and deliveries to five area homeless shelters and women's centers.
That's just a fraction of the food that will be wasted or uneaten at the Super Bowl, says Lorenzo Macaluso of the Center for EcoTechnology. The nonprofit runs a program called Recycling Works, which advises another football venue—the 66,000-capacity Gillette Stadium, in Massachusetts—among other businesses, to comply with a commercial food waste ban the state implemented in 2014. Primarily, he says, Gillette handles food waste through anaerobic digestion, which is a "faster, easier way to go, because it's kind of like recycling, and the systems are already set up."
Using a pounds-per-visitor formula, Macaluso estimates that this year's Super Bowl will generate 40,000 pounds of food waste from the game alone. By comparison, it would take 111 average American households, or two 32-bed hospitals, a whole year to generate that much food waste. A fast-casual restaurant creates 25 to 35 tons of food waste in a year, while a full-service restaurant generates 55 to 70 tons.

Groh says the NFL doesn't know how much food is wasted at the game—or beyond the stadium gates, where city officials are anticipating as many as a million visitors to related Super Bowl festivities. Outside Hard Rock Stadium, Miami is transforming into an NFL bacchanal, with a dozen ancillary events—tailgates, food festivals, media and VIP parties, and a weeklong Super Bowl festival at the convention center.

Last year, over 500,000 fans attended Super Bowl events in Atlanta. Groh says local food banks and nonprofits recovered 61,430 pounds of food, mainly from buffets, and 77,154 pounds of beverages—liked bottled water, juice, Gatorade, and Pepsi sodas. A similar amount was rescued in 2018, in Minneapolis.
And in case you're wondering? Alcohol wasn't donated.