The Impossible Burger factory is open for business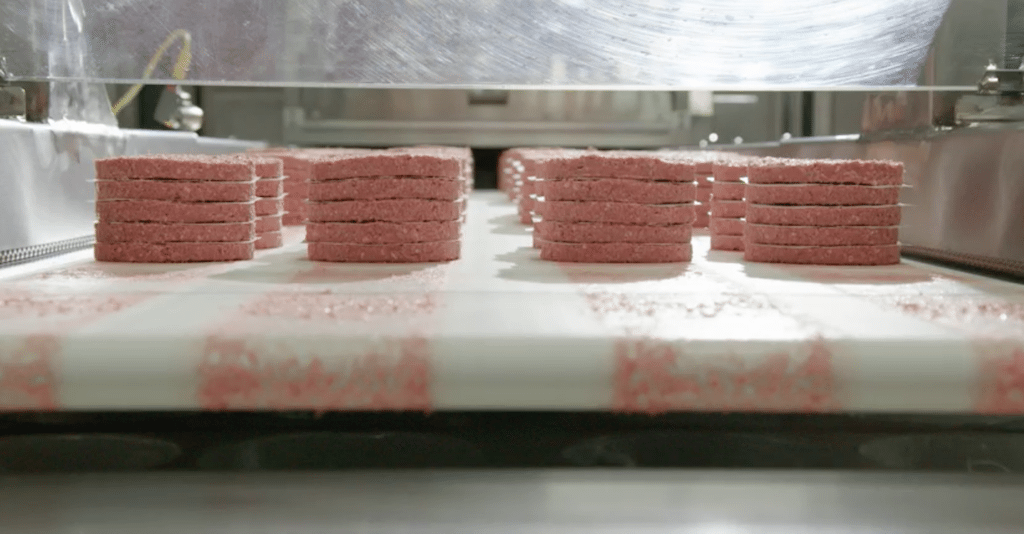 Screenshot/Impossible Foods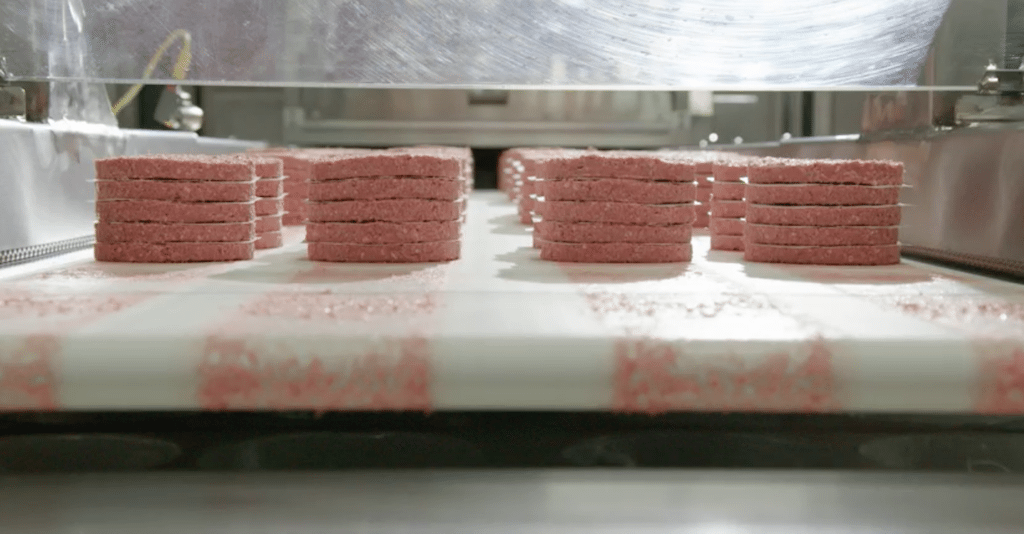 Screenshot/Impossible Foods
It takes a little more than 24 hours to spin a bloody burger from a handful of raw ingredients into a grill-ready patty.
Pretty soon, the rest of the country will be able to try Impossible Foods' $183-million-in-the-making vegan burger. The company says it plans to place its patty on a thousand menus by the end of the year.
In mid-August, a factory in Oakland quietly began accepting shipments of wheat protein, potato protein, and heme, a "plant blood" produced via genetically modified yeast. This factory, which can whip up a ready-to-grill burger in a fraction of the time it takes to turn a calf into a cow, represents the eagerly anticipated next step for the Impossible Burger, an all-vegan patty that looks, bleeds, sizzles, and tastes pretty damn close to the real thing. Founder Patrick O. Brown told Pacific Standard he started the company in order create a free market solution to the environmental problems caused by factory-farmed meat.
Impossible was the subject of some scrutiny a couple of weeks ago after a controversial 
New York Times 
piece raised questions about the product's safety. Our columnist Patrick Clinton addressed that story and its backlash
here
.
Taking on Big Beef is a lofty goal. But Impossible Foods' new factory is already producing 300,000 pounds of plant-based burgers every month. By December, that number will surpass a million. But even at scale, the Impossible factory's production will pump out just a tiny fraction what the United States Department of Agriculture (USDA)'s Economic Research Service says is nearly 25 billion pounds of beef consumed in the United States every year. (Five hundredths of one percent, to be precise.) But if new factories are in the works, who knows? Maybe Impossible will someday put a dent in the global meat market. Animal agriculture isn't going away anytime soon. Brown and company have got time on their side.
According to Chris Gregg, Impossible's senior vice president of manufacturing, it takes a little more than 24 hours to spin a bloody burger from a handful of raw ingredients into a grill-ready patty. (The heme and proteins aren't manufactured in-house—they're produced at other facilities and shipped to Oakland.) After some of the ingredients are mixed into an emulsion and left to sit for about a day, everything is combined, formed into patties, and frozen.
"We're testing with much larger premium burger chains now."
So far, the burger's distribution has been largely limited to restaurants in coastal cities. But the new factory is likely to mean the patty will make its way inland in the coming months. At a Facebook Live event on Tuesday, audience members were eager to learn when the fake meat would hit Chicago, Charleston, and Long Island. Though Gregg is mum on the specifics, he assures me many restaurants have had the chance to test the burgers already. "There's a lot of demand that's pent up," he says. "Now, as we have expanded our supply, we're going fully national in several of these locations. One of these would be Umami Burger. Another is Bareburger. We work with—we're testing with much larger premium burger chains now."
Impossible plans to supply exclusively to restaurants for the foreseeable future, a burger market it claims is ripe for disruption. "The ground beef consumption is north of 8 billion pounds a year in the U.S.—about half of that is through restaurant food service," Gregg says. (He's right: According to AgWeb, about 44 percent of all U.S. beef is consumed in restaurants, though that number doesn't distinguish between a steak and a taco.) The company will eventually package the burgers for home cooks, though it hasn't yet announced a timeline.
Of course, if Impossible really wants to beat beef in the long run (and that means taking on McDonald's, which moves a billion pounds a year), it'll have to make its patties cheaper than the competition. Regarding price, Gregg gave us the same talking point we got last year at the burger's New York debut: As capacity continues to grow, the burgers will get cheaper and cheaper. "The economics are of course much better than they were. As our economies become better and we scale up, we are selling at a price that is much more reasonable when you look at cost and sale price," says Gregg. "When we think about our ability to scale, we get closer to parity pricing with different levels of ground beef. Typically, we're right in that ballpark, especially if you think about our scale-up plan over the next six to seven months." Impossible wouldn't share its current wholesale prices.
The Impossible team is constantly tweaking the formula for the burger patties. At the same time, they're also working on other imitation meat products and a low-fat ground beef alternative. Gregg says the opportunity to continuously improve the patty is a major plus: "The cows are not getting better. We are."